Top 10 Best Beginner Acoustic Guitars 2023
1.

Best Overall Beginner Acoustic Guitar:

Fender CC60S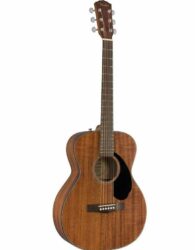 What Makes It a Good Beginner Acoustic Guitar?
The Fender CC60S just combines a lot of really good features that are all geared toward someone learning to play. It comes with a tuner, picks, and a (really mediocre) gig bag, so you don't have to purchase them separately. Plus, it comes with lessons so you can get right into learning.
It's not the easiest-to-play guitar on our list—one of the nylon guitars like the Epiphone here is more friendly for newbie hands—but it's concert sized. It is the most universal in design, so you aren't going to be running out of songs to play anytime soon.
Our Thoughts
It's a Fender. Even if you've never seen a guitar in person, you probably know that Fender is one of the guitar world's biggest brands. It's also less than $200. It's not the cheapest steel string on our list—that honor belongs to this Epiphone — but it's still a really fantastic value.
The biggest flaws that the Fender CC60S has are flaws that any budget instrument will have: the tuners are not great, the finish won't last a lifetime, and the frets aren't as polished as they could be. You won't notice any of that when you are starting out. If you like the look and just want an excellent general-purpose guitar, here's your answer.
---

What Makes It a Good Beginner Acoustic Guitar?
Nylon guitars just naturally make perfect beginner guitars. Nylon strings are easier on the fingers than steel strings, and classical guitars have wide, flat fretboards that are much more forgiving. Couple all that with the smaller size of the body, and you have a really great first instrument.
The Pro-1 Classic is very simple too, which is good for a focus on learning. Still, you may find yourself wanting a few more features to experiment with and help your style grow. In that case, check out the Washburn C5CE on our list. It costs a bit more, but the onboard electronics can help you break into the electric-acoustic world as well.
Our Thoughts
There really isn't an easier guitar to play on our list. It's got nothing complicated, and the style makes it very finger-friendly. It also sounds great; Epiphone is absolutely no slouch when it comes to quality. And just to top it all off, the antique finish looks excellent.
The only thing this guitar isn't is versatile. It's a small, nylon-stringed guitar with no electronics and no adjustability. Part of the fun of learning is experimenting, and the Pro-1 doesn't give you much room to do that.
For the incredible price, though, if you are ok with settling for a beautiful sounding classical guitar, it's a perfect learning tool.
---
3.

Best Dreadnought-Style Beginner Acoustic Guitar:

Yamaha FG800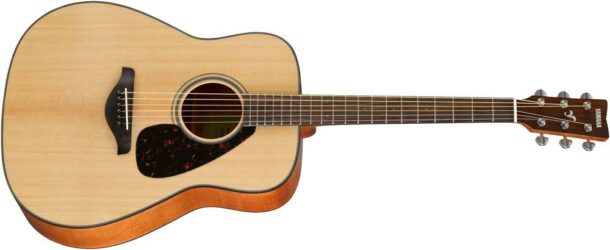 What Makes It a Good Beginner Acoustic Guitar?
A larger guitar like a dreadnought can be a little intimidating for a first-time player. The strings will be thicker and harder to press down, and if you have short arms, you might have a hard time working around the large body.
However, the volume and fullness of the tone will make up for those shortcomings. The best part about learning on the Yamaha FG is that it will grow with you. Ten years from now, when you are recording your second platinum album, you will still be able to grab the FG800 and record a track.
Our Thoughts
The FG800 is harder to play than a classical guitar like this Epiphone and a smaller steel-string like the Luna. Yamaha just knocks it out of the park with the build quality and tone, though.
First, that beautiful mahogany body is hiding neat construction techniques that give you the jumbo guitar volume. You can confidently set up without a mic and impress the entire bar.
Second, the neck on Yamaha's FG series is the same fit and finish you'll find on much, much more expensive guitars. That means when it's time to move on from your first guitar, you won't have to learn a totally new neck profile.
---
4.

Best-Looking Beginner Acoustic Guitar:

Luna Henna Oasis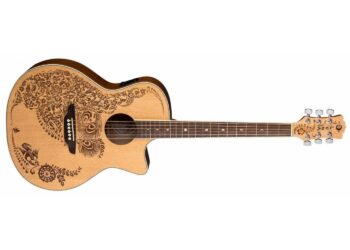 What Makes It a Good Beginner Acoustic Guitar?
We dare you to walk by it and not want to pick it up and strum a few chords. That's what makes it great; there's no way you could have it sitting in your house and not want to practice and improve.
It's also got a built-in tuner and an ok preamp. The preamp allows you to plug into an amp or directly into recording equipment. You aren't going to get great electronics at beginner prices unless you pay more for the Ibanez on our list. Still, you will be able to learn how to use and best utilize an onboard preamp.
Our Thoughts
Luna makes stunning guitars, from their entry-level Henna line to the absolutely gorgeous Vista line. We have no shame in admitting that a big reason we love this guitar, especially for a beginner, is because of how good it looks for an entry-level instrument.
They are also very playable guitars. The single cut-away design gives you full access to their iconic fretboard featuring moons instead of dots, and the c-shaped neck is a lot more comfortable for smaller hands than the thicker necks than most acoustics have.
We do wish they had some designs that were less flower power and more punk. The Henna is beautiful but might feel out of place doing a Cash cover in a seedy bar. Then again, that juxtaposition can also be a lot of fun.
---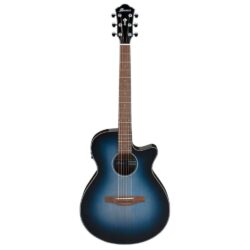 What Makes It a Good Beginner Acoustic Guitar?
The Ibanez AEG50 is on the line between being a beginner guitar and being an intermediate guitar. That's partially due to the price, but it's also because it's not doing anything to help you as a new player. The onboard electronics are of higher quality than the Luna guitar's electronics, but they require a bit more finesse. The body is a very comfortable single cut-away design, but it's a bit unforgiving. The shallow design doesn't have the volume or bass to cover up mistakes.
Those same properties that make it a bit harder on beginners also make it great to grow with. You'll really love those electronics when you're on stage or in a recording booth and are dialing in the sound with an amp. You'll welcome the harder to press strings and responsive body because they allow you to do things like perform huge bends and long legato runs. Right about the time you'd be thinking of upgrading from something like this Epiphone guitar on our list, the Ibanez will be hitting its stride.
Our Thoughts
Ibanez is probably most well known for being the brand of choice for the virtuoso. Steve Vai, Joe Satriani, and Paul Gilbert all use Ibanez electric and acoustic guitars and are some of the most innovative guitarists to take the stage. That mentality shows through with this AEG.
It's got a blue burst pattern that bucks the traditional natural finishes of most acoustics, and the onboard electronics feature a shape knob instead of an equalizer. It's begging you to practice hammer-ons and alternate picking instead of the same five chords every day.
You just need to be prepared to take the extra step and experiment with what a shape knob does.
---
6.

Best Inexpensive Steel String Beginner Acoustic Guitar:

Epiphone DR-100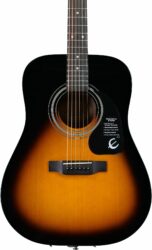 What Makes It a Good Beginner Acoustic Guitar?
It's very inexpensive, but it doesn't enter the realm of the cheap junk guitar. The price alone is one of the best reasons it's a good beginner instrument; there's no risk. You won't be out a lot of money if you buy it and then decide you don't like playing.
The steel strings do make it a bit harder on new players until the calluses grow in. It's also bigger than classical guitars, so smaller players may find themselves fighting with the size.
Our Thoughts
Just like the other Epiphone on our list, the DR-100 is a simple, no-nonsense guitar that sounds fine and is built to a high standard of quality. It's just a steel-string instead of a nylon string. That lets it transcend its entry-level status.
Out in the wild, you're most likely to see the DR-100 mixed into a collection of electric guitars. Long time electric players who already have baked in brand affiliations and who want to give acoustics a try will own one. They will see the Epiphone logo, notice the price, and buy it guilt-free. Then they'll keep playing it because it's an excellent guitar for the price. If you are a beginner, you'll just be taking advantage of all the knowledge those people already bring to the table.
If you are trying to choose between the two, they are both great choices, so you can't go wrong. Basically, if you plan to play at home and learn solo guitar music, get the Classic. If you plan on playing around a campfire, at a local bar, or want to back up a singer, get this DR-100.
---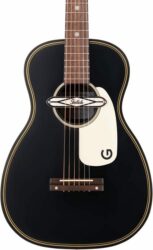 What Makes It a Good Beginner Acoustic Guitar?
Not everyone wants to learn on a guitar that is just like every other guitar. Enter in the Gretsch Gin Rickey. We guarantee you'll be the only one in your beginning guitar class with one like it.
Is that good? Yes, if you refer to rule number one: buy a guitar you want to play. It sounds great. It has a tiny body that makes it really comfortable for children or people with smaller frames, and it looks totally unique.
The small size might leave some people wanting in the tone and volume department. It's quieter and thinner sounding than the other small guitar on our list, the Ibanez PF2MH. That's because of the big electric pickup in the middle of the soundhole. But the pickup is absolutely awesome if you want to plug it in and get into Louisiana Blues. It is a little inconvenient if you just want to practice some acoustic melodies.
Our Thoughts
The Gin Rickey is likely the most polarizing entry on our list. It's named after a cocktail, made by a company that's synonymous with the American South, and it looks like something from a steampunk novel.
If that sounds awesome to you, then you'll love it. We just have to suggest getting an amp to go with it, and a slide. We also suggest a healthy dose of inspiration from one of the absolute kings of slide guitar, Justin Johnson.
---
8.

Best Nylon Acoustic-Electric Beginner Acoustic Guitar:

Washburn C5CE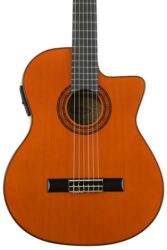 What Makes It a Good Beginner Acoustic Guitar?
We said it before when discussing the Epiphone classical guitar, but nylon string guitars are easier to play for beginners. The strings have more space between them to isolate individual notes better. The strings are easier on your fingers and take less effort to fret correctly.
Unlike the Epiphone, this Washburn features a single cut-away, making it easier to access the higher frets. That's probably not a big deal for you if you are just starting out, but down the road, when you want to crank out some solos, it will come in handy. It's also got electronics, including a built-in tuner. That makes it plugin ready, which is somewhat rare with a classical guitar.
Our Thoughts
Having a nylon that can plug into an amp without needing extra mics can be super handy for overcoming the biggest shortfall of a classical guitar. If you have an amp, you won't have to worry about being drowned out by traffic going by outside your window.
The electronics are a little cheap. They definitely aren't as nice as the Ibanez AEG, but they will get you tuned and amped. The overall quality isn't as good as some of the bigger brands on our list either. It's not bad by any means, but you'll want to adjust it a bit from the factory to get the most out of your experience. A simple fret filing, new strings, a neck adjustment, and you'll be good.
---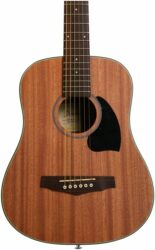 What Makes It a Good Beginner Acoustic Guitar?
The PF2MH is a ¾ guitar. That means that it's ¾ the size of a traditional dreadnought. The neck is shorter, the body is smaller, and the frets are closer together. If you have small hands or short arms, that makes it a really great entry-level guitar. It's also great for travel. The small size is easy to throw in the trunk of your car and haul to lessons.
The small size, unfortunately, hurts the tone and volume. That's always the tradeoff with acoustic instruments—the smaller the instrument, the less bass response, and the less volume. Don't worry about what bass response means right now. Just know that part of what makes a big guitar sound full and vibrant is lost when you shrink it down.
Our Thoughts
Travel and small-bodied guitars have gotten so good over the last decade that it's hard not to want one no matter what your skill level is. It used to be that you would lose all semblance of quality tone from the small body. Nowadays, you can pick up a very inexpensive travel guitar like this Ibanez and jam without sacrificing too much.
That makes it perfect not just for travelers and children, but anyone learning guitar who's on a budget or lives in a dorm and just doesn't have the space for a massive acoustic guitar.
There is one reason you should look away, and it has to do with the size of your hands. Allow us to get technical for a moment; the scale is the distance between the nut and the bridge. The shorter scale means you have a lot less room to move around on the fretboard, and if you have big hands, it can be downright uncomfortable. The Gretsch is a small-bodied guitar with a longer scale, so you still have options if you are space limited.
---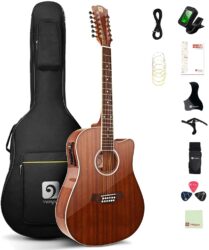 What Makes It a Good Beginner Acoustic Guitar?
We are going to be honest: it's not. It's not a good beginner guitar, and we would never suggest someone learn guitar on a 12-string. They are hard to play, they are hard to tune, and they are nearly impossible to adjust correctly.
That being said, there isn't any substitute. If you really want to play guitar, and the reason you want to play guitar is because of that amazing resonance only a 12-string produces, you need one to practice on. The Vangoa 12 String is inexpensive enough to buy it as a beginner, and you won't have to worry too much about harming it as you learn. It also includes many beginner goodies, like a tuner, strap, and extra strings, which is nice.
Our Thoughts
If you are not familiar with the difference in sound between a standard 6 string and a 12 string, give this video a watch. The player does a good job contrasting songs side by side with both styles of guitar. That haunting, droning sound is unique to 12-string guitars, and once you can identify it, you'll be able to pick it out on a lot of your favorite songs. Led Zeppelin uses 12-strings a lot, although technically Page's stage guitar is both a 6 and a 12. It's an SG with two necks; it's wild.
Unfortunately, the only way to practice playing on a 12-string is to own a 12-string. They feel different, are harder to play, and require different tuning techniques than a standard guitar. That's where this Vangoa really comes in. It looks terrific, and it costs very little for a 12-string. It's the perfect thing to pick up and learn on.
Our suggestion is that if you really want to learn on a 12-string, pick up something like the Epiphone classical too. That way, you can still practice making chord shapes and strumming after the 12-string destroys your fingertips.
---