Almost all rappers use a stage name instead of their government name. Some adopt childhood nicknames, others pick up a name based on their rap moniker, and some even stick with whatever a rap name generator decides, like Post Malone did. Either way, these names can be downright silly, and we've compiled a list of the top 25.
25 Funny Rapper Names
The stage name for rappers is definitely a part of their identity, but you always come across a few that have picked up a rather funny one. These humorous names are attention-grabbing and can help rappers promote their crafts. At the same time, some are straight-out hilarious.
From Lil Toe to Ugly Duckling, here are 25 of the funniest rapper names out there.
1. Lil Soda Boi
Lil Soda Boi is a Seattle rapper currently based in Oregon. He's a versatile rapper who draws inspiration from various genres. The motivation behind his rap name isn't clear. But considering he has been making music since 2011 despite being 23 might indicate that he went along with it to declare his love for soda at a young age!
2. Lilwaterbed
Christopher Foster, better known as lilwaterbed, is a Soundcloud rapper from Houston, Texas. It isn't exactly known why he went with a rather humiliating name. While most rappers go with something serious to intimidate their rivals, lilwaterbed might have taken a different approach with his rap name to show one of his biggest weaknesses!
3. Slim Jesus
Known for his 2015 hit "Drill Time," Slim Jesus also goes by the name Swag Jesus. He was nicknamed the suburb gangsta' after his interview with DJ Vlad, saying he likes rapping about guns but doesn't live that. Unfortunately, bringing Jesus into his rap name couldn't save his career, as it was short-lived.
4. Too $hort
A 2017 interview revealed that Too $hort's peers would call him short due to his height in his early teens. After getting inspired by the Too Sweet character of the 1979 movie Penitentiary, he changed it to Too $hort. Although this turned an unpleasant nickname into a strength, it remains one of the funniest rapper names to name to this day.
5. Lil Toe
Also known as Lil Toenail, the Florida rapper lives his rap name and wears a custom toe costume to his public appearances. While the costume keeps his identity secret, along with the ski masks he often wears, it makes you wonder what inspired him to come up with this name in the first place. Could it be a pedicure failure? We don't know!
6. Lil House Phone
Lil House Phone's rap name originates from the early days of his rap career when his iPhone would only work on home Wi-Fi, and people had to call his house phone. It's apparent that Lil House Phone stuck, and he rolled with it as his rap name. He's also known as House Phone Shawty, either of which is equally hilarious.
7. Haystak
From Nashville, Tennessee, Haystak has been rapping for over two decades. The origins of his name are unclear, but his 2022 album Haywire proves that he still has a thing for hay. Haystak plans to lay more hay with plans to release albums possibly titled "Hayfever" and "Hay Y'all I'm Gone," which will pay homage to his rap name.
8. Lil Dicky
Lil Dicky as a rap name just sounds amusing and gives material to your rivals! But before you think that it stems from what you might think is little, Lil Dicky revealed that his rap name comes from a medical issue he had when he was younger. Still, it's one of the funniest rapper names ever, and a dangerous one considering how many words rhyme with Dicky!
9. Krispy Kreme
One rapper thought his rhymes and punchlines were as sweet as Krispy Kreme doughnuts and decided to rock it! After going with it for a while, Krispy Kreme uploaded a YouTube video in 2012 informing his fans that Krispy Kreme (the doughnut company) called his father and asked him to change his name. While many still know him by his original name, Krispy Kreme, he now goes by Froggy Fresh.
10. Ugly Duckling
Ugly Duckling is an underground hip-hop group founded by Dizzy Dustin, Young Einstein, and Andy Cat in 1993. With each of the group members rocking equally funny names, it makes you wonder why they didn't call themselves Ugly Ducklings. Nonetheless, their group name has a story to it. The trio couldn't find a place for themselves in the South California rap scene and felt like outcasts, so they formed a group and named it Ugly Duckling.
11. Chilly Tee
Chilly Tee sounds quite cool – too cool, in fact, to the point it becomes funny. The more you hear it and say it out loud, the funnier the name Chilly Tee turns out to be! Unfortunately, you won't get to hear Chilly Tee anymore as Travis Knight left his rap persona and focused on animation instead and went on to found the successful Laika Studios.
12. Yak Ballz
Yak Ballz's rap name started off as a joke, and it stuck with him. In an interview, Yak Ballz revealed that a friend jokingly asked if his rap name was Yak Ballz or Fondle 'Em Records, and he rolled with the first suggestion. A joke staying with him like this may be unfortunate – but hey, people always get a good laugh when hearing his name.
13. Busdriver
Driving a bus may be straightforward and simple, but Busdriver's music certainly isn't. Regan Farquhar, better known as Busdriver (also styled in all caps), has over 13 studio albums and three mixtapes under his belt. He has a distinct speedy flow that makes you wonder why he didn't pick something faster than a bus to match his style, like Sportscardriver!
14. Paperboy
Not to be mistaken with the Alfred "Paper Boi" Miles actor Brian Tyree Henry from the Atlanta series, Paper Boy is a rapper who had a short career. He's mostly known for his 1992 single, Ditty. It's unclear how he got his rap name. Aside from the possibility of being an actual Paperboy, it might originate from the 1985 Paperboy video game.
15. Brainpower
The Dutch rapper Brainpower has a somewhat intimidating but certainly awkward name. Other rappers might be tempted to put their guard up after hearing his name for the first time. They're lucky he raps in Dutch mostly and only has one album in English! Jokes aside, Brainpower has been active in the genre for over 20 years, and many find his flow outstanding!
16. Bootychaaain
The more you say it, the funnier this rapper's name sounds, especially the more you stretch at the end – BOOTYCHAAAIN. While this rap name sounds funny on its own, Bootychaaain is one of the pioneers of the tread rap genre characterized by its high tempo. The head-banging beats with a fast flow really sound fitting with a stage name like that.
17. Tum Tum
Tum Tum more or less sounds like a child trying to get attention from their parents for an upset tummy or something from a Bollywood picture. There's even a popular Indian teatime snack named Tum Tum. While these are related to food in one way or another, you can say this rapper also cares about his tum tum. The size of Tum Tum also made many refer to him as Tumzilla, which fans eventually morphed into Zillaman.
18. Shorty Stain
Also known as Shorty Sh*t Stain, Short Stain simply took a humorous approach with his rap name. The origins behind this funny rap name are unknown, but you don't need to come up with different theories. It may be as simple as one day having a stain on his pants and getting stuck with it. Promoting your music with a rap name like that must be difficult, as it's nearly impossible to find any of his music!
19. Lil Poopy
After Shorty Stain, you wouldn't be surprised to hear a rapper named Lil Poopy. Despite being very young, he had a very good beginning to his career with his time on Lifetime's The Rap Game. He went on to release catchy songs like Numbers and Run It Up. Lil Poopy was jailed in 2020, and his career went downhill from there. Now, the only thing people remember about him is that he has one of the funniest rapper names.
20. Chamillionaire
There are many questions to ask about Chamillionaire. Does he have a million chameleons? Is he a millionaire disguised among us? Is he a million chameleons bodied into one? Does he change colors like a chameleon every time he earns a million? We don't know! Regardless of the answers, he's got one of the funniest rapper names.
21. Lil Scrappy
Lil Scrappy sounds quite funny for a rapper name at first, but it's pretty serious when you think more about it. When asked during an interview how he got his name, Lil Scrappy replied it was because he would fight a lot, and the hood nicknamed him Lil Scrappy. Even with this backstory, many can't help but at least giggle when hearing his rap name.
22. Blood of Abraham
Blood of Abraham was a hip-hop duo that consisted of MC Benyad and MC Mazik. You might ask, who is Abraham – one of the two? We don't know, either. But what we know for sure is the blood between the two wasn't strong enough, as the duo split up seven years after their debut.
23. Gudda Gudda
Like Tum Tum, Gudda Gudda just sounds hilarious! The New Orleans rapper was a part of the Sqad Up hip-hop group, along with Lil Wayne and Kidd Kidd. Although his music hasn't gained traction as much as the others in the group, Gudda Gudda has one of the funniest (also the weirdest) rapper names.
24. Journalist 103
Journalist 103 is a master lyricist known for his works with The Left. His rapper name makes you scratch your head and think about the connection. That's when it becomes funny. Then, you can't help but think Journalist 103 sounds more like a robot or a secret agent's name than a rapper's.
25. Botany Boyz
Botany Boyz is a hip-hop group, and perhaps the most notable member is Lil Reese, which is an interesting rapper name on its own. Nevertheless, the name Botany Boyz is a name that will put a smile on your face, even if you don't find it funny. A group of guys forming a hip-hop group and naming themselves Botany Boyz isn't about orchids or lavender. Once you get it – you get it!
Honorable Mentions
These 20 funny rapper names were the top picks, but some were close seconds. Here are the honorable mentions that were close to finding a spot in our list of funniest rapper names.
Funk Wizard Snow
Trademark Da Skydiver
Wee Papa Girl Rappers
The Fat Boys
Q-Tip
Buddha Monk
Sugar Free
Prozack Turner
Cecil Otter
The Tea Bag Boyz
Picking a Rap Name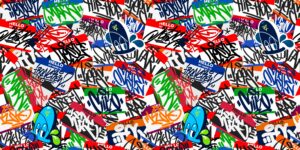 If you're after picking a rap name for yourself, potentially a humorous one, this article listing funny rapper names can be a great inspiration! However, it's good to separate humorous from ridiculous – unless you're after something like RidicuRhyme!
Your rapper name should carry your persona. It's your identity, and you must embrace it with pride. To find the best rap name that suits you, consider incorporating some form of wordplay or a pun. You can even bring up personal quirks and utilize unexpected words that will make people react.
Assuming many of the rappers with funny names that found a place in our article just picked their name and never thought of it once, make sure to ask for feedback. Share your rap name with people, though it's best to keep it between fellow MCs (unlike Krispy Kreme, a.k.a. Froggy Fresh). By doing these, you might nail it – and who knows? Maybe you, too, will be added to our list of funny rapper names!