Top 10 Best Drum Machines 2023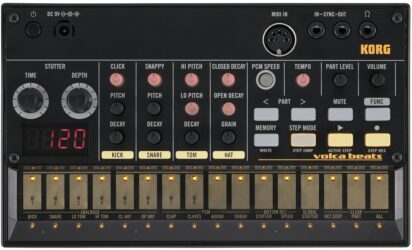 What's It Best For?
The Korg Volca series is the best starting point for anyone that wants to get into drum machines and custom beats. They are very tactile, versatile, and well laid out. The Volca Beats is analog, which means that it sounds exactly like a classic drum machine and is intuitive to use.
There are even some little features that make it extra easy to get into, like the built-in speaker and battery power. It's easy to say that this is a drum machine that any musician will love.
Our Review
You'll hear the number 808 a lot. It refers to the Roland TR-808, which is the father of all modern drum machines. It's an analog beast that defined what drums sounded like in the 80s. It's so prolific we recommend both the digital update and the reissue. The Volca Beats is like a distilled 808. It's got a very similar analog sound and even kind of matches the aesthetic. The best part is, though, that the Korg is very affordable.
However, it doesn't sound as good as the original. The onboard speaker isn't great and even plugged in, it doesn't have depth. It is meant to be simpler and more portable, so you have to make some sacrifices.
Also, the analog sound isn't for everyone. If you like what the Beats offers but prefer crisp modern sounds, check out the Korg Volca Drum instead. It's nearly identical, just digital instead of analog.
If you ask us "what drum machine you should buy?" and we don't have any other information, though, we'd say it's this one.
---
2.

Best Modern Drum Machine:

Roland TR-8S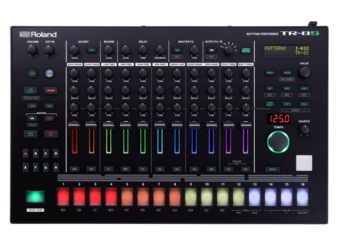 What's It Best For?
The TR-8S bridges the gap between synth and drum machine; it's an all-in-one beat creation station. Chances are if you have been to see producers doing live sets, you've seen one in action.
It's a little on the pricey side, but if you are an electronic artist looking to take the step away from simple software controllers and upgrade your workstation, take a look.
Our Review
One of the coolest things about the TR-8S is that Roland kept it easy to use. It's not anywhere near as simple as a Korg Volca, but all the pads, sliders, and knobs are laid out cleanly. Anyone can sit down at a TR-8S and understand what's going on. That's something that really separates it from something that requires a lot more computer control.
At the same time, it's very modern. First, as is required in modern clubs, everything lights up, and the lights are programmable. Second, the S in 8S stands for sampling. You can load your own samples onto it, something that users of the original 808 could only dream of.
The downside is that since it straddles the line between MPC and drum machine, it suffers from the drawbacks of both. As a sequencer, it's large and a bit complicated. It doesn't have nearly enough buttons as a midi controller, and it makes a very expensive drum machine. It is all of those things, though, and it's a Roland. You can't go wrong with this thing.
---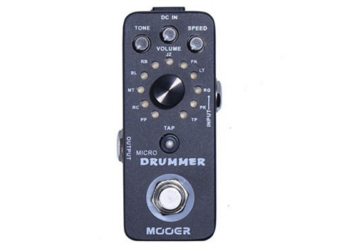 What's It Best For?
The Micro Drummer is for practicing guitar, and it's incredible for that purpose. It's a pedal that fits on any pedalboard and uses standard pedal power, and it has the standard ¼" input and output.
The best thing about it is that it could not be easier to use. You get a selection knob for selecting from various beats, and you get a knob that controls the speed of the beat. That's it.
Our Review
You will notice that there are two distinct categories of drum machines on our list. The first category is programmable machines. These are your classic knob and button devices that you have to manipulate. Then there's the second category: the kind preloaded with rhythms and patterns, and you can't really change anything but the tempo.
The Micro Drummer is that second category taken to its extreme. You get an on-off button, and you should be thankful that they included one. You can get the Volca Beats if you want to make your own beats; it's got 40 times the number of buttons and sounds better.
If you value simplicity and just want an easy-to-use practice or songwriting tool, the Micro Drummer is perfect. There isn't anything simpler or less expensive on our list.
---

What's It Best For?
At its core, this machine is a sequencer that has a gig of storage and can handle 64MB samples loaded directly from USB. It's perfect for changing the shape and duration of samples live and is basically an entire computer that you control with knobs instead of a keyboard.
If that doesn't mean much to you or sounds too complicated, this machine probably isn't for you. The Alesis SR18 is a very competent digital drum machine that functions in a very similar manner, and it's less than half the cost. If you are a beginner, get that one.
Our Review
Allow us to be honest with you for a moment. This machine does more than we can list, and probably more than we can understand. It has so many controls and features that two people could pick it up, use it in a live set, and do nothing similar to the other.
That means that the truth is that if you are looking for a drum machine that can do what this machine can do, you probably already know it's the one you will buy.
For everyone else, just be aware that this is the hardest tool to use on our list. Many settings require crazy button combos, and it can be very difficult to just make simple patterns. Just watch this guy try to explain a lot of it. It's a 40-minute video going over the basics, and you'll still have questions.
---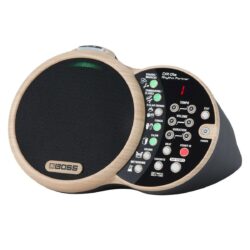 What's It Best For?
We have a few machines on our list that are very simple drum machines that just require you to press a few buttons, and they'll play a beat. The Micro Drummer is the simplest, but you really need an electric guitar to get the most out of it. The Boss Rhythm Partner is for everyone else.
It's got a very competent speaker, so you don't need an amp to go with it. It's battery-powered, and it's still ridiculously easy to use. Anyone playing a live acoustic gig or busking on the street will love it.
Our Review
The Rhythm Partner is about as close as you can get to having a drum-playing robot follow you around. It's not a sequencer or a controller; you won't get to load your own sounds or change the prerecorded sections or anything. But it does keep perfect time and can make tons of different sounds, which is all you really need if what you want to do is play guitar with some drums.
What really separates the Rhythm Partner from the Micro Drummer or Beat Buddy is the lack of a need for an external amp. Both the guitar pedals are really designed and meant to fit on a pedalboard, and they need to be amped.
The Rhythm Partner is bigger and has more buttons, so it's easier to use. It can also be played with any instrument; you can add a drum track to your kalimba jazz if you want; no electronics are required.
---
6.

Best Drum Machine for Live Gigs:

Alesis SR18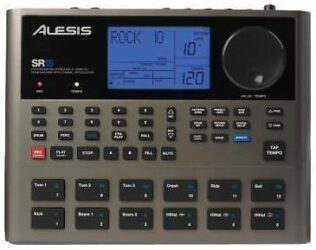 What's It Best For?
The SR18 has a ton of preset patterns, and all of them are highly customizable. What that gives you is the ability to plug it in anywhere and get a competent drum track with very little fussing.
Throw it into the mix at the bar where you are about to play your own special breed of piano blues, and you'll never have to worry about the drummer stealing your beer.
Our Review
The Alesis SR18 is a hybrid between a much more complicated machine like the Elektron Digitakt and a much simpler machine like the Rhythm Partner. If you just want it to be a straightforward, press a button and get drums type of machine, it'll do it, and do it well. If you want to record your own patterns and tweak the sounds, it can do that too.
You do lose a bit of usability because of that, though. To cram the pad functions into the compact design, a lot of the buttons serve multiple uses. That leads to a layer of complexity that you won't find on machines with a ton of separate dials for every function; if you want to add a filter to a sample, you have to select it, enter the menu, and then turn the multi-function value knob.
Also, and this is subjective, but it looks very boring. It kind of has a 90s calculator vibe to it. It's fine for turning on and hiding under your stool as you jam, but you'd never have it sitting next to a sequencer during a live electronic set or anything.
The upside is that you cannot get more functionality for the money. This little machine can do just about anything you could possibly want from a drum machine. Just as long as you're willing to memorize the commands to get it there.
---
7.

The Classic Drum Machine:

Roland TR-08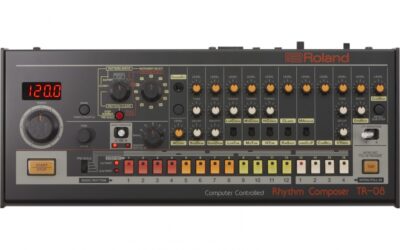 What's It Best For?
The TR-08 is for people that want a classic machine. It's for people who don't want to record samples, don't want to mess with a computer, and just want a simple drum machine with a great, old-school tactile look and feel. If you have used an 808 and want that same feeling, this modern machine can give it to you.
Our Review
It's hard not to love the old school cool that Roland brings with the TR-08. It sounds like a classic drum machine, it looks like one, and after you leave it in a smoke lounge for a few weeks, it'll even smell like one.
It can do a lot more than an original 808 can, though. You can record entire rhythm tracks and loop them into the mix, and save sequences. The technology to store that much information just didn't exist in the 80s when the 808 was released, and they are really nice features to have.
Unfortunately, that does mean that the TR-08 is more complicated and a bit harder to use than the original. That can lead to some awkwardness because people who are not used to using older equipment won't find the layout intuitive, and people who are used to using original machines will have to learn new things.
---
8.

Most Powerful and Easy to Use Drum Machine:

Arturia DrumBrute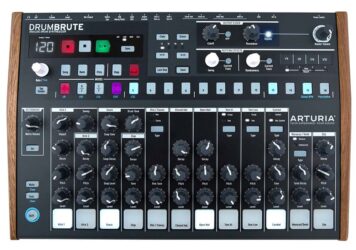 What's It Best For?
Do you want a drum machine that will make you feel like you are in a space shuttle? Arturia wants you to have that.
As we said in our intro, having a ton of knobs and switches doesn't make a machine harder to use; it makes it easier. Instead of hunting for an hour for the right menu item to select a snare and add heavy decay, you just press the snare button and turn the dial. It's labeled in friendly white letters and everything.
Our Review
The Drumbrute is a modern drum machine that's been broken down and spread out. Everything is right out in the open; it's a very hands-on device. You can spend hours playing with the different knobs as it loops; it's a totally different workflow than a digital device you program before sequencing.
The thing you have to be prepared for is even a very simple drum machine like the Volca Beats is still really complicated. When you spread out all the functions, you get a ton of buttons and knobs. That means two things. One, it's big. You won't be taking it to a coffee shop to work out a new song.
Second, you will be spending a ton of time learning through experimentation. If you enjoy that, great. If you don't, grab the Volca Beats instead.
As a final note, the Drumbrute has one unique feature that we need to point out. Every voice has its own output channel. Most people probably don't care, but there are definitely some hardcore synth lovers that just smiled at the idea of having 12 sequenced outputs to play with.
---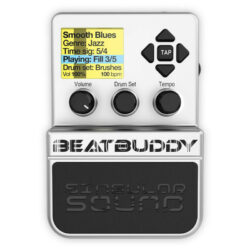 What's It Best For?
The Beat Buddy is a guitar pedal like the Micro Drummer. That's about where the similarities end because the BeatBuddy is an incredibly complex machine for looking so simple.
It's fully programmable, it has hundreds of sounds, and it sounds really good. It also has some totally unique features, like an instant-fill button that adds a drum fill when you tap the pedal.
Features like that take this pedal from a practice aid and turn it into a full-on performance and recording tool.
Our Review
The Beat Buddy is a really great drum machine with one major downside: hundreds of features are all controlled with a few buttons. Watch the sample we have linked, and you'll see two things. The first is that it has a ton of really amazing sounds and rhythms. The second is that it takes him forever to find them because he has to scroll through approximately a hundred options to get to the one he wants.
What saves it is that it's a really amazing tool for guitarists. If you are a guitarist, that's the reason you would buy the relatively expensive beat buddy over something like the Alesis SR18. The Alesis is just as competent, and it's easier to use, but it doesn't include preloaded famous songs to play along with.
---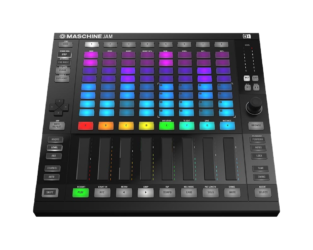 What's It Best For?
Some people find drum machines to limiting. They want total and complete control over the samples and want to switch up the order at any time. Maybe add chromatic notes into the mix and build the entire drum loop from the ground up. Those people are often called producers, and they love colorful pads like this.
Our Review
If you aren't familiar with devices like this, they can look really intimidating. There are more than 50 buttons, and most of them are not labeled. It's got funny sliders, a joystick, and it lights up like a Christmas tree. Worse yet, if you plug it into a speaker alone, you won't get any sound.
It's easier to think of the Maschine like the controls for an arcade game than a stand-alone instrument. You assign sounds to the buttons using a computer, and then you can play that assigned sound every time you press the button. It's more than that, though, because it's also a sequencer. That's why it can double as a powerful drum machine.
See, all drum machines are sequencers. They play sounds or patterns in a sequence. It's just that most drum machines are fairly rigid. You get 16 or so steps that can each be assigned a limited number of sounds.
Even the highly customizable Roland TR-8S has a strict structure to it. You can't do things like press and hold a note while isolating a specific tone; you have to add things into the sequence.
The Maschine has no such limitations, which is both freeing and terrifying. You are on your own when it comes to making beats. Thankfully, they include the software with the device. At least you don't have to go down that rabbit hole.
---
FAQ
As we've said, drum machines can be overwhelming. Thankfully, we've answered the most common questions about them here.
---