Top 10 Best Karaoke Machines 2023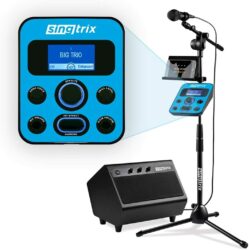 Who's It For?
This is the best karaoke machine for the serious singing enthusiast. Whether you are practicing for your next major gig or you have a following at your local karaoke bar, this machine has all the elements necessary to help you practice, have fun, and get the most out of a microphone.
The price is a big reason for this; you have to be really into singing to justify paying almost four times what you'd pay for other decent mic stand-style machines like the SingStand 2. It also has a lot of features that your average casual karaoke singer probably won't need. Vocal effects? A separate monitor? Individual volume and tone control instead of automatic controls? If none of those things excite you, just get something like the KaroKing which is a really good unit with flashing lights that you won't have to spend an hour dialing in the perfect settings to make work.
Our Review
Do you want an entire backup band and studio engineer in a box? This machine has it. You can sing your own harmonies, record, and dial in the perfect music to sing over. It even looks like a studio mic setup, with the detached monitor and sleek stand.
It's great for anyone because of how it has different modes for different skill levels, but honestly, it's not that hard to pull up different song levels on any karaoke machine. It has an impressive visual effects package too.
Yet what is most impressive here is the 40-watt studio speaker and the quality microphone. This system is about as close as you can get to building your own dedicated PA system without actually building your own PA system. Sprinkle in some fun vocal effects, instrument inputs, and the ability to record your singing, and you have a perfect recipe for practicing vocal control and wowing your friends.
---

Who's It For?
Entry-level singing enthusiasts rejoice because this karaoke machine has everything you want out of a mic stand-style machine but costs less than half what other decent devices like the iSM1030BT cost.
The speaker isn't great, the microphone is honestly pretty bad, and the stand is missing a lot of the adjustments that a real mic stand would have. However, when you are just getting into a new hobby, simply having something that functions similarly to more expensive units can be beneficial. Plus, it makes it more fun if it looks the part.
Our Review
The SingStand 2 has a lot of features that are similar to the impressive Singtrix machine. It's got instrument inputs, so you can play along with a guitar. It's also got a smartphone or tablet stand, a mic stand, and a few vocal effects. It even looks good; it's a lot more like a stage mic in design than the more children's toy style that many karaoke machines have.
This machine does suffer a little in the quality department. The microphone is just ok, and you will never rattle windows with only 5 watts of power. At the price point though, it's excellent, and is a great budget pick up for some casual karaoke fun.
---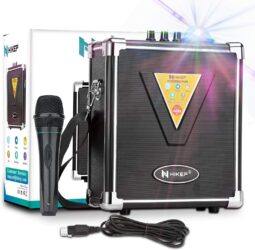 Who's It For?
The best feature of the Hikep Portable machine is the big 3000mAh battery. That gives this portable unit 6 hours of max volume playing, so you can start your summer beach party after dinner and keep going until after midnight. It's the perfect thing for anyone that wants to bring karaoke with them wherever they go.
Not only that, but it also makes a really nice portable PA or guitar amp. If you like to narrate friendly sports matches between friends or lead a marching protest, then that portability can really come in handy.
Our Review
There are a ton of portable karaoke machines on the market. Almost all of them are battery-powered, include a microphone, and have some kind of disco light stuck on them somewhere.
Two things set the Hikep apart. Feel free to call us vain, but the first thing is that it looks good. It looks like a proper musical instrument instead of a lava lamp induced nightmare. There are plenty of units, like the SML385UW, that are glowing plastic boxes. It's really nice that Hikep chose to make a product that is a little more sophisticated.
The second is that the battery lasts a lot longer than similarly priced portable units. The microphone isn't wireless, which is unfortunate. It also doesn't have two mic inputs, so no duets on the beach. The tradeoff, however, is great durability and that 6-hour battery life.
---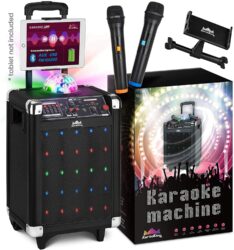 Who's It For?
If you want to host parties that people talk about for years, then this is for you. If you have a full bar next to your fridge and own an authentic stadium nacho cheese dispenser, this is for you. If the cops know you by name and when they arrive at 2 AM, you answer the door saying, "sorry officer, yeah, I'll turn it down," then this is for you.
The KaraoKing gets loud and includes two wireless microphones so you and your buddy can sing a duet on stage without risking getting tangled together. It also has more lights than a UFO and is battery powered so you can drag it outside and signal to the aliens while announcing the winner of the limbo contest.
Our Review
We were a little hard on karaoke machines with a bunch of lights in our review of the much more refined Hikep machine. Sometimes, though, karaoke isn't meant to be taken seriously. It's true. That's what the KaraoKing exemplifies: having fun. Everything about it is built around drunken shenanigans, late-night partying, and forcing your shy friend to join you on stage to sing a duet that neither of you knows the words to.
If you still want an ultimate party machine that doesn't have the lights or gimmicks, take a look at the Singing Machine Pedestal. They are both on the expensive side, but both highly capable personal amps and karaoke centers. The Singing Machine is not portable, but it has better speakers and a screen for displaying lyrics. The KaraoKing has a clamp to hold a tablet instead, but you'd have to bend down and stare into the blinding disco lights to read the lyrics, which makes it sort of useless.
---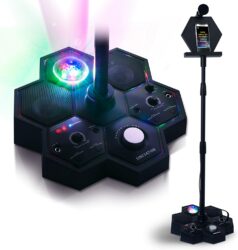 Who's It For?
This is the perfect machine for families that love to sing. It's got a ton of features that are sure to please a large variety of people. It's got a disco light to entertain the audience, vocal effects to entertain the children with, and it's self-contained so it can be moved to the garage when the kids get too loud.
The sound quality is good enough that an emerging teen diva won't hate it, and it's cheap enough that it makes an easy family Christmas gift. Just make sure to get the younger ones to help change the settings as soon as possible. The only way to adjust things is by the dials in the foot of the pedestal; bad backs be warned.
Our Review
This machine is a really great compromise between the cost of the Singtrix machine and the lower cost, but lower quality, of the SingStand 2. It does not have the fit, finish, or control of the Singtrix, but it has more features, effects, and lights than the SingStand 2.
Two things prevent this machine from being higher rated. The first is the awkward controls. Having to do yoga to adjust the volume can get annoying quickly.
The second is the speaker. It sounds ok at low volumes but distorts very quickly as the noise is increased. It's an easy thing to solve, though. Just plug it into your soundbar or external speakers using the headphone jack. Done.
---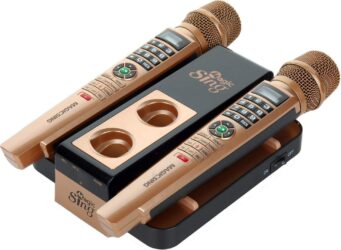 Who's It For?
The 2020 Magic Sing is for people who are willing to spend a bit more for a device that is a bit fancier. Something that would look fine sitting on the cherry end table between the caribou chairs and a conversation starter for when you have the coworkers over for wine and cheese.
That's because this gadget is supremely elegant. First, it comes with two wireless microphones that are also remote controls for the machine. You and a singing partner don't even have to get up out of your recliners. Just grab the mic, scroll to your favorite duet, and begin. Second, if machines like the SML385UW look too much like they belong in a preteen bedroom, the Magic Sing microphones wouldn't look out of place in a rap star's mansion.
Our Review
There are two karaoke machines on our list that can be controlled by buttons on the microphone: the Magic Sing here and the Bonaok wireless microphone. They could not be more different. The Bonaok is cheap, only plays music from an external device, and is completely self-contained.
The Magic Sing needs to be plugged into your home theater system, has its own massive music library, and is the most expensive machine on our list. That makes the initial setup a little harder. When it's set up and ready, though, it's ridiculously easy to use. We weren't exaggerating above; you can be fully reclined in your favorite chair, pick up the mic, and start singing your favorite song. For many, that's a feature worth paying the price for.
---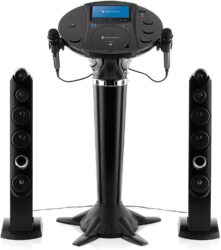 Who's It For?
This machine takes up a lot of room. It's tall, holds two microphones, and has two large speakers that are detached and can be placed around the room for a great stereo effect. It's also got its own display for lyrics, something unique to this machine on our list.
That makes it the perfect machine for anyone that loves karaoke enough that they are willing to section off a large area of their game room to make sure that they have the perfect stage.
It's also perfect for the few people out there that have a collection of CD-Gs. Most modern machines have dropped the format in favor of MP3s or streaming from other devices. This Singing Machine does all of that and more.
Our Review
You can think of the Singing Machine as the grown-up version of the KaraoKing machine. It has lost the bright lights in favor of an easy to read lyric screen. It left portability behind in favor of sound quality, and it picked up some old school inputs so that it can better connect with grandma and grandpa.
It's still fantastic for parties. It includes two mics and can double as an entire sound system for when you just want to play some tunes and enjoy the evening.
The problem with getting older is that the new generation might not appreciate the classics. CD+Gs are hard to find nowadays unless you stumble across them at a thrift store. The other problem with getting older is that you don't want to move around as much. The wired mics don't allow the freedom that the wireless KaraoKing allows, and the need to stay near the pedestal to control the device means you'll be stuck in whichever room it is set up in.
Still, if you have the room and want the full karaoke night experience, it's perfect.
---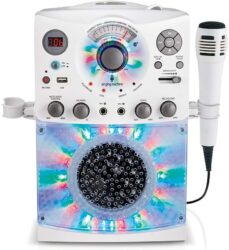 Who's It For?
Do you host parties, but you aren't sure how well karaoke would go with your friends? Instead of spending over $200 on the KaraoKing, just grab this Singing Machine instead. It's about the same size, still lights up like an entire club, and you won't feel bad if you lose interest in it after a month. It's good enough quality, though, that you won't be left wondering if you'd actually enjoy the activity if you had just gotten a higher quality machine.
There is another scenario where this machine really shines: when your child asks you for a karaoke machine so they can start their own singing career. It's a lot closer to a professional setup than gimmicky machines like the Bonaok, but there are still enough razzle-dazzle to keep younger minds entertained.
Our Review
Does it have the greatest microphone or best-sounding speaker? No. Does it look like the offspring between a mini-fridge and a Christmas tree? Yes. Is it the perfect centerpiece for a slumber party? Absolutely.
The nicest thing about this machine is that it's inexpensive without being cheap. It plays a large variety of formats and can be hooked into a TV. It has all the features you could ever want, and that allows you to experiment. If you decide you want to upgrade after spending time with the Singing Machine, you'll know whether you want to go more into the vocal star side of things with the Singtrix machine or go full party mode with the KaraoKing. If you decide you just don't like karaoke, you'll know for sure that you gave it the best chance it could have.
---

Who's It For?
Sometimes we need things in our lives to remind us to have fun. The Bonaok microphone is one of those things. It doesn't have great sound quality or build quality. It's a tiny speaker trapped in an LED laced plastic cube; you can't expect it to sound like a full Dolby system. That's not the point.
It's perfect for giving as a gift to someone who likes fun gadgets and singing. At your next office Christmas party, give one to the gal in cubicle 23 that's always singing along with the radio. By the time the office party is over, you'll be sick of hearing it, but the sheer joy it will bring the recipient is worth it.
Our Review
You can be anywhere, doing anything, and all you have to do is cue up a YouTube video on your phone for instant karaoke time. Pass it around at your next party, use it as a megaphone, or give it to your neighbors 4-year-old and see how long it takes them to go crazy. Or just keep it around as a backup for when your KaraoKing machine runs out of batteries and the crowd is starting to get rowdy.
---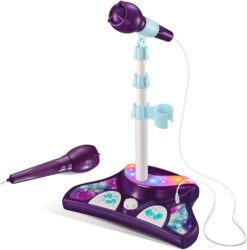 Who's It For?
The L P Kids Karaoke Machine is best suited for kids. We know, we were shocked too. Why should young children be the only ones to get an applause button on their mic stand? Which is a great feature, by the way, and allows them to play make-believe in their room.
What's nice is that it's not just good for one kid. The machine comes with two microphones, so siblings can sort out their rivalry in a sing-off. It also breaks down and can be easily carried around. As long as the AA batteries are fresh, any child can walk around singing their hearts out no matter where they find themselves.
Our Review
If you analyze this machine as an adult, it's pretty terrible. It's made of plastic, the microphones are barely better than an old webcam mic, and the included sound effects are really annoying. You have to put yourself into the mind of a three-year-old to truly understand the brilliance.
As a three-year-old, you think your voice sounds amazing, no matter the quality of the playback. You love that all you have to do to get a song to play is to step on a big foot pedal, and the lights instantly transport you to the stage where your band is about to go live.
When they outgrow the L P Kids machine, it's an easy upgrade to the Singing Machine SML385BTW. They both work in similar ways, and they both light up like a disco ball. If you have a budding superstar, this machine is a great first step on their musical journey.
---
FAQs
---