Top 10 Best Headphones for Mixing and Mastering 2023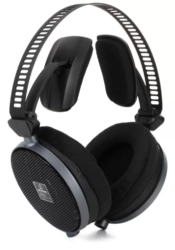 Sound Quality
Audio-Technica is a Japanese manufacturer whose name speaks for itself. They've supplied audio equipment to big-name TV shows like Big Brother and Deal or No Deal, plus their headphones and microphones have been used at almost every Olympic Games event since 1996. When we say the ATH R70x lives up to its reputation, we mean it.
The flat response, wide frequency range, and wide-open soundstage combine into a near-perfect environment for mixing and mastering, as long as you have the power to run it. You'll definitely need an amplifier for this one.
Comfort
The spring-loaded cushioned arms that rest on your head are adjustable using the metal band above them, leaving the clamping force entirely in your hands. Combined with such a lightweight build and a lengthy cable, you could easily keep these on all day while you move around your studio.
It automatically detects the orientation of the headphones, so you'll never have to worry if your left and right channels are wrong again. We wish the pads were a bit larger, though, as they can be uncomfortable for those with larger than average ears—the similar open-backed Beyerdynamic DT 1990 Pro features two sets of pads to ensure a better fit if these won't fit right.
Our Verdict
Overall, you can't go wrong with choosing the R70xs unless you're lacking in power supply. With accuracy rivaling even the vastly more expensive Sennheiser HD 800 S headphones, they're a great choice whether you're adding to a professional studio or just your bedroom.
---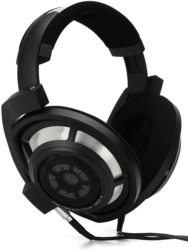 Sound Quality
The HD 800S delivers an awe-inspiring soundstage with ridiculously good imaging accuracy. For audio engineers who do a lot of panning and instrument placement work these headphones are like a dream come true. It's been compared by professionals and reviewers alike to actually using studio monitors, and we'd have to agree.
There is a small hang up in all this awesomeness, though. Without any amplifiers or software altering the sound, the high-end comes in noticeably bright. Part of the upgrade to the 800S involved taming the treble, so it's disappointing there's still an issue here.
Comfort
Once you've got these headphones on right, they're comfortable and light enough in both weight and clamping force to feel almost like they aren't there. The catch is you've got to figure out how to get them on right, which can be unfortunately tricky thanks to the large ear pads and short headband area. Though not quite as premium in other areas, the AKG K701 comes out on top in terms of comfort.
Our Verdict
Like its similarly priced closed-back competitor, the AKG K872s, the hefty price tag on these headphones sounds a lot more reasonable when you realize how much you'd be spending on monitors and room treatment that can beat this kind of quality.
Despite some issues with the frequency response curve that can be solved with software or certain amplifiers, the Sennheiser HD 800Ss are a welcome and premium addition to any audio engineer's studio.
---
3.

Best Budget Mixing Headphones:

AKG K245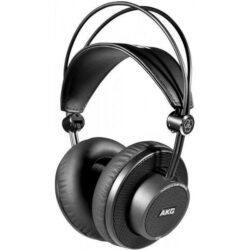 Sound Quality
Aside from bass coming in hot, for such inexpensive headphones the frequency response is surprisingly neutral and lacking in coloration, though if you take time to learn the characteristics of the K245s that coloration is worked around easily enough. The sound isolation is excellent for open-backed headphones – that kind of best of both worlds quality is hard to find.
Comfort
For somebody with a smaller-sized head, or maybe a child, these headphones are as comfortable as any other in their range. The long coiled cable even gives you plenty of movement slack.
For anyone larger than that, though, the clamping force can be headache-inducing, if you can even get the thin and easily torn ear pads positioned right in the first place. If your head is above average size, you're going to want to pass on these outright and choose something larger like the Shure SRH1840.
Our Verdict
In the audio world, you get the quality you pay for most of the time. Thankfully, budget cans like the K245s like to come along and buck that trend from time to time. They obviously aren't going to blow you away like Audio-Technica's R70xs. But for a very reasonable price you're getting a tough, foldable pair of headphones you can feel safe bringing outside the safety of your home. We only wish they made them in a larger size.
---
4.

Best Closed-Back Mixing Headphones:

AKG K872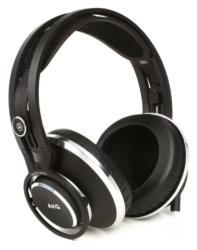 Sound Quality
Something of a jack-of-all-trades, the sound isolation and clarity of the K872s make them at home no matter what you're up to in the studio. That makes the low impedance especially awesome, because you can plug them into almost anything without running into power draw issues.
It's impossible to avoid coloration from closed-back headphones, but AKG's design mitigates that as much as possible, leaving you alone with the music thanks to the great sound isolation.
Comfort
The clamping force of these headphones manages to be both firm enough to keep it on your head, but light enough it feels like it's barely touching at the same time. They're easily adjustable and will fit heads of all shapes and sizes just as well for hours, scoring huge points in the ergonomic category.
Our Verdict
It's said you shouldn't even think about using closed-back studio headphones for anything but recording and tracking. We wouldn't be surprised if we found out AKG set out specifically to disprove that theory with the K872s. Our only real gripe with these headphones is the lacking response curve. The significantly cheaper K701s – also by AKG – make us wonder why AKG took the step backwards, and are a good alternative choice for anyone who prizes a good response curve over this otherwise superior model.
---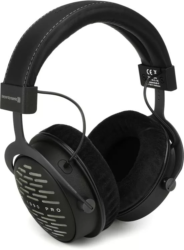 Sound Quality
No top ten headphone list would be complete without Beyerdynamic's name on it. The DT 1990s are a direct upgrade to the more budget-friendly DT-990 Pros in almost every respect. It's like the inverse of the Sennheiser HD 650s – an upfront presentation with a V-shaped response curve that emphasizes the bass and treble while moving mids in the background.
If durability isn't your main concern, choosing between these two pairs of headphones is almost entirely personal preference, as they both feature amazing depth and accuracy in their price range.
Comfort
Though a little on the heavy side for open-backed headphones, the DT 1990s are still no slouch in the comfort department. The analytical set of pads is softer and less heavy on the clamp force than the balanced pads, which is great for those long nights spent on a mix. It would be nice if it were less of a pain to swap these out, though, because as it is you generally stick one set on and leave it no matter what you're doing.
Our Verdict
The only open-back cans that compete with it on the durability front are the AKG K245s and Shure SRH1840s, and it's frankly no contest on the audio quality front between the former and the DT 1990s. The soundstage can get a bit box-shaped because of the less open design, and we think if your headphones include ear pad swapping as a feature it should be a lot easier than this.
---
6.

Most Ergonomic Mixing Headphones:

AKG K701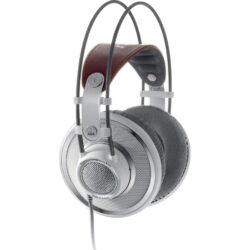 Sound Quality
Despite being an older model compared to the AKG 712s, the K701s have a nearly completely linear response curve the newer models lack. This is one of the most important things to look for in a good pair of mixing cans and AKG has absolutely knocked it out of the part here.
Every bit of sound that comes out of them is lush and pure, putting the perfect mixdown in your hands every time. It doesn't demand much power to work at full capacity either. Quincy Jones, the man who produced three of Michael Jackson's most famous albums, liked these headphones so much he endorsed an entire line of them.
Comfort
Ergonomic headphones are difficult to do right thanks to the vast array of unique head shapes and sizes out there. AKG really managed to impress on this front with the huge 3D-Form ear pads that fit comfortably over any sized ears. You won't need to worry about fiddling with the headband to get it to sit right either – it's self adjusting, bending and flexing to provide maximum comfort and ergonomics no matter how you've got it on your head.
Our Verdict
Not only are these comfortable, they pack a linear response curve that competes with the very best of the competition, like the ATH R70xs. With all of this quality, we were surprised to find the cable itself isn't replaceable. It seems like a big oversight on an otherwise incredible pair of studio cans.
---
7.

Most Versatile Mixing Headphones:

Sennheiser HD 650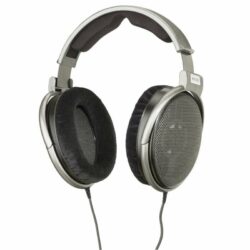 Sound Quality
A lot has been said over the years about the HD 650s' sound quality, and almost all of it has been good. They don't stand out as much when it comes to stereo imaging, but make up for it with a sweeping, high-resolution response range that brings out every last detail of a mix.
Unlike more aggressively tuned cans, the audio output is smooth and laidback making it easy to go hours without losing fine details to ear fatigue. Thanks to the excellent transparency and the drivers being an inch away from your ears, if you close your eyes you might forget you're wearing headphones.
There is some notable dark coloration to the sound in the low end. Sennheiser designed these headphones to work well for both audiophile and audio engineering purposes, so there are trade-offs if you're looking for the flattest response curve possible, and something like the Audio-Technica ATH R70x might be a better choice if that's what you prefer.
Comfort
With luxurious velour ear pads that rest gently over your ears, the HD 650s are designed for long-term comfort and it shows. For the average wearer, they rest lightly enough that even glasses won't cause pain over time. But at a certain size, the clamp force makes itself known. Troubles with larger-sized heads aren't uncommon, but we wish more manufacturers had solutions to them like AKG's approach with the K701.
Our Verdict
You can thank the HD 650s for helping open the door to all the great, affordable mixing headphones on the market today. These headphones are good enough they've been singled out as a threshold of diminishing returns – you can pay ten times more than them, but you won't be getting ten times the quality.
They aren't as far from their premium sibling, the HD 800S, as the prices would suggest. It's hard to go wrong picking yourself up a pair.
---
8.

Best Headphones for Analytical Mixing:

Shure SRH1840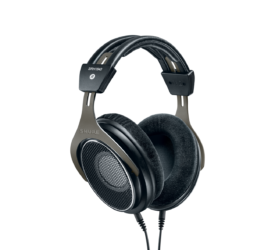 Sound Quality
There's no shortage of amazing high-end headphones these days, dominated by the big names like Sennheiser and AKG. But Shure, a nearly 100-year-old audio equipment company, isn't about to be left out of the fun. You get a crystal clear sound out of these with impressive neutrality – exactly what you're looking for in mixing and mastering cans.
It seems Shure was looking to target both studio and live use cases with these headphones, but as open-back headphones, they lack the sound isolation qualities that make headphones work in that setting.
The largest strikes against the SRH1840s are the surprisingly high distortion for such expensive and otherwise impressive headphones and the somewhat boxed-in soundstage. They're no five dollar earbuds, but it's still a head scratcher as to why they came out like this. They're perfect for mixdowns, but someone looking for more well-rounded open headphones would likely prefer the Sennheiser HD 800S.
Comfort
A single glance at those lush velour ear pads speaks volumes about how comfortable the SRH1840s are to wear. Thanks to the smartly designed headband, the clamping force never becomes an issue even on larger heads. That headband is also a little concerning to us, though – there doesn't seem to be a way to replace it if it starts wearing out.
Our Verdict
They're much easier to drive than the Sennheiser HD 650s but very comparable in sound quality, making these a perfect choice for those who don't already have a powerful amplifier on hand. Minor distortion issues and some build design choices are the only thing that holds these headphones back from truly competing with the best.
---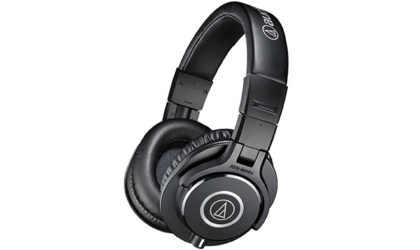 Sound Quality
Though it still has the shortcomings typical of closed-back headphones, Audio-Technica's entry-level range of headphones will still serve you well in a studio setting, especially for those dabbling in home electronic music production. If you can adapt to the way the bass can muddy and color the sealed environment, you'll find an impressively flat response for such basic cans.
That being said, the sound isolation doesn't come in as strong as it does with other closed-back headphones we reviewed, like Bose's QuietComforts, and you'll likely experience sound bleeding both into and out of the ear pads while in use.
Comfort
A gentle clamping force that doesn't feel like it's squeezing at all defines these headphones, but if you wear glasses you may still find them uncomfortable after a long period—something open like the Sennheiser HD 650 is really a safer bet for glasses-wearers. They're capable of folding in on themselves, making them great for traveling, but unlike the ATH M50xs the ear cups only pivot 90 degrees instead of a full 180, making them harder to use in DJing situations.
Our Verdict
We chose these as our pick for entry-level mixing headphones because they deliver a fairly flat response curve at a reasonable price, but can still be used as a daily pair of headphones. So it's perfect for somebody looking for a taste of the hi-fi realm without breaking the bank or losing the sound isolation of closed-back headphones. You may also want to consider the AKG K245s if you're interested in hearing what open-backed headphones are like.
---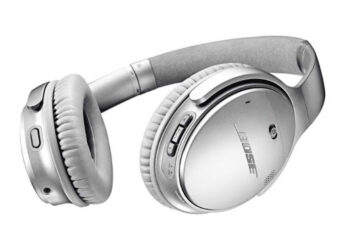 Sound Quality
Bose is somewhat notorious for not publishing the exact specs of their hardware, so we've aggregated them ourselves after combing through professional testing reviews. That means they're as accurate as we're going to get without Bose changing their minds.
As far as wireless headphones go, these have a clarity and accuracy to them that lends itself well to mixing and mastering, as long as you're willing to deal with the inevitably latency Bluetooth introduces to the process. The QC35 IIs also have great sound isolation, to the point you could be listening in bed next to somebody and not wake them. There's even an active noise cancelling solution, the headphones using the built-in microphone to help filter out outside sounds.
But as closed-back headphones tend to have, there's a cramped soundstage and a noticeable V-shape to the response curve.
Comfort
As a more audiophile friendly pair of headphones, Bose really focused on comfort to great effect. The clamping force is in that sweet spot of firm but hardly noticeable, and the large ear pads cup your ears gently while they're in use. Because these are designed for more general use, you can even get away with lying down while wearing them. With a 20 hour battery at full charge, you could keep these on all day.
Our Verdict
If for some reason you're in need of a wireless mixing solution, the QuietComfort 35s will serve you well. But if you can take or leave the wireless capabilities, there are much cheaper and higher quality options out there, such as the HD 650s from Sennheiser.
---
Mixing Headphones FAQ
Still have questions or scroll past the guide looking for some quick info? Check out our answers to some of the most common questions our team has heard about mixing and mastering with headphones.
---