Top 10 Best Violins for Beginners 2023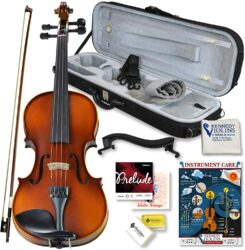 Build, Setup, and Sound
We're excited to recommend this little-known but truly exceptional violin outfit. Its price is relatively low, but the value is immense.
It's a handmade violin with a decent build and, more importantly, an exceptional setup. It's sold exclusively by Kennedy Violins, a store that's run by violinists who really know what they're doing. While they outsource the violin production, the store has in-house luthiers that do the setup on all of their violins, which seriously ups the playability and sound.
It comes out of the box pretty much ready to play! It has a warm, mellow sound that's very forgiving. Aside from the setup, another reason for the lovely sound is that the violin has an oil finish which doesn't hinder sound quality the way the more common varnish finish would.
Admittedly, this violin is not very resonant, and its sound projection is weak, but that's perfectly fine for a beginner who isn't performing yet. If you do want a violin that'll have a bigger sound for the long term, have a look at the D Z Strad Violin Model 101 instead
Extras
This violin outfit is perfectly serviceable, with an above average case fitted with convenient extra compartments. The bow and shoulder rest are decent, and the Prelude strings are an industry staple.
Who It's Best For
We recommend this violin to everyone, no matter their age. After a year of playing it, you can make a few small upgrades that will carry it through to your second year, as well.
---
Build, Setup, and Sound
You're probably familiar with Yamaha since they make so many high-quality musical instruments. Their student violins are incredibly reliable and consistent, so many violin teachers recommend them.
The AV5 impresses on multiple fronts. It's handcrafted out of maple and spruce that were aged for 5 years, guaranteeing that it won't warp or lose its sound over time. Most beginners find it comfortable to hold and to start playing right away.
It also comes impeccably setup and varnished with oil, so it has a fantastic warm sound. It's very projective, so it might even work for performances.
Extras
While this outfit doesn't include a ton of extras, the ones it does include are of excellent quality. The bow, case, and even rosin are excellent, while the strings are decent. It's also fitted with a Wittner tailpiece with fine tuners, which makes tuning precisely much easier, especially as a beginner.
If you'd like a premium violin that'll be even easier to tune, check out the Knilling Perfection II Violin.
Who It's Best For
If you're ready to start on the best foot possible, this outfit is well worth the investment. We recommend it especially to adults and older teen beginners.
Yes, it's quite expensive, especially if you're not certain you'd like to keep playing, but most retailers have a 45-day return policy, which might help you feel less risk-averse.
While many other beginner violins will only serve you at the very start of your journey, the Yamaha AV5 will easily suit you as you progress through the levels. Once you feel like it's time to upgrade, you can sell it and probably not lose too much money.
---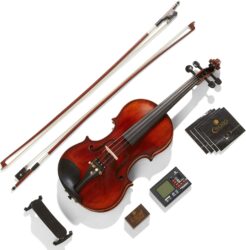 Build, Setup, and Sound
This affordable violin from Mendini by Cecilio has a gorgeous build and the nicest sound we've heard at this price point. It has a full, warm sound and excellent projection thanks to the hand-carved body and the oil finish.
The main drawback to this violin is that the setup is inconsistent, although issues are generally more likely with cheaper violins from the same series. It's like spinning a roulette, and you might find yourself needing to get a few fixes done by a luthier, usually to lower the bridge or nut that hold up the strings.
Thankfully, the outfit comes with a warranty, so you do have some recourse if there are any severe problems.
Extras
The feature we appreciate most about this outfit is the sheer number of accessories it includes! It comes with basics like a case and bow, as well as extras that are not commonly included, like a shoulder rest and a tuner that doubles as a metronome. As you improve, you may want to switch to a better bow or a more comfortable shoulder rest, but it's great to have so many things right off the bat.
Who It's Best For
This kit is great for adults and older children alike. It's especially convenient if you don't want to spend your time hunting for all the additional violin accessories that most outfits don't include. However, you need to be willing to take the risk of spending a bit more money on adjustments.
If you're willing to stretch your budget just a little, we'd still recommend the Bunnel Pupil Violin Outfit over this one. However, if your budget is very tight, this is the most you can get at this price point.
---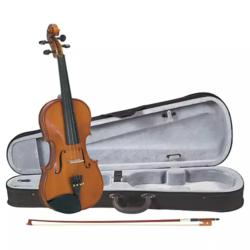 Build, Setup, and Sound
The Cremona SV-75 is a quintessential beginner violin, especially for young ones. It's widely available, incredibly affordable, and its quality is relatively consistent. Unlike many other budget instruments, it's made of solid wood rather than laminate.
It has a mellow sound that can get a little "tinny" on the high-notes but is fine on the low registers at which beginners normally play. It's great for the first year, but after that, you may run into issues. Also, dye might come off of the fittings or the wood may warp. Most importantly, the player's skill will outgrow what this instrument can do.
Extras
This violin doesn't come with much, but it does include the essentials. You'll have to buy a rosin and shoulder rest separately. If you'd prefer a one-and-done violin shopping experience, just a little more money will get you the very full Mendini MV500 Violin Outfit.
Who It's Best For
This is one of the few violins on our list that come in very small sizes, including 1/16 which is quite rare. For many parents, the low price on the Cremona will be helpful, since you'll have to size up a few more times as your child grows.
Adult violinists may scoff at the colorful varnishing, but for a child, it's a great feature. If you let your child choose a Cremona in their favorite color, they'll be more enthusiastic to learn and practice!
If your budget isn't too tight and you'd rather have a child-sized instrument with a better sound, the D Z Strad Model 101 is a great choice.
---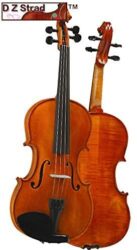 Build, Setup, and Sound
We're getting into another teacher-favorite violin that's on the higher side of our price range, though still affordable. This outfit is the next step up from the Bunnel Pupil Violin Outfit, with a violin that's properly set up by an expert luthier in the US. It's ready to play right from the box!
Compared to the Bunnel Pupil, the Model 101 has a nicer build, which corresponds with a bigger, clearer sound and also justifies the small price hike. It's the kind of violin you will never have to "fight against" to sound good.
The only drawback to D Z Strad violins is that they don't have a warranty. While we generally don't expect them to have any build issues, if anything does go wrong outside the 60-day return period you won't have much recourse.
Extras
The violin comes with a basic outfit and a shoulder rest. The quality of the added accessories blows most outfits out of the water. The bow bounces well and produces a great sound, and the shoulder rest (from a well-regarded brand) is extremely comfortable. It's also fitted with a Wittner-style tailpiece (though not an original Wittner like the much pricier Yamaha AV5), which makes precise tuning easy.
Who It's Best For
We think the Model 101 is a great choice for any beginner, no matter their age! It comes in sizes for very small children, so buy it if you don't want to compromise on sound or quality either for yourself or for your child. You'll be able to keep using it well into the intermediate stage.
---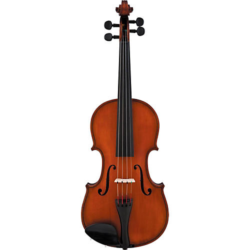 Build, Setup, and Sound
Knilling Violins are an interesting choice to consider, although they come at a higher price than most beginners may want to spend.
The company is very transparent about the fact that their violins are made abroad, but they do all of their setup in the US to guarantee playability. We find that the violin has the same nice build as the Stentor II 1500, but with an excellent setup that warrants the higher price.
Extras
The most special detail about this Knilling violin is their Perfection Planetary pegs. Unlike the pegs found in most violins, these pegs are geared so they're a little more like guitar pegs. They're faster and easier to adjust, and the strings are less quick to go out of tune. Other violins, like the Yamaha AV5, rely on fine tuners for precision tuning, but those add bulk and can alter the sound quality of your strings.
Beyond the pegs, the outfit is fairly barebones with just a case and bow, which is unfortunate considering the price point.
Who It's Best For
This is a great beginner violin for those who are planning to play long term. It will easily carry you through your first few years of progression, so you won't have to spend money on replacements for a while. It's also a wonderful choice for those suffering from arthritis or similar joint issues that can make tuning a regular violin painful.
---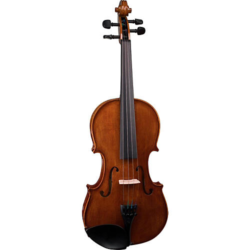 Build, Setup, and Sound
The Stentor does not get the credit that it deserves! For the price, it's a well-made violin, even if it has a few issues. It's a solid choice if you're on a tight budget, especially if you'd like to experiment with doing your own setup adjustments.
Stentor has impeccable quality control when it comes to their builds, despite the fact that their violins are mass produced. The wood used is well-aged, so the final build is solid and durable, with a very full sound.
The biggest issue with this violin is the string quality. Their factory-made strings can sound whistle-y, so while you can make do with them for a few months, we recommend upgrading as soon as you can.
The other issue is that the setup can be poor, even if the body itself is great. You can replace the bridge and do your own peg fixes. If that's not enough and you feel adventurous, you can watch a few luthier videos on YouTube and try to make additional fixes yourself. Alternatively, just bring it to a professional.
Extras
The Stentor 1500's build is similar to the Mendini MV500 Violin, but without the added accessories. When choosing between the two, consider whether you'd like the big Mendini bundle with all of those extras or whether you'd rather customize your purchases.
Who It's Best For
The Stentor isn't playable off the bat, but with a few adjustments, it can become an amazing instrument with a higher value. If you're handy and have some experience fiddling with musical instruments, you can make all of the changes yourself and end up with a real bargain.
---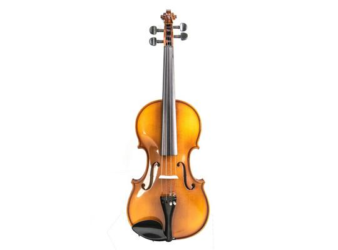 Build, Setup, and Sound
We wanted to give you the option of a nice but not overly expensive European beginner violin, made in a more traditional workshop. It's more expensive than mainstream violins, but we think it merits the price.
Hora violins are made in Reghin, a city in Romania with a long tradition of crafting musical instruments. Their violins have a great reputation in the EU, thanks to their long history and quality construction.
The V100 is made of solid wood sourced from the Carpathian mountains, which is aged for 5 years; this guarantees a long lifespan without warping. The sound is sweet and warm, with decent projection and resonance.
Extras
The outfit this violin comes with is minimal but decent, with a nice bow and a great protective case. However, you will need to pick up a few more essentials like rosin and a shoulder rest.
Who It's Best For
This violin is a good choice for anyone who wants to try a European design. Since it only comes in a full-size, it's recommended for teens and adults, and we believe the quality can last you through to intermediate violin levels.
---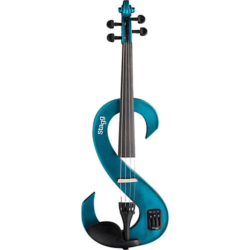 Build, Setup, and Sound
If you're a beginner who wants to practice silently or to experiment with special effects, this budget-friendly electric violin will help!
Despite its futuristic S-shape, the Stagg EVN44 is actually made of solid maple. It has a decent construction, and while it can sometimes run into tech issues, those are usually just a sign that the battery needs replacing. How it sounds will depend on how you adjust it as well as on your amp or headphones.
Extras
The price is one of the lowest we've seen for an electric, and it even includes all of the basic essentials a beginner will need, as well as headphones and a 9V battery. It's even fitted with fine tuners, which makes keeping it in tune a breeze.
Another cool feature is an additional output jack, which allows you to plug an mp3 player into the violin and hear yourself playing along with whatever music you like.
Who It's Best For
This wouldn't be our first pick for recording or performing, but it's more than adequate for practice. It's also awesome for having fun with pop or rock songs or for experimenting with effects pedals.
It only comes in a full-size, so you won't be able to give it to a young child. It's a little heavy, so it might also be an issue for younger teens. If you're willing to spend more and want a lighter electric violin that'll work for professional purposes, the Yamaha YEV-104 is a great choice, instead.
---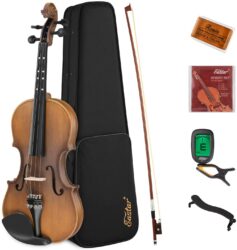 Build, Setup, and Sound
While it's offered at an incredible price, there's no denying that this violin has some problematic flaws. However, if you can't stray from a very tight budget, or if you're uncertain if playing violin is for you, it can be worthwhile to pick up this little guy and start playing.
Shockingly, despite the low price, the build isn't terrible. It feels lightweight yet solid, which is quite a surprise, although it often comes with cosmetic flaws. It's definitely not as nice as our next most affordable violin, the Cremona SV-75, but it's acceptable. It doesn't have much resonance or projection, but that's to be expected.
The main issue with this violin is the nut, which is the little piece that supports the strings below the pegbox. It holds the strings a little too high which may hurt your fingers during practice. If you experience that, you can have a luthier fix the issue.
Extras
Getting so much for so little is quite a bargain! The tuner and shoulder rest that come with this violin are surprisingly good, but the bow and strings are a big disappointment.
Who It's Best For
If your budget is very tight, this is a workable choice. Also, if you want to experiment with doing your own violin adjustments but don't want to damage a more expensive violin, you can pick this one up and not feel too guilty if you make irreparable mistakes.
---
FAQ: Answering Your Beginner Violin Questions
We've covered a lot so far, but the world of violins is vast and there's always more to discover!
---