Top 10 Best Travel Guitars 2023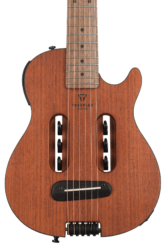 Why It's Good for Travel
Traveler Guitar is a company that, surprise, makes guitars meant for travel, and they are really good at it. Everything about this little ax is meant to make it easy to take with you. It's only 30" long and a little under 11" wide at the widest point.
What really sets it apart as a travel instrument is that it's really compact and light, but it remains really playable. Unlike many travel guitars, it has a full-sized Fender scale 22-fret neck with standard peg tuners. They are in the wrong spot, but they still function the same way.
How Does It Sound?
When you play it unplugged, it doesn't sound amazing. It's good for a little guitar–compared to the Martin Backpacker, the bass is amazing. But you will definitely notice that it lacks depth and warmth if you compare it to something like the Gretsch Jim Dandy.
The electronics are what really make it shine in the sound department. It sounds excellent plugged in. If you close your eyes and listen to the demo, you can't tell the sound is coming from a guitar that is less than ⅓ the size of a dreadnought. The only downside to the electronics package is that there's no ¼" jack, just a standard 1/8" for headphones.
One of the nice things about the Traveler Guitar is that if you would rather have a dedicated electric in the same style, they make them. They have the less expensive Ultralight, and they have what is frankly one of the best looking travel guitars you can get, the LTD EC-1.
Our Thoughts
Most of the time, choosing a guitar to travel with means choosing which sacrifices you are willing to make. The Escape makes very few sacrifices, and we love it because of that.
It feels great to play, it sounds great, and even though it doesn't look traditional, it does look good with the white binding. There's not much else to say about it. Unless you are looking for something particular out of a guitar, you'll be very happy traveling with the Escape.
---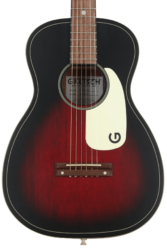 Why It's Good for Travel
Parlor guitars are the original travel guitars. In fact, in the 1800s, they were the only guitars; those traveling musicians and original cowboys played this style of instrument. One was even shot into space for Chris Hadfield to play on the ISS. That's a Larrivee P-01 for those of you playing the home game.
The Gretsch Jim Dandy has a big benefit over the Larrivee, though. It's less than ⅓ the price. One of the hardest parts of traveling with an instrument is the paranoia over it getting damaged. The Jim Dandy is inexpensive enough that some of that paranoia is alleviated.
How Does It Sound?
You have to keep in mind that it is a budget parlor guitar, so don't judge it as a vintage Martin dreadnought. If you need beautiful, clear sounds from a travel instrument, you should jump to the very expensive OF660M.
It does sound really competent, though. You get a good amount of midrange, but it doesn't have the banjo levels of brightness that many small guitars suffer from. The tone is perfect for your backyard blues.
Our Thoughts
The Jim Dandy has an interesting history. It looks like an ancient design, and it would fit right into any collection of 20s instruments, but the line was actually introduced in 2015 as parlor guitars started to grow in popularity due in part to the fact that a guy played one in space.
What Gretsch came up with to capitalize on that popularity was to create a guitar that looks really fantastic, sounds decent, and doesn't cost much. It suffers from the same drawbacks that most inexpensive guitars suffer from, like a lack of quality tonewood and budget tuners. Those aren't dealbreakers, though.
What you may find yourself wanting is more fret access. However, it is a full-width neck. It's more comfortable to play if you have bigger hands than a 3/4 guitar like the Luna.
---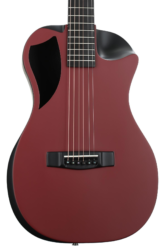 Why It's Good for Travel
Let's start with the biggest reason: the neck comes off. You undo a bolt in the back, press a button, and the whole guitar folds in half.
That's not all there is to it, though. The entire instrument is carbon fiber. When you travel, there are a lot of risks to your guitar. Dry heat can warp the neck, inattentive airport people can kick your case as they walk by, or worse. Carbon fiber isn't affected by temperature or humidity, and it's nearly indestructible.
How Does It Sound?
It sounds great. We feel confident in saying that the OF660M is the best sounding acoustic instrument on our list.
It does have onboard electronics if you want to amplify it, but that's not really where it shines. If you are just going to plug in the instrument all the time, the Traveler Guitar is also really portable and sounds fine when run through a speaker. Nothing compares to the unplugged sound of the OF660M.
Our Thoughts
As you can probably imagine, there is nothing cheap about this guitar. It is the most expensive instrument on our list. It's also a little funky. The 24.5" scale takes some getting used too, and some people might find the body design awkward.
It's such a fantastic guitar, though. The carbon fiber can be molded in ways that wood could only dream of, and Journey Instruments used that technology to create a travel guitar that doesn't sacrifice tone.
---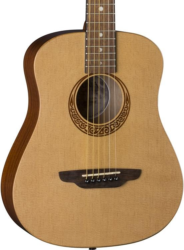 Why It's Good for Travel
A ¾ guitar is a little bit different than a parlor guitar like the Gretsch we mentioned before. It's still a small guitar, but where a parlor guitar has a full-size neck and a small body, a ¾ guitar has a neck that is ¾ size as well as a small body.
That makes them perfect for two types of people. The first category of people are people with smaller hands, like children. The neck isn't as thick, and the space between frets is shorter than a full-size guitar, which means playing chords requires a lot less finger span.
The second type of people are the type that brings a guitar with them wherever they go. The small size really lends itself well to being thrown on top of the sleeping back when you load the car to go on a camping trip.
How Does It Sound?
Luna always surprises us with how good their smaller instruments sound for the price. Travel guitars will always lack the depth and volume that a full-size guitar has, but with the Safari, you get about as much bass as is possible from a small guitar.
The easy comparison to make is to the Gretsch Jim Dandy. The Gretsch is brighter and more bluesy. The Luna is softer and lends itself much better to an Ed Sheeran cover.
Our Thoughts
Luna always makes great looking guitars. The Peace has a unique cutout and designs burned into the top, but if you are daring, take a look at the Starry Night.
We admit that the design isn't for everyone. The short scale and tiny neck can also turn your hands into pretzels if you are used to Fender's necks. If that's a concern, get the Jim Dandy or the Backpacker instead. If you have smaller hands or just want a really fun guitar to take adventuring, then you'll love this Luna.
---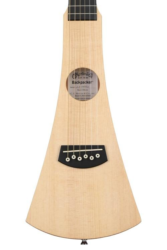 Why It's Good for Travel
You only have to glance at it to understand why it's good for travel. It's a full-size neck attached to ¼ of a body. It fits in this tiny little soft case that has a shoulder strap, and it's called the backpacker because it will fit in a backpack.
How Does It Sound?
It sounds shallow, it lacks bass, and it has almost no volume. That's the sacrifice you make to get a guitar that is this small. Companies like Traveler Guitar work around that limit by adding robust electronics or really clever design elements.
Martin is different, though. They have a reputation to protect, and they are not known for leaning into gimmicks or gadgets. Instead, they decided that if they have a bright instrument without any reverb, they will make it a great sounding instrument that's bright and has little reverb. It's a really unique tone, kind of like a guitar-mandolin hybrid. It's not for everyone, but it has its own beauty.
Our Thoughts
You can't talk about travel guitars without talking about the Martin Backpacker. They are surprisingly affordable, play great, and easy to take with you anywhere.
Unfortunately, even though it is iconic, that doesn't mean it's the perfect guitar for everyone. A lot of modern guitars, like the Traveler Guitar, surpass it in functionality.
What the Backpacker excels at is being playable, though. The full-size neck and Martin quality control make it an absolute dream to sit down with. Also, there's nothing wrong with wanting something because it's a classic and prestigious instrument.
---
6.

Unique Lightweight Travel Guitar:

Yamaha SLG200S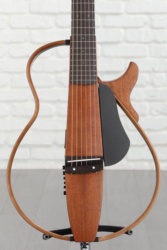 Why It's Good for Travel
Yamaha's silent guitars don't have much of a body, making them super lightweight and easy to carry around. On top of that, the body pieces can be removed, making the guitar nothing but a stick.
Even with the body removed, it's still bigger than the Traveler Guitar, though. What sets the Yamaha apart is that most travel instruments sacrifice versatility for compaction. Yamaha decided that that isn't acceptable and wants you to travel with a single guitar that can sound like any guitar.
How Does It Sound?
It's hard to talk about the silent guitar's sound because the onboard processing can be altered to sound like just about anything. That's Yamaha's thing: they are really good at making digital instruments that can sound as good as, if not better, than their acoustic counterparts.
Plugged in, the Silent Guitar is the best sounding "acoustic" guitar on our list. The Steinberger also has to be plugged in, but you'll never get the pure acoustic sound that the Yamaha can produce.
Our Thoughts
This is a phenomenal guitar in its own right. You can practice silently, dial in a beautiful, full-bodied sound, and laugh as guests stare in confusion at this weird piece of art you've brought to a gig.
It just suffers from a couple problems that might prevent it from being your favorite thing to travel with. First, as we mentioned above, it's a bit big even when it's broken down. Second, you have to have it plugged in. If you don't want to travel with an amp, then grab something like the Luna ¾ instead. Those sound great too. Nothing is as versatile as this Yamaha, though.
---
7.

Great Travel Guitar for Gigs:

Ibanez TCY10E

Why It's Good for Travel
Everyone needs a beater guitar that you can drag out to the rickety stage behind the bar and jam with.
The TCY10E is that guitar. Most travel guitars focus on the portability aspect of the travel equation, but not so much on the "play it at a gig at your destination" aspect. This Ibanez is thinner and smaller than most acoustics but can still project and be played without an amp.
How Does It Sound?
We don't want to be too harsh because the playability of the TCY10E is classic Ibanez greatness, but the tone leaves a lot to be desired. Even plugged in, this guitar sounds thin and a bit twangy. It's fine for backing up your singing or playing around a campfire, but you won't be doing any solo recordings with it.
What you do get is volume, and that's something that arguably better sounding guitars like the Luna or the Gretsch can't give you. Many smaller inexpensive guitars either have a body for acoustic playing or a pickup for an amp. The TCY10E has both.
Our Thoughts
Ibanez's necks are sort of the gold standard for fast, comfortable playing, and that's why you'd buy this guitar. It's cheap, it sounds good enough for small-time gigs, it's sturdy, but what you really want is the super nice neck.
Any other guitar on our list is better suited for air travel or long car rides. The Ibanez is all about traveling from your apartment to the pub, and it's brilliant for that.
---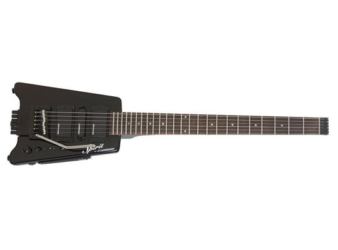 Why It's Good for Travel
Steinberger has been around for a while in the guitar world, and they have always been perfect for travel because they have no head and no body. It's just a stick, a stick that is four inches shorter than the Traveler Guitar. It's smaller than the Backpacker. It's even smaller than the ¾ guitar on our list.
You have to travel with an amp, which is the downside. We have some suggestions here. If you want to show up and shred, though, this is the right guitar to travel with.
How Does It Sound?
Go listen to any 80s guitar solo. There you go, that's what it sounds like. Steinberger's pickups have a very EMG like sound, and they are very, very versatile. You just have to dial in your amp settings and start playing; the Steinberger won't let you down.
Our Thoughts
The neck is great, the pickups are great, the quality is great, and the small size makes it ultra-portable. There's not much to say about all of that; Steinberger guitars have always been the go-to guitar for people who like weirder, high-quality guitars.
They are weird, though, and that can turn a lot of people off. That's why we would suggest the Traveler Guitar for most people: they aren't as weird. The Steinberger gets tuned by little pegs in the bridge, they have no nut, and they don't weigh hardly anything, so the balance is all wrong.
Still, there is a reason Eddie Van Halen (RIP) played one live in 1986. If you do a lot of traveling and want that level of rock and roll, grab one.
---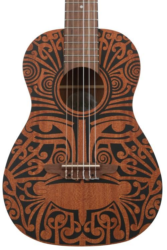 Why It's Good for Travel
It's tiny. It's so small it's not even technically a guitar, but you can absolutely tune it the same and play it the same way. You don't even have to stick it in the overhead since it will fit just fine on your lap in an airplane.
It's also, and forgive us for being a little vain, really neat looking. If you travel with it, people will want to come up and ask you about it. Wherever you go, you can get an instant audience to listen to you play.
How Does It Sound?
It sounds like a warm, deep ukulele. The nylon strings and lack of body depth mean you don't get much volume. The other Luna on our list is a lot better for outdoor spaces and sounds more like you would expect a guitar would sound.
However, if you are looking for something that sounds more like a ukulele, this is a great bridge between guitars and ukes.
Our Thoughts
There's a lot of line blurring going on in the modern instrument world. Guitaleles, ½ guitars, 6 string baritone ukuleles, and the carranguero all sort of look and sound the same. They are also all great for travel, so we thought we'd include an example on this list.
The example we chose is another offering from Luna, who we mentioned before as being a company dedicated to making great playing and great looking smaller instruments. This one is no exception.
---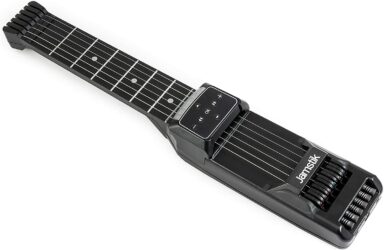 Why It's Good for Travel
The Jamstik takes a little bit of an explanation because it doesn't look at all like something that should sound like a guitar. What it is is a computer interface. You must use a computer to get the most out of it, which isn't really a problem for a modern traveler. Most people always have a way to run a MIDI program between cellphones, tablets, and lightweight notebooks.
This is great because the Jamstik is likely the most portable thing on our list. We praise instruments like the Martin Backpacker and the Traveler Guitar for being able to fit in a backpack or overhead compartment. The Jamstik will fit in a briefcase.
How Does It Sound?
It sounds like whatever you program it to sound like. Unfortunately, that means there's a lot of learning involved because it's more like a synth than a guitar. Even the Steinberger, as weird as it is, still functions as a guitar. The Jamstik only has 7 frets, and you don't tune it. It definitely has a much steeper learning curve than anything else.
The upside is that once you learn to use it, it can be a lot more versatile than any other practice guitar on the market. You can dial in any sound that a computer can make, and there is very little limitation on that front.
Our Thoughts
The Jamstik is not for everyone. In fact, most guitarists probably want something that's a guitar, not a fancy video game controller. That doesn't mean it isn't a whole lot of fun.
If you are really interested in this tech, you'll be glad to know that this is their entry-level instrument. Jamstik actually makes a full-size guitar that also functions as a midi controller, and it is awesome.
---
FAQ
---