Top 10 Best Concert Earplugs 2023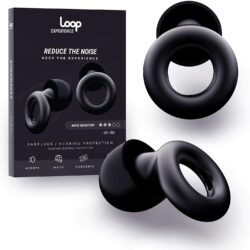 While these earplugs reduce sound by about 20 decibels per ear, the true innovation is their ring-shaped sound filters. These rings shape sound, reducing noise levels by about 20 decibels but letting the finer tones pass through at a lower volume.
These filters also serve as handles to remove and insert the earplugs. While the execution of the design is impressive, and they're one of the best-looking plug sets on the market, they filter out bass a little more than higher tones, leaving the resulting filtered sound a bit tinny.
They come in three sizes, with each purchase including two sets of small, medium, and large earplugs (one each of both silicone and foam). That makes your first purchase great, as you're sure to find a model that fits, but your following purchases a bit trickier, as you'll end up with four pairs of earplugs you don't need every time you buy.
That doesn't just feel wasteful to us, but it also feels like it drives up the price: something that we're not a fan of considering that these earplugs are already well above average in terms of price.
---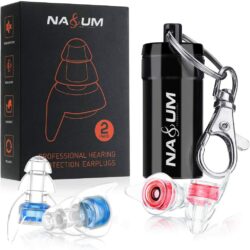 Similar to the recommended-for-musicians EarPeace Concert Ear Plugs, these sound barriers are comfortable and snug-fitting with a silicone construction, although they still manage to produce great sound quality by using an internal plastic filter that evens out sound quality across the spectrum. The set comes with two pairs and a carrying case.
But what's best about these earplugs is their price: these earplugs come in at under five bucks per pair, pretty impressive considering the fact that some higher-end disposable models can cross the dollar-per-pair line.
So really, they are nearly disposable, especially when compared to fully custom models or even lined up next to premium models like Decibullz Custom Molded Professional Filters that are meant for true audiophiles. Sure, sound quality isn't as great, but for the price, it doesn't need to be.
---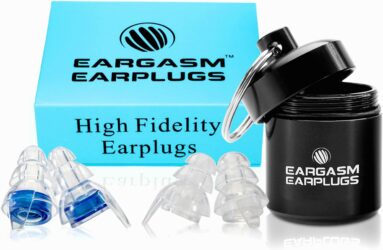 As far as maintaining high audio quality goes, nothing aside from ultra-expensive totally custom earplugs can really beat these high-fidelity earplugs from Eargasm, although finding a perfect fit can be a bit tricky.
They include two sizes with every set, but they're two different sizes, which means once the properly-fitting pair wears out, you're out of luck. Thanks to their flexible construction, at least one of the two pairs should fit you properly, and once they're in and fitting properly, they're comfortable.
The trick behind isolating a full 21 decibels of sound while still managing to maintain phenomenal, high-fidelity sound is the use of innovative attenuation filters (they're patent pending). These ridged, internal contraptions don't isolate a specific frequency as inexpensive earplugs do, which enables you to enjoy the full range of sounds at a concert: they take the edge off the dangerous volume without removing the deepest bass sounds and highest trebles of soft voices and gentle guitars.
Unfortunately, they've got some problems with comfort, and they get dirty and hard-to-clean pretty quickly. They're also one of the more expensive options in our lineup but come in at a fraction of the price of fully custom.
---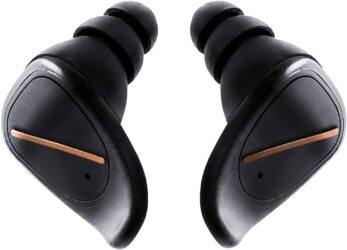 While these pricey earplugs are a bit tricky for some to justify, given the price, others are more than happy to pay a premium price for a product that maintains high audio fidelity while isolating a near-20 decibels worth of sound. This takes loud music at concert venues well below the harmful range.
These earplugs filter rather than dull loud sounds with a design developed in conjunction with the former director of MIT's Acoustics and Vibratory lab. They're quite comfortable, as they're designed with the natural curve of your ear in mind.
They're designed and made in the US, which is a quite significant advantage: not only can you feel good about supporting American-made products, but you'll also feel good about the durability of the product you're purchasing.
The manufacturer backs these plugs up with a limited product warranty, although they'll still naturally wear out over time and require replacement. They have a relatively long useful life, but with a price tag this high, we expect nothing less.
---
5.

Best Disposable Concert Earplugs:

Flents Ear Plugs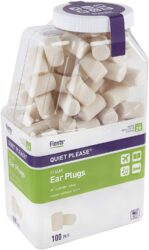 These disposable foam options are meant for users who require the convenience or the hygiene of single-use plugs, these could be a good option. With a 29 decibel NRR (noise reduction rating), they're actually a bit too potent for a lot of users: we find the ideal range is around a 20-decibel reduction for a good compromise between hearing safety and audio enjoyment. Compress them down between your index finger and thumb before insertion, then pop them in.
They're designed without the inclusion of any latex, fantastic for anyone with a sensitivity or allergy. They're also produced in the United States, which speaks to their high quality: no annoying in-ear crumbling or use of materials that degrade over time.
Unfortunately, as disposable plugs, they're not great for the environment, and you'll have to toss them after every use. For this reason, most concert-goers prefer non-disposable, acoustic-friendly versions.
---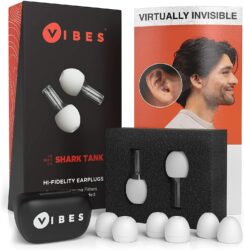 After the owner of this company blew out an eardrum at a gig in his native city of Minneapolis, he started looking for earplug options that wouldn't destroy the richness of the sound quality of music. He came up with these products, which have since then been seen on the famous network TV show Shark Tank, where they advertised the points that attracted us to this product: comfort, high-fidelity sound, and a balanced reduction in volume.
But, as we know from this extensive list, earplugs that protect sound quality aren't uncommon in this day and age, whether they're directed at concert-goers, musicians, or both. So what makes these different from similar devices? The answer is principally in the form factor. They've actually got a plastic handle to help with insertion and removal, a handle that's really the main part of the earbud.
The rest of the device, the actual hearing insulation itself is replaceable, with each set coming with three separate size options. That's great for finding a good fit, but since only one earplug will be a good fit, the rest go to waste.
---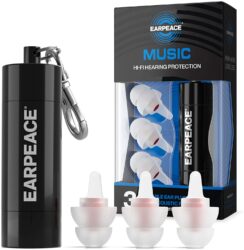 Finding a pair of earplugs for a musical festival presents some unique challenges: you want a pair that's inexpensive enough to not worry about too much but that's still reliable and comfortable.
You also want a single pair so as to not worry too much about the hassle of lugging around a few days' worth of extra plugs in your bag. These under-$30 earplugs do the trick by combining a plastic filter with hypoallergenic silicone for a comfortable but effective earplug.
The plugs have three separate decibel filters, with the most subtle one rated to 17 decibels and the heaviest-duty filter rated to a powerful 26 decibels. That's probably a bit much for a quieter concert, but could be a good option for a rock, hip-hop, or metal concert.
The silicone plugs themselves are available in two sizes, standard and small. We wouldn't mind a larger version, but the standard fit should fit most users. A carrying case that attaches to your keychain is great so that you'll always have them on hand, just remember to periodically clean them with a mild cleanser.
---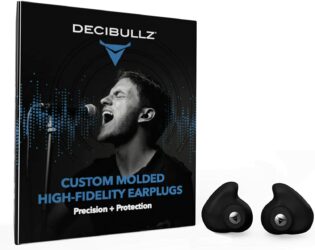 The inventor of these highly-customizable concert earplugs designed this product to create a set of earplugs with a custom fit that filter out dangerous noise while maintaining high-quality audio. They start out as a softish plastic, then they're heated up and placed in the ear to mold, where they harden for a perfect fit.
While the molding process is relatively simple, even if you can't get them to set up correctly, you can reheat them to reset them. This will cause a small drop in plasticity and can affect the long-term durability if done too many times, but a single reset can drastically improve fit.
While they're not the most comfortable earplugs in the world, they're pretty much the best option for high fidelity audio. They filter out about 17 decibels, enough to take a 100-decibel concert (in the danger zone) down to about 80 decibels, which is the equivalent of a busy restaurant—well outside of the danger zone.
It does all this while maintaining fantastic audio pass-through, so you don't miss the bright high tones nor the deep, lower tones.
---
These headphones are rated to a powerful 27 decibels of noise reduction, enough to take even the loudest of concerts down to a safe level. They're an earmuff format, with several patterns available—a couple more girly, a couple more for boys, and a couple of gender-neutral designs. For protecting a child's hearing or helping out sensory-challenged kids, there's nothing better.
There are just a couple of issues: firstly, these are neither designed for adults nor are they large enough to even fit an adult's head. And if your child is headed to a concert and hoping to enjoy the detailed music of a concert, this isn't a great option either: the construction and design of earmuffs meant that the audio fidelity simply isn't preserved. It's like trying to listen to a sound system in another room.
But if a child is tagging along to a loud event and is looking for relief from louder noises, or is more susceptible to sensory overload, these are a great choice.
---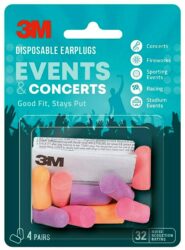 3M has a fantastic reputation of producing great PPE (personal protective equipment), and these multicolored foam plugs are no exception. Between an inexpensive, disposable design that helps with convenience and hygiene and a low price tag, these 3M plugs both fit comfortably and stay put. Each pack contains four pairs, each with a different color.
There are a couple things to be aware of before purchasing these earplugs. A noise reduction rating of 32 decibels is great for protecting your hearing, but as far as preserving audio quality goes, it leaves quite a bit to be desired. If you're simply looking to protect your hearing at a really loud concert or event (maybe a rave, heavy metal concert, or a nightclub), the high NRR can be incredibly helpful for audio health.
If you're headed to a folk concert, perhaps, and want to hear the intricacies and fine tones of a more delicate genre, we'd recommend a pair of more audiophile-minded earplugs like the Decibullz Custom Molded Professional Filters.
---
FAQ
---