Top 10 Best 88 Key Keyboards 2023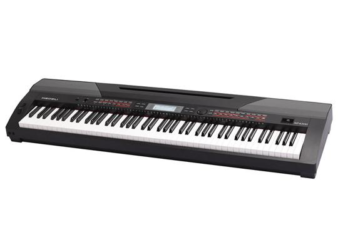 The reason this mid-range piano tops our list is its versatility. It's sturdy enough and has enough premium features to be used for serious gigs, it's got a learning system to help beginners learn to play, and it has plenty of features and effects to help normal amateur musicians play with the near-unlimited musical capability of electric pianos. With 600 sounds, it's phenomenal for anyone who likes experimentation and pushing the boundaries of sound.
Part of the magic of this piano is its simple, easy-to-use display. While some pianos hide features and sounds behind layers of confusing menus, this piano's control system follows a series of clear, stacked menus that make it easy to learn even when just starting out.
At thirty pounds, it's lightweight enough to be portable, although the plastic construction won't hold up to heavy touring and transport in the same way as keyboards like the solidly-built Yamaha CP88 Stage Piano. It does include a pair of inexpensive headphones, but we're neutral on them: they're not very nice, and they probably drive the price up.
---

If you're a working musician that's looking to work with and own the highest quality products,you have to be willing to invest a fair chunk of change. With this keyboard, it's no different. It's incredibly solid, meant to hold up to plenty of abuse from heavy touring, use, and travel, although it's simultaneously relatively lightweight at about 40 pounds.
It's equipped with 57 relatively simple sounds, 24 of them being pianos or electric pianos. It's also ready for your studio needs as well, being MIDI-equipped, with slots for both sustain and damper pedals, and some built-in delay, reverb, and EQ effects.
Each 88 key piano review has a slightly different purpose, and in this case, the purpose is live concerts. It's a stage electric piano, meaning it's meant to be used at events where a traditional piano isn't portable, practical, or loud enough. Hook it up to the proper speaker system and it can be broadcasted across stadiums and arenas. It's meant to run the gamut, taking you from smaller church services and quiet practice sessions all the way to the biggest events in the world, although the internal speakers are ineffective for live venues.
With great sounds that are mostly authentic piano and electric piano, there's a reason the CP88 is still popular even at its expensive price tag. Still, if you don't need something concert-quality, you can get a good keyboard for a lot cheaper.
---

This product is designed to function as the centerpiece of a home studio, with the perfect features to modify sounds, flip samples, lay down drums, and spawn creativity. As far as controls go, it is chock-full of knobs, faders, pads, and controllers, each of which is easily programmable to help integrate your keyboard with your digital audio workstation. On the other side, though, keep in mind that it's not great for typical practice or for performing live.
Although the price is relatively low, this keyboard is a far cry from a starter piano. No, this piano is a budget-minded but finely-tuned recording machine. What we love most is the customizability, whether you're interested in modifying sounds, laying down backing tracks, or accessing the infinite library of instruments available online. That's one of the miracles with modern keyboard tech: unlimited access to digital audio workstations and the downloadable sounds that make them so powerful.
If you're looking to play a guitar rock solo on the keyboard, this is one of the best and most economical options to get it done. If you're going to be performing, though, you may need to upgrade to a more premium keyboard.
---

If you're looking for a piano that really does a great job at imitating a traditional stringed piano for a new price, this 'digital grand' from Yamaha could be a phenomenal option. Everything is built to be an imitation of the real thing, albeit in a smaller, digital format, and available for the low price of just around $500. Their AWM (Advanced Wave Memory) system plays back rich, recorded grand piano sounds through the dual six-watt speakers to deliver full grand sound quality that varies based on the velocity of the key strike and the use of the sustain pedal.
But sustain isn't the only feature you get with this 88-key grand. Four reverb effects modify 10 piano presets, while a layer mode allows you to mix those sounds. You'll also get USB/MIDI connectivity and a music stand for reading sheet music.
All of this comes in a package that weighs just about 25 pounds, making transportation incredibly convenient. The only issues are a slightly less-than-solid back plastic cover and a lack of presets: but let's keep in mind that this is meant to imitate the real deal, not create an infinity of new sounds. If you're looking for something a bit more experimental, you might want to consider the Arturia KeyLab 88 MkII 88-key Weighted Keyboard Controller instead.
---

This 88-key keyboard/MIDI Controller has plenty of features that make it fantastic for both live performance and recording, thanks to advanced MIDI capability plus four CV outputs and one CV input that can connect to your analog equipment for sound modulation. Hammer-action keys make for a realistic playing action, while the possibilities are virtually limitless once plugged in to the digital audio workstation of your choice. It's compatible with more traditional setups as well, working with traditional amplifiers and even with sound modification possibilities by using things like pedals and built-in effects.
While the keyboard is fantastic for live performances in forefront genres, breaking limits related to sound, modulation, and tone, more traditional performers might be looking for something a bit more traditional like the grand piano-imitating Yamaha CP88 Stage Piano.
But for those exploring techno, live DJ sets, sound modulation, and looking for the capacity to modify over 6,500 pre-programmed sounds, it's fantastic. It's designed for both performance and home recording: a control bank has nine faders and nine encoders, menus go deep and are easy to modify, and the construction is designed for quick integration into your existing setup.
---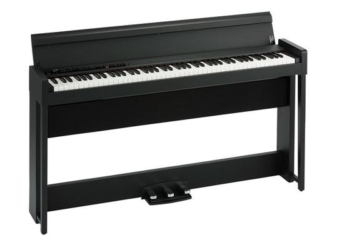 If you're looking for a piano for your home that might replace a traditional upright's role, this is one of the best options. It's got a fantastic mix of traditional piano properties and digital ones, with a sturdy stand, pedal matrix, and weighted keys.
Even with all of that, it still comes in at a light weight with 30 sound presets, and different sound modification settings. It's adaptable enough to be versatile while being simple enough for beginners. And while some pianos in this format have a difficult time with amplification, the two 25W amplifiers deliver volume big enough for small-scale performances, although a permanent stand and 77-pound weight make transport difficult.
It can also be hooked up to a real sound system for large-scale amplification. Key touch control can be adjusted, which means you can set up the system as you like it (most players will probably set it and forget it, though).
But with the good comes the less-than-good. While it's great as an upright-analog, at this price point, you can start to get in the lower end of uprights: so why pay for something that's imitating the real deal? Another issue: the permanent frame. If it were super solid, we wouldn't have any complaints, but the fact that it's made of particle board means we'd rather have something detachable.
---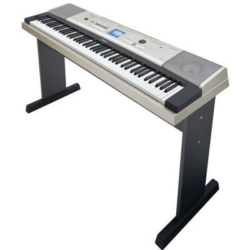 While some people are looking for a piano for gigs, studio recording, or beginner use, others want a permanent piano for their house but like the sound possibilities of an electric piano or are turned off by the price of a standard upright or another traditional piano. For these buyers, a permanent 'portable grand' is a fantastic option with its built-in speakers and fixed stand, giving it a similar form factor to the real deal stringed pianos.
While this piano has an upright-style format with a permanent stand, it's a bit lighter than similar 'permanent' pianos like the Korg C1 Air Digital Piano.
It's simple to use if you're just starting out, but still customizable as you can modify sounds, tones, and settings to your preference. It's got a permanent memory bank to save these presets so you can always have your piano how you like it. A custom LCD displays menus and information while an entry dial and numerical buttons help with programming and navigation.
For beginners, it's got included songs that form part of Yamaha's education suite, which can help you learn piano by yourself at home. Connect to your computer with the USB port for basic recording, although the simple built-in MIDI function requires you to download several drivers and is a bit tricky to set up.
---

If you're looking for a keyboard that closely imitates a real, acoustic piano at a low price, take a look at this option. While it's less expensive, and thus less capable than similar mid-range options like the Yamaha P-45 Digital Piano, it spreads its budget out incredibly effectively. It's even got a more powerful speaker system (20 watts) than the P-45, a digital keyboard that more than doubles this model's price.
All in all, it's quite similar to that other grand-piano copycat, with the same sustain pedal input, 10 preset keys, a 30-280 BPM metronome, and reverb effects. Obviously, though, at a price point this low, the keyboard has to compromise some to keep the price low. Keys are semi-weighted, which is better than non-weighted but still not ideal for learning or advanced players. And unlike more premium models, it can even be run wirelessly for a short time off of six D batteries. Input jacks include a ¼ inch headphone outlet, a USB connector, and a MIDI output, although we'd probably recommend something like the M-Audio Keystation 88 MK3 88-key Controller if you're looking to do anything more than basic recording.
---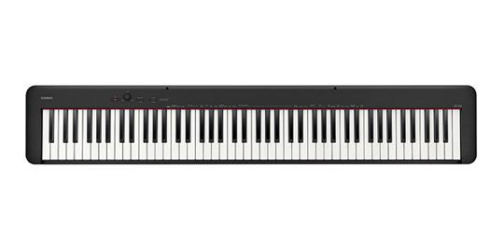 Casio is a titan in the digital piano world, and it's no exception here: many years of their development and innovation go into this new series of piano, all of which sit under the CDP-S umbrella.
The first problem they addressed with this new model? Size and weight, shrinking the piano to a shocking 232-millimeter depth and a 23-pound format. It's meant to be highly portable, as it includes a stand and comes with the capacity for battery operation (6 AAs will do the trick). The package includes a sustain pedal and a slot for the other two pedals, although the fully-integrated pedal setup must be purchased separately.
It's not a piano with a wide variety of sounds, though, with only 10 preset piano-based tones, but each one comes with 64-note polyphony and touch-responsive playback. For those who are interested in the latest music tech, it's also compatible with the Chordana Play app, which can be loaded with all kinds of sheet music and even allows you to digitally turn pages with a push of the pedal; the future is now. If you're wondering about MIDI, it's set up to work with an internal MIDI recorded, although there's no MIDI output.
If you're looking for a similarly-priced MIDI controller that can work with your home recording studio, take a look at the Arturia KeyLab Essential 88-Key Keyboard Controller, which has tremendous versatility and functionality for those looking to record, manipulate, and create new sounds.
---

There comes a point in every self-recording musician's life when they'll need a full-size keyboard to get to the next level, and this inexpensive MIDI controller allows those consumers to have access to an inexpensive but effective recording tool. While it's not as fully featured with effects, sounds, or internal recorders as other digital pianos, the beauty of MIDI is that it doesn't need to: everything from sounds to post-production can be added after the fact with your digital audio workstation.
This tool is phenomenal for MIDI, exposing you to the limitless possibilities of a DAW at an inexpensive price. It's not necessarily designed to work effectively as a practice piano or a concert piano, but that's ok: we're glad that the price is kept low by keeping the product with niche capabilities.
But that means it won't work for everyone: if you're just starting out on the keys, we'd recommend a beginner-oriented keyboard like the Yamaha YPG-535 88-Key Portable Grand Piano, and players of live music will be better suited by something like this Medeli SP 4200 Digital Stage Piano.
---