Top 10 Best Studio Headphones 2023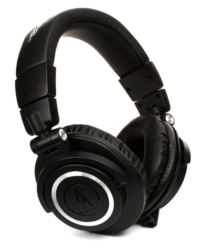 Audio-Technica's ATH-M50x is sweeping the market for a reason.
Its large, well-padded ear cups and headband provide excellent sound isolation and comfort even through long sessions. It also has detachable cables that come in three different lengths, swiveling ear cups, and four different color schemes to match your personal style.
It has a durable steel and plastic construction that doesn't sacrifice sound quality. The sound remains even and accurate, perfect for some light recording, mixing, and mastering. It also features an extended frequency range.
That said, the ATH-M50x does leak quite a bit of sound despite its closed-back design. You may want to avoid using this if you're planning to use it for recording with ultra-sensitive microphones, as some sounds may get picked up—try the Sony MDR-750 instead, but keep in mind that the audio itself won't sound quite as crisp.
The unit also doesn't have an in-line remote or built-in control functions, so it's not ideal for casual use, such as quickly changing the music without having to unlock your device.
Lastly, it's relatively more expensive than its competitors. The price is worth it though, considering you're getting one of the highest quality pairs of studio headphones that money can buy.
---
2.

Best Budget Headphones:

Sony MDR-7506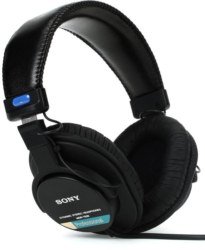 Despite its affordable price, the Sony MDR-7506 is a familiar name when it comes to audio-professional circles.
Its mostly-aluminum build reflects Sony's commitment to creating high-quality pieces that will stand the test of time. The earpads provide excellent sound isolation, balanced with comfortable padding and gentle clamping that can minimize fatigue even after long hours of wear. Audiophiles will love the truly neutral sounds, as it makes sound mixing, equalizing, and even monitoring much easier. We'll explain this concept further below in this guide.
For nitpicky and stylish users, however, the headphone's design may be too plain, lacking the flair and hype that somehow characterizes working in the sound industry. The cables are also fixed, so you can't take them off to move them around. You also can't change the length conventionally.
But considering the low price that you'll be getting the Sony MDR-7506 for, these drawbacks typically won't matter—though those that prize aesthetics or want a cordless set might want to look at the wireless SteelSeries Arctis Pro Wireless.
---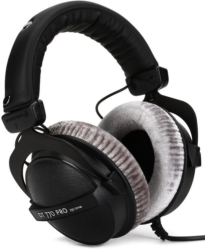 Although the DT 770 PRO 250 isn't for those on a tight budget, they do offer the perfect quality to match the premium price.
The headphones are made of a combination of plastic and metal that's guaranteed to last you a long time. It has a lightweight metal headband wrapped in leather and velour-cushion ear pads, which results in the ideal clamping force and a cozy fit that minimizes fatigue. You can even choose from 32, 80, and 250 ohms of impedance to suit your needs.
A good build isn't all it has, too. The sound quality it renders on par with the brand's high standards, as it's got all the ranges covered and delivered straight to your ears.
One area where this model kind of falls flat is sound isolation. Some sounds can still penetrate the headphones even at medium volume. If that's important to you, the Audio-Technica ATH-M50x might be a better bet, but they'll unfortunately leak a bit more sound than this model.
We also found the mids to be a little recessed compared to the bass and treble. The cables don't detach and the headphones themselves don't fold for a compact take-down. But overall, these are minor issues compared to the great value that the DT 770 PRO 250 delivers.
---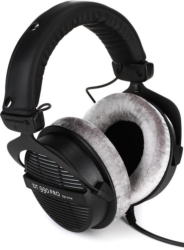 As an open-back counterpart to the DT 770 PRO 250, the Beyerdynamic DT 990 Pro matches its partner in terms of build and sound quality.
It has a rugged metal frame that can withstand a significant amount of stress. The ear cups are plastic, but it's made from the sturdy kind rather than the flimsy kind. They also look very high-end, with their suede-like covering and metal headband that is adorned with detachable padding.
Sound-wise, the DT 990 Pro reproduces sounds with high-fidelity, rendering vocals, instruments, and bass alike with the high standard that we've come to expect with Beyerdynamic. The sounds are sometimes a bit sharp, though, and the treble can be a little too emphasized compared to the rest.
The brand could've done better than the plastic ear cup covering, as it slightly reduces the comfort and durability of the unit, especially considering the price. Also, the metal headband leads to stronger clamping force, which can become distracting when used for a long time. The open AKG Pro Audio K702 offers far superior comfort areas, but it's not cheap.
---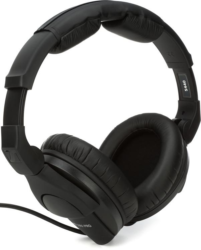 Although many would likely balk at the mostly-plastic build of the HD280 PRO, it does help provide a lightweight yet durable design.
The ear cups swivel, rotate, and fold, which makes for easier transport. This unit also doesn't skimp on comfort, providing replaceable cushioning not only on the ear cups but also on the headband – all of which provides superb sound isolation capabilities that not only doesn't leak the sound out but also doesn't let anything creep in. The sound quality is superb, coming out wonderfully neutral and equalized.
If there's anything worth picking on about this model, it would be the strong clamping grip of the headband, which takes a while to loosen up and could be rather uncomfortable. Also, compared to other headphones, it looks quite plain aesthetically speaking. Lastly, fans of portability and convenience may not like the fixed cable design.
---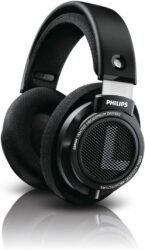 Another giant name in the sound-making industry, Philips is a classic when it comes to the studio headphones game.
Made of a wonderfully designed mixture of aluminum and plastic, the Philips SHP9500 is durable enough to withstand the test of time. The headband is a sturdy metal-encased with stiff matte plastic, while the open-back ear enclosures are encased with plastic mesh and covered on the ear-side with a breathable, heat-dissipating cloth-and-foam combination.
When it comes to aesthetics, we personally find the earpads with the bold "L" and "R" lettering, to be rather cool. It even has a detachable cable.
Sound production does not disappoint, although it does have somewhat inconsistent bass. Nevertheless, the boom and rumbles are distinct and the highs are crystal clear. It also renders subtle lows and mids. Aside from the inconsistent bass sound, we also picked up a slightly uneven treble rendering coming from the SHP9500.
Looks-wise, if you're looking for some flair and flash, the understated aesthetics of this model isn't for you. Build-wise, the padding is non-replaceable, which is bad should the padding wear out eventually.
---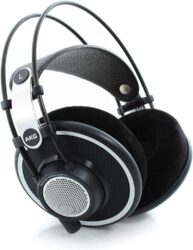 Even at the very first glance, you can see that the construction of this AKG model speaks of quality. Durability meets comfort meets portability with the metal-and-leather headband coupled with soft velour cushions of the ear enclosure and plastic component construction. The final look is rather classy, with its elegant matte black finish.
In terms of sound production, the unit boasts "revolutionary" coils and its own patented two-layer diaphragm dubbed Varimotion. These claims seem lofty, but you can't argue with the results. The sound is clear, flat, and neutral – with exceptional bass response, musical trebles, and balanced lows and mids.
If there's anything to say against the AKG Pro Audio K702, it would be that for its price, it doesn't come with a storage case nor does it fold up. This is quite a pity since it's one of the bulkier units around. However, it does compensate for it by having detachable cables. Lastly, the mostly-plastic component make-up does cast doubts as to its durability.
---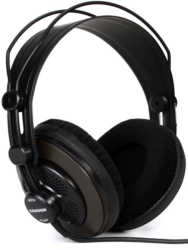 The Samson SR850 takes a lot of inspiration from the more-established AKG models, but for a much lower price. Although many critics complain that these are simply AKG clones, they're very good ones that merit a spot on our list.
The unit is made mostly of plastic, with the ear enclosures padded with a simple but thick and comfortable fabric that protects the ears from long hours of use. The sounds that it produces are clear, solid, and neutral enough – with full bases, sharp trebles, and distinguishable mids and lows.
However, it does lack a lot of the depth and subtlety that more expensive brands like Sony or Beyerdynamic have. Although it's only semi-open, it does leak a significant amount of sound, so it might be a wise idea to treat these babies as if they're fully open. Also, they don't look the best, which may disappoint more fashion-forward users. Lastly, it has fixed cables which can be inconvenient to set up and takedown.
---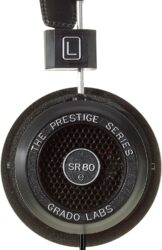 If you're looking for three words to best characterize the Grado SR80e Prestige Series, it will be clean, crisp, and simple.
Just by looking at its plastic, metal, synthetic leather, and thick foam construction, rotating ear enclosures, and no-frills aesthetics, you will know that these studio headphones mean nothing but business. Each frequency is well defined, from the lows to the highs, even to the subtle mids. The overall sound quality remains extremely clear and pure regardless of the genre.
Although it's quite lightweight compared to other headphones, one of its most significant drawbacks is the fact that long usage can cause fatigue. Because of the way that it's designed for sound, there's less padding, which means vibrations are closer to your ears. It also doesn't include a storage case and has a fixed cable that can't be detached for easy take-down.
---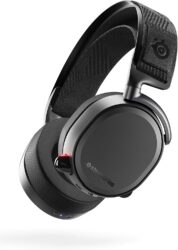 If you're usually on the go or if you're interested in streamlining your music-production process, then this model is certainly right for you.
Built with a sleek, modern-looking mixture of metal and plastic, the Arctis Pro offers convenience without compromising sound. It has 15 hours of battery use from a single charge, and even packs something extra in the base of their wireless transmitter. It comes with a sound-customization app, replaceable batteries, and a high-quality microphone. The sound it produces is wonderfully neutral, with all sound frequencies rendered equally.
Unfortunately, the durability of these units is quite subpar, at least based on many user reviews. Worse, it's hard to get customer service to have the unit replaced or refunded. Lastly, even though they're closed-back headphones, they do leak quite a bit of noise, so we don't recommend using them in high-sensitivity recording sessions. They're fine for messing around or listening to music, but pros should choose something with a hard connection like the Beyerdynamic DT 770 PRO 250.
---