Top 9 Best Karaoke Microphones 2023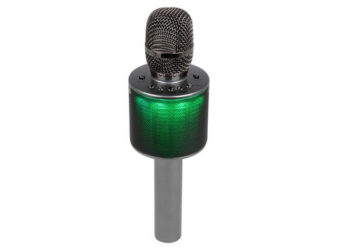 If you're looking for an economical, compact karaoke microphone that will get you through just about any low-key, recreational karaoke night, this product is a fantastic pick. While it doesn't have the great vocal quality of the Shure SM58 nor the multiple-singer capacity of the Mackie Performer Bundle, it'll take care of most of your needs if you just want a fun night.
Music comes via an onboard MP3 player (you'll have to load it up yourself); you can also connect to a tablet or smartphone via Bluetooth. With powerful speakers, seamless integration with mobile devices, and an easy-to-use, compact interface, this karaoke microphone has everything a full system has while being both compact and economical.
It's set up with an LED light system for visuals and with easy-to-use, simple controls, making sure that it's accessible for use by everyone from the youngest generation to the oldest. Keep in mind that it's really more of a toy than a karaoke system, though, and that anyone looking to sing karaoke at a bigger event should look elsewhere.
---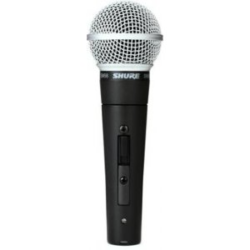 The Shure SM58 is possibly the number one recommended microphone for amateur musicians worldwide: at a price point that's accessible for just about anyone, it's simultaneously remarkably capable and versatile: and karaoke is just one of the many tricks it's got up its sleeve.
As a cardioid dynamic vocal microphone, it's not just for live vocalists but can be used for instrumentation and recording as well. That's all and good, but for karaoke you're really looking for a microphone for vocals. And this microphone is great for that: highlighting the nice parts of your voice while eliminating feedback and distortion.
But, as it's a concert microphone first and karaoke microphone second, we've got to warn you about one thing: you'll need to invest in an entire amplification system: that's to say, this isn't a portable karaoke microphone system but just a portion of what's necessary for a complete karaoke setup.
While the advantage is sound quality, the fact that this microphone is quite capable and concert-ready, the disadvantage is complexity—if you're not looking to fuss with it, pick something simpler like the Singing Machine CPK545 Bluetooth Microphone for Cars. But if you're an existing musician with some existing equipment and you're considering a backup mic for karaoke night, this could be a good pick.
---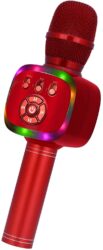 this brand isn't immediately recognizable, what's more important than their name is performance: it's a viral product, with thousands of families and friend groups more than happy with the fun it brings them. Even more importantly, it's equipped with the necessary tech to keep the singing going late into the night. Small, compact, and cheaply constructed, it won't break the bank, but will certainly get the job done.
With a series of LED lights that are actually remarkably powerful for their size, every performance provides a mini light show as well. It can connect to Smart TVs, phone apps, and speaker systems using Bluetooth tech, but it also operates by itself. You'll need to pick up an inexpensive (or free) karaoke app along the way, as there's no screen or tunes included, but it'll do the job it's supposed to: let whoever's holding it belt out their favorite song.
---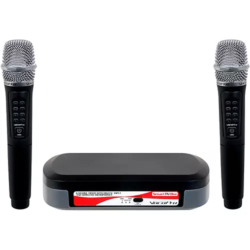 This karaoke microphone setup has a specific niche it goes after: smart TVs. With the advent of systems like Google Chromecast, Amazon Fire Stick, Roku, and more, Now every television can be turned into a karaoke setup. TV apps like Red Karaoke and the Karaoke Channel can also be used in small-scale settings for karaoke. With this system, you can integrate the two included high-def mics to create a complete karaoke setup inexpensively.
And while this setup includes two fantastic, high-quality mics, you'll lack a screen for displaying lyrics without a smart TV. When considering a sub-$50 mic like the Vocopro Pop Up Oke Karaoke Microphone, that feels acceptable, but when paying well over $100, you could start thinking about getting a full-sized karaoke machine for these prices.
Of course, you'll still need separate amplification there, where this relies on your TV's sound system. If you've invested in a soundbar, that's great, but a native sound system will likely sound muffled.
---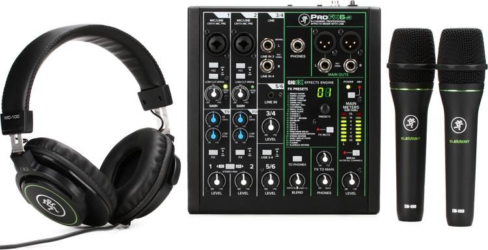 While other models of karaoke microphones on this list are the musical equivalent of an easy bake oven, this is the equivalent of a full-sized kitchen. While it'll run you about $300 to purchase, it's not just a microphone, but a whole sound system.
The set includes a 6-channel mixer, two EM-89D microphones, and a set of MC-100 closed-back headphones to monitor sound output. You won't have to shop around for accessories either, as the bundle also includes accessories like mic clips, headphone adapters, XLR cables, and carrying bags for mic transportation.
Unfortunately, though, unless you're an audiophile, it's probably overkill. While microphones like the Vocopro Pop Up Oke Karaoke Microphone can take care of all of your needs automatically, this system requires constant attention to work correctly, although you do have the advantage of simultaneous users. Just be prepared to learn a new setup and invest a little time and effort for a product range that'll end up paying dividends for you.
---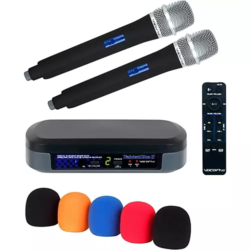 With this karaoke setup, VocoPro comes up with a new way to integrate karaoke into your existing sound system. With Bluetooth and 2.4GHz band operation, the microphones are designed to simply connect back into whatever speaker setup you've already got, no matter how impressive or simple it might already be. It's a step up from Bluetooth wireless mics in terms of both price and quality.
All of this happens via the two included microphones that feed into an intelligent karaoke mixer that modulates and evens out sounds. If you've got two singers and one's quite a bit quieter than the other, the mixer will help even out the sound. The visual display aids with modification and connection, laying out menus in a visually interesting and user-friendly way.
Set up, though, is a bit more involved, and you'll need a karaoke app on your phone or tablet. If you want a TV-based system, however, consider the VocoPro SmartTVOke Karaoke System, which is made by the same manufacturer.
---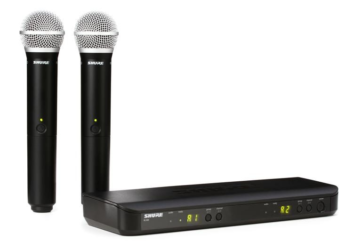 Looking for a way to get some high-quality audio going at a karaoke night? The Shure BLX288 Dual Channel System provides two separate audio transmitters for two singers, with high, crisp audio that's not too sensitive to the unique singing characteristics of amateur singers. All audio is routed wireless via quick-scan frequency selection that can automatically pick an open frequency. Range isn't a problem either, as the mics can broadcast up to 300 feet before facing issues.
Watch out for a couple of things: first, price tag. If you're not prepared to make a bit of an investment, you should probably look for a more family-oriented, part-time microphone: the BONAOK Wireless Bluetooth Karaoke Microphone is a great option.
But if you're serious about starting a karaoke-based business, this is actually quite a deal. Not only is it cheaper than buying each component individually, but it also includes some fantastic extras: you get both microphones along with a wireless receiver and a few extras. Stands aren't included, so make sure to include that cost in your budget.
---

With our final pick, we get back to basics. This inexpensive, light, wireless microphone is quite similar to mics like our top pick, the Vocopro Pop Up Oke Karaoke Microphone in that it's more meant for impromptu karaoke sessions than karaoke events. Nonetheless, we appreciate it for what it is: something that can take the fun up a notch, something that's perfect for a road trip with friends.
One of our favorite features about this microphone is its ability to simply and quickly connect with a car stereo. Whether you prefer using Bluetooth or you want to take advantage of the short-range FM-broadcasting capability, this microphone includes a built-in speaker but can amplify by orders of magnitude when hooked up properly.
It's not without its faults, however. The FM transmitter is highly susceptible to interference. The built-in speaker is of quite low quality. And finally, the built-in cord is quite weak and breaks down quickly over time, meaning you'll have to count on wireless capability.
---

While this direct-to-consumer karaoke microphone definitely doesn't approach the quality of a professional system, it remains quite effective for small-scale gatherings and fun, casual events. It's got buttons to adjust volume and to connect, as well as 'play,' 'skip,' and sound-modification functions.
It's really more of a toy than a true karaoke system, available in lots of colors and loaded with LED lights. At this price point, though, we're not expecting much, and it can certainly spice up a play date, birthday party, or just keep the kids occupied for a couple of hours—that said, if you want a "real" karaoke microphone there are some other affordable options. Keep in mind that you'll have to connect it to a Bluetooth app to play tunes through the speaker.
---
Karaoke Frequently Asked Questions
---