Top 10 Best Alto Saxophones 2023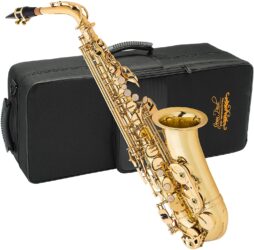 This alto saxophone is good for beginner and intermediate players who are serious about learning. It comes in brass, gold, and silver finishes for you to pick from, and the sound and tone are on point, even when compared to some pricier options. In addition, it's easy to tune and keep tuned as you play so you won't constantly have to worry about that.
It comes with many accessories that you might need so that you won't have to make too many purchases right off the bat. In addition, the key placement is designed so that you'll be able to play a lot of notes in a short amount of time without the sounds getting muddled as you play. The fluid key design also balances the sound and intonation perfectly for beginners.
The only con is that the cleaning cloth doesn't come with a string, so you won't be able to use it to clean the interior of the alto saxophone. However, if you plan on playing the sax for a long time, you'll need to invest in a high-quality cleaning kit at some point, so upgrading your cleaning kit now isn't too much of an issue. This saxophone manages to balance price with quality, giving you a well-rounded option.
---
If you want to practice on an alto saxophone without needing to drain your bank account, the Mendini sax is a good option. It's sold as a kit with almost every accessory you'll need, besides the stand (if you're wanting one that comes with a stand, too, check out the Eastar saxophone). It's easy to tune, especially with the included tuner in the kit.
The materials and durability won't match up to those of a professional saxophone, but they're still good for the low price point. In addition, this saxophone also comes with a one-year warranty and the case itself is durable enough for most transportations. It also comes with a music pocketbook on saxophones to teach you the basic fingerings and scales.
Once you get more advanced, you'll definitely want to upgrade to an intermediate saxophone since this one is primarily geared towards beginners. In addition, the tone can be a little too rich for some preferences, so keep that in mind before purchasing. Like many other options, while it does come with many accessories, you may want to purchase your own mouthpiece, reeds, and neck strap.
---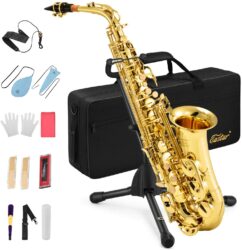 The Eastar AS-II comes with everything a beginner might need for their saxophone, including a stand to place it on. It's the only one on this list to include a stand, so you'll easily be able to get everything set up. In addition, it also has a one year warranty which speaks for its durability and sturdy construction.
The saxophone itself also has leather pads that help with better elasticity when you play, and the tone of the saxophone has minimal noise levels so you can switch between high and low pitches easily. It balances the intonation well for a beginner saxophone and is plenty affordable.
However, once you're more advanced, you'll need to purchase a new saxophone for yourself. If you want a saxophone that you'll be able to use during your beginner and intermediate stages, you should consider the Jean Paul USA Saxophone.
Unfortunately, some of the saxophones do leak, so you may have to return it to the manufacturer after receiving it. While the warranty does cover this, it's still another step for you to take before you get the perfect sax. In addition, the neck strap and mouthpiece included aren't the highest quality, so you may want to invest in some other ones on your own.
---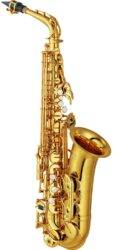 The Yamaha YAS-62 saxophone is suitable for players of all levels, though it is better suited for advanced players. It's designed for fast playing and responses, with a special 62 saxophone neck that's narrower than some of the other alto saxes. In addition, the case that's included is durable for saxophone transportation.
Since this isn't technically a beginner saxophone, it also doesn't come with all of the accessories that you may need. However, the saxophone itself is much higher quality than your typical beginner sax, with polyester key buttons, an adjustable thumb rest, and even an AS4C mouthpiece.
It is on the pricier side for a saxophone, but the design of the narrow neck bore gets you a faster response when you play. This in turn leads to better control over the tone and sound of the instrument. In addition, it's also lighter than many other saxophones, though this can be a pro or a con depending on your preference.
The two-piece bell is also hand-engraved which adds to the overall look of its modern and sleek appearance. Another possible option for professional saxophonists would be the Selmer Paris Series II, which also comes in modern design and is geared towards professional players.
---
5.

Best Alto Saxophone for Self-Learners:

Yamaha YAS-280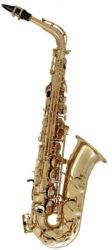 The Yamaha YAS-280 is a good alto saxophone if you plan on teaching yourself how to play. It's high quality, and as a result, a little easier to play than some of the lower quality saxophones. It is a slightly more advanced beginner saxophone, so you'll also be able to use it for many years of practice before upgrading to a more professional alto saxophone.
It does arrive with a sturdy case and neck strap, though the neck strap is a little flimsy. The mouthpiece is suitable for beginners, so once you get more advanced you might want to trade it out for a better one. In addition, this saxophone also includes the high F# key which some of the less expensive options won't have, and replacement parts are easy to find for this Yamaha sax.
The tabs themselves might need some practice before they're pressed and depressed easily, and you'll want to make sure your saxophone is in tune when it first arrives. Unfortunately, this kit does not include a tuner, unlike the kit you receive when you purchase the Mendini saxophone.
However, the tabs for the F and F# keys are close together, so it may be easy to hit one instead of the other during practice. In addition, occasionally, the saxophone may be shipped without a neck strap.
---
6.

Best Alto Saxophone for School Students:

Lazarro 360-NK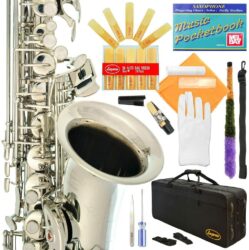 For kids learning how to play alto saxophone for their school bands, the Lazarro 360-NK is a handy, budget-friendly option that comes in many different colors and finishes. They're also durable, which is a must if you need to transport this saxophone to school and back. It also has a music pocketbook with it that contains basic information about fingering and tips to get started.
The saxophone itself is made according to international standards, and all have the same high sound quality and mechanisms despite the different color choices. The student will be able to choose a color that they enjoy, and the saxophone arrives with many of the accessories needed to get started with playing the alto sax.
However, that being said, the accessories for the saxophone aren't the best, and the reed isn't very high quality so you may need to purchase more on the side. In addition, you might also want to invest in a better mouthpiece that fits your new reed as well.
As it is less expensive, it can also be relatively harder to tune when compared with other pricier alto saxes and does not arrive with a tuner like the Yamaha YAS-62.
---
7.

Best Alto Saxophones for Intermediate Players:

Yamaha YAS-480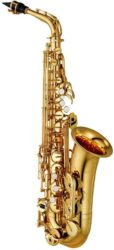 If you plan on taking your saxophone playing to the next level, the Yamaha YAS-480 is a good choice for you. It's more expensive than beginner saxophones, but it's played much easier with a consistent tone. It also comes with an enhanced 62-style professional neck, and it is compatible with other custom Yamaha necks if you ever need to replace it.
The instrument itself is silver plated, and the keys are easy to play, press, and depress when needed. It also has a left-hand seesaw key design to make it more comfortable for long periods of practice. In addition, you'll be able to have a message or name hand-engraved onto this alto saxophone if you'd want.
However, the case it arrives in is soft, rather than a typical hard shell. This means it won't be able to withstand strong impacts, so you'll have to be careful when you transport it. However, a soft case is also lighter than a hard case which could be a plus. In addition, since this isn't a beginner saxophone, it also won't come with a cleaning kit so you'll have to invest in one separately.
Once you do get more advanced, you may want to upgrade to the Yamaha YAS-62 which has the same neck but a higher-quality saxophone body.
---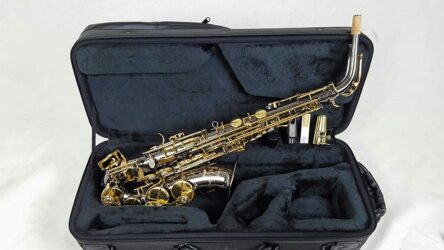 The Selmer SAS280 is a bit more expensive than other saxophones on the list, but like many other Selmer products, its quality makes up for the higher price. The saxophone itself has professional key styling to help players with more accurate fingering, and the keys themselves move easily when pressed and depressed.
While switching between registers can cause the tone to sound off, professional musicians can control this with practice to keep the saxophone playing consistent sounds. The design of the saxophone itself is traditional, giving you perfect intonation with blended sounds as you play. From the low end to the altissimo, you'll be getting high-quality music from this saxophone.
Keep in mind that this saxophone isn't very well suited for beginners. If you do want an option that can be geared towards the beginner and intermediate skill level, you might want to consider the Jean Paul USA Saxophone instead.
Since switching between registers take a bit of work, and the higher price point of the saxophone makes it a costly investment, we recommend this for intermediate or advanced players. This saxophone also comes with a case, mouthpiece, cap, and ligature.
---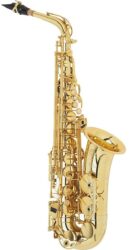 If you're looking to be a professional saxophone player, the Selmer Paris Series II will take you a long way. It arrives with an S80C mouthpiece that offers an optimized acoustic resonance, and the gold-toned lacquer finish helps it look sleek and elegant as you perform. In addition, the octave neck key is designed to be lighter and easier to press for transitions.
The engraving and design are sleek but traditional, making this the perfect instrument in a modern world. In addition, it comes with an adjustable thumb rest and leather pads to make practicing and playing easier on you, essential for those long rehearsals. The bow to bow ring also has Henri Selmer's original signature to add to the finished look.
However, keep in mind that this is a high-quality instrument meant for professionals, so the price is much higher when compared to beginner instruments. It has dynamic sound and tone variations when you play, but you'll need to practice more to be able to get the full benefit from this saxophone.
The high price and skills required mean that this alto sax not a great choice for beginners. If you're interested in getting a good quality saxophone that is still suitable for beginners, you should consider the Yamaha YAS-62.
---

Kaizer's alto saxophone comes with a 45-day free trial, so you can return it anytime within this period if you find yourself not enjoying the sax. If it's your first every saxophone, this is a safe way to test out whether you want to start your hobby as a saxophonist. It also has a lifetime warranty so you'll be able to get replacement parts for your saxophone if it breaks.
Keep in mind that this saxophone is better suited for recreational players. This means that if you have a child who wants to play the alto sax and is getting ready for their school band, this is probably a better choice for you. This saxophone isn't as sturdily constructed as other options, and as a result, you may also end up with air leaks (though the warranty covers this).
The saxophone itself comes with enough items to help you get started, such as a case molded for this saxophone, a cleaning kit, and a mouthpiece. It also comes in three different finishes for you to pick from, and the body is made from brass. However, the brass itself is softer than other saxophones, so the sound quality may diminish because of this.
---
Alto Saxophone FAQ
If you still have questions about the alto saxophone, we've got you covered. Below, we answer the most common questions about alto saxes.
---