Top 10 Best Digital Pianos 2023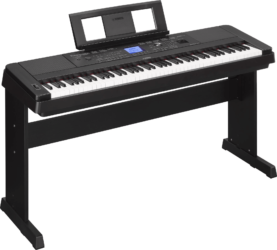 This digital piano balances features with price, giving you a well-rounded option for your practice and performance sessions. With 554 tones and 327 effects, you'll be able to create as many compositions as you want and make them sound however you like. They used precisely sampled 9' Yamaha CFIIS concert grand notes so when you play, it sounds like it comes from an acoustic grand piano.
Since it is a Yamaha digital piano, it's compatible with all Yamaha apps (though you will need to use an adapter to connect the piano to your phone). In addition, while it doesn't come with a pedal, it's compatible with Yamaha's pedalboard. It's also has a 6-track sequencer feature so that you can also dabble with producing and arranging music in addition to your playing.
However, the lower price point also means that the sound quality may not be as expressive as some other choices on the list, especially when compared to the Yamaha Clavinova CVP-805. In addition, some of the string samples do sound off, though the piano and organ sound samples are realistic.
---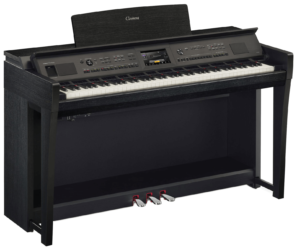 The Yamaha Clavinova CVP-805 comes with everything you need, with pedals, speakers, and even a pre-installed metronome already set in this console piano. It comes with over 1300 tones and a sophisticated arranger system to help you bring your pieces to life. If you want a less expensive option with just as many tones, you should check out the Roland RD-2000.
The price point for the Yamaha Clavinova is much higher than other options, so this is only the right purchase if you know you'll be practicing and playing piano for a long time to come. Some of the features are unnecessary for most, such as karaoke support. The extra features aren't overwhelming however and can be safely ignored, so this piano is suitable for players of all skill levels.
The technological capacities of this console piano exceed many other choices as well, with Bluetooth support to connect devices to the piano for listening and playing. It also comes with a pair of 130W stereo speaker system already installed, which is loud enough for performances in your home. Like many other Yamaha digital options, it's also compatible with the Smart Pianist app.
---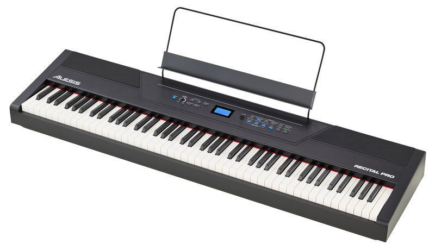 The Alesis Recital Pro doesn't come with many tones, but it covers all the basic ones. If you're a beginner just looking to get started playing the piano, this is definitely the option for you. It's budget-friendly and gives you a good taste for what digital pianos can do without needing a hefty investment on your end. It can also be divided into two zones for two people to play at the same time, perfect if you plan on taking lessons or want to teach a friend or sibling.
Unfortunately, the Alesis Recital Pro doesn't have sound samples that are as high quality as some of the more expensive options, which can lead to more digital sounding notes. You'll also have to make sure you have your own equipment at home since this digital piano doesn't come with any pedals for you to hook up. While the keys aren't as realistic pianos like the Yamaha CP88, they're still weighted with hammer action.
Portability is where this product shines. The Alesis pro can operate on battery power or AC, so you'll be able to take it with you and use it for performances where there may not be an outlet close by. It's also very light, only 26 pounds, making this a portable option for travel. For beginners, it also has an integrated metronome to help you get the hang of rhythm and tempo.
---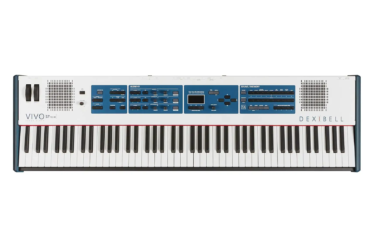 The Dexibell VIVO digital piano is one of the few available that has unlimited polyphony, meaning you can play as many notes as you want. Even with complicated pieces and compositions, this digital piano will be able to handle whatever you throw at it. Its design boasts a quad-core CPU that can process 320 digital oscillators so you'll be able to simulate as much sound as you need at one time. This is a good choice for those seeking to create varied and extensive electronic soundscapes with a variety of tones and effects happening at the same time.
When it comes to design, the Dexibell doesn't hold back. The controls on the piano are designed, angled, and placed in ergonomic locations for easy access, which makes long practice sessions much better. The keys themselves are created to feel like ivory, with graded hammer action that makes playing feel much more realistic. In addition, it's compatible with SoundFont and you can easily upload more tones and voices to the piano as you need.
However, the design of the keyboard is a little lacking and doesn't look as sleek as some of the other options. You also won't have as much customizability when comparing it to the Roland RD-2000 since it doesn't offer as many sliders and other adjustable options, even though the two are in the same price range. Finally, the LED screen is on the small side, which is a shame considering the complexity this keyboard is capable of.
---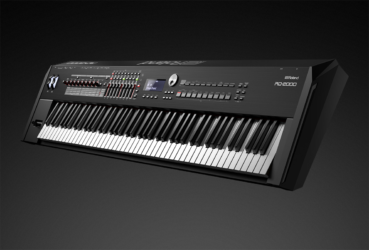 The Roland RD-2000 comes with over 1100 voices and 200 rhythm patterns, giving you everything you need in your arsenal to create music in any genre. With this digital piano, you get access to a wide variety of knobs and sliders for extra adjustment and improved customizability. The flexibility offered by this piano is enough for professional and advanced pianists.
With the wide range of options comes with two sound engines, an expensive design choice that pays off when you hear the tones. It can even connect with your DAW and other virtual instruments! It also has authentic hammer action and an advanced sensor mechanism as well to make sure the keys are responsive to your touch and play at the appropriate volume.
However, with the large assortment of options comes a steep learning curve. If you're just starting out, all of the choices can easily overwhelm you. The LED screen is also smaller than some of the other digital piano screens and can be harder to read and see what's going on. It's also on the heavier side for stage pianos, and is nowhere near as portable as the Casio CDP-S350, which may be an irritation if you're traveling and performing with it regularly.
---
6.

Best Digital Piano for Performances:

Nord Piano 4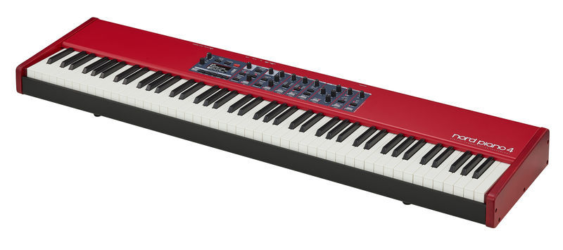 The Nord Piano 4 is built for performances, with smooth transitions when switching between sounds and lots of customizable effects for you to use. While it comes with 400 tones pre-installed, you can use the Nord Sound Manager to access the library of tones and manage the ones that you want to use. You'll also be able to use controls for all the effects, such as filter, velocity, and more.
However, the excess of features means that this digital piano comes with a hefty price tag – and that's not including the cost of the stereos you'll need to invest in since speakers aren't installed for this piano. The complicated features are better suited for advanced players and can easily overwhelm beginner pianists. For a digital piano with many options that aren't overwhelming, you should consider the Yamaha Clavinova CVP-805.
While it doesn't have real hammer action for keys, it does have virtual hammer action to make the playing seem more realistic. In addition, it comes with advanced string resonance to create a more realistic acoustic piano sound when played, and the available sample library makes possibilities endless when it comes to music creation. The extra features make it a bit heavier than other stage pianos, which makes transportation difficult.
---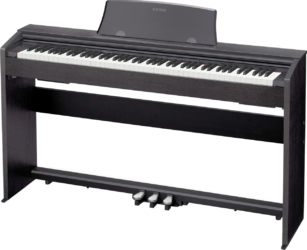 This digital console piano comes at an affordable price when compared to its competitors. It offers two different modes, with a dual-mode that lets you layer sounds on top of one another. The duet mode offered splits the piano into two smaller keyboards, so you can play duets with your family and friends without needing to invest in a second keyboard.
The speakers built into this console piano aren't loud enough for real performances, and can't get as loud as acoustic pianos. While you don't need to purchase speakers, if the low level of volume bothers you, you may want to think about investing in some. In addition, this console piano doesn't have a full cabinet like the Yamaha Arius, which can take away from the atmosphere.
While it doesn't have an accompaniment function like some other choices, it does offer "Concert Play," where it plays recordings of live orchestras for you to play with. With 10 different tunes, you'll be able to practice the piano part on your own before playing with the orchestra recording. It also has a metronome included, so all you'll have to really worry about is finding a piano bench.
---
8.

Best Digital Piano for Classical Players:

Yamaha Arius YDP-184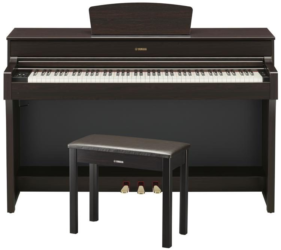 The Yamaha Arius YDP-184 comes with everything you need to play piano, from the bench to the included metronome. A music rest is also included with your purchase, and you get all three pedals that can be attached to the bottom of the piano. In addition, the pair of 30W speakers are loud enough to fill even the largest room in your home with piano music once you start playing. The classic wooden design of the console piano is gorgeous and can easily set the mood of any interior.
It also only comes in 24 tones, which is less than many other options. It's more suited for classical musicians who like original pieces, and isn't nearly as versatile as the Roland RD-2000. The speakers are placed in the body of the console, so it feels like music is emerging from the piano itself and adds to the realism. In addition, it pairs with Yamaha's Smart Pianist app which helps you explore the various features available.
The set-up process for this console piano can be difficult as well and can take a few hours to assemble. Once assembled, it's heavy and challenging to transport on your own, so it's best to assemble it where you plan on keeping it. The cables can also be tricky to hide away, and it comes with only some plastic routers to be used with tape.
---
9.

Most Realistic-Feeling Digital Piano:

Yamaha CP88

The Yamaha CP88 digital piano offers a premium keybed made from natural wood with an ebony and ivory finish. In addition, the keys themselves are triple-sensor keys to accurately detect light or heavy touches and adjust their volume accordingly. The keys themselves have a tactile grip that absorbs some moisture during longer performances so that your fingers won't slip. Overall, the keys on this piano are a delight to use.
However, while it does come with 57 different voices, not all effects will work with every voice. The voices themselves are divided into three categories, so you'll need to read the manual to see which effects can be used. In addition, it's difficult to combine voices that come from the same categories which can limit your options.
Some of the voices also aren't as refined as others, such as the bass options. If you want a digital piano that has more available tones and sounds but is not too expensive, you should consider the Yamaha DGX-660.
While the number of available preset voices is less than some other choices, the system that the Yamaha runs on has its library updated regularly to provide you with more content, sounds, and tones constantly. The basic piano voices available are of high quality and focuses on getting the accuracy of the pitch and sound correct for acoustic piano voices. Keep in mind that since this is a stage piano, it doesn't come with speakers installed.
---

The Casio CDP-S350 is one of the lightest and slimmest options available which makes transporting it a breeze. With built-in speakers, you also won't need to worry about carrying stereos and aux cables when you're traveling to your next performance. It can operate on battery power too, so you don't need to worry about performing in places with no outlets.
However, the maximum polyphony is only 64 notes, and it drops to 32 notes for a few of the installed tones. This is much lower than many other choices. Sounds may become cut off if you plan on playing pieces with a lot of background accompaniment and notes, so if you're looking for an affordable option with higher polyphony, consider the Alesis Recital Pro. In addition, it only has a pair of 8W amplifiers and speakers that may be too quiet for larger performances.
The keys themselves are well designed, with Casio's scaled hammer action technology making the keys feel more realistic when played. This is especially impressive considering its low price point. There's also a Chordana Play app that pairs with this keyboard which offers a play-along feature. The damper pedal that arrives with your Casio does not support half-pedaling and will only detect whether it is in the on or off position.
---