Top 10 Best Drum Kit Sets 2023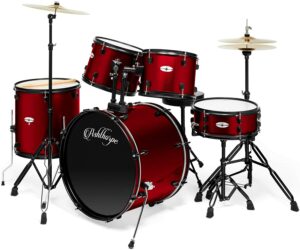 The Ashthorpe 5-Piece complete drum kit is ideal for musicians of all skill levels. Featuring hardwood, poplar drum shells, this kit provides maximum frequency response, creating an authentic acoustic sound. The addition of genuine Remo heads adds to the classic, high-quality sound of these drums. Remo is one of the world's leading companies in drumhead production and is renowned for producing premium-grade drumming products.
Ashthorpe has a color for every style, with four different color options available. This kit also includes additional accessories, including all the adjustable hardware you'll need for set-up (i.e., a stool and drumsticks). Unfortunately, this kit doesn't include a ride cymbal. While this kit is adjustable, it is full-size, so may not be suitable for small players or young children.
If you need a kit suitable for children, check out the Mendini by Cecilio drum set.
---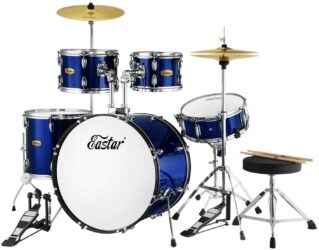 If you're looking for a drum kit that has everything, the Eastar 22-inch full-sized drum kit is the ultimate choice. Whether you're a budding musician or an experienced player, this kit is a low-cost investment that is built to last. With drum shells crafted out of treated poplar and high-quality drum skins, you'll be rewarded with a classic sound with minimal effort and tuning. Considering its budget price point, the only real downside to this kit is its missing crash cymbal.
Available in three timeless colors and a shiny chrome finishing, you can customize this kit to suit your own aesthetic style. This kit also includes an adjustable, padded stool and a pair of 7A wooden drumsticks, so you won't need to purchase any additional accessories. Given that this is a full-size drum kit, you will need at least 6 square feet to accommodate its size.
Need a drum kit that can fit in a smaller space? Check out the Questlove 4-piece drum kit.
---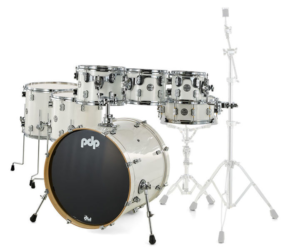 If you're looking for a premium-grade, professional drum kit, look no further than the PDP by DW 7-piece drum shell kit. This set includes 7 hardwood drum shells, in both 7-10 ply maple and birch. Each drum shell is complete with quality Remo drum skins, creating a highly specialized drum shell pack that will not only produce an authentic acoustic sound but will, in all likelihood, last an entire drumming career.
Finally, if you're looking for a drum set with a unique lacquered finish, the PDP drum kit features three different color options, including pearlescent white or two-color fades. Note that this is only a shell pack, so it includes limited hardware and doesn't include cymbals, a stool, or drumsticks. The only hardware included in this kit is for the three mounted toms.
If you'd rather invest in a drum kit with all the trimmings, consider the complete 5-piece drum kit from Ashthorpe.
---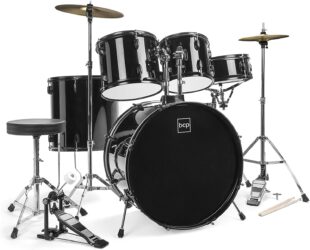 When you're just starting a new musical hobby, you want to experience everything the instrument has to offer without spending a fortune. In addition to all the essential drumming components, the Best Choice Products 5-piece full-size drum kit set comes with a bunch of additional bonus accessories, including a pair of drumsticks and a drumming stool. The only piece of equipment you'll need to purchase separately is a crash cymbal.
This set's hardware is also completely adjustable, making it suitable for young and old players alike. According to Best Choice Products, anyone above the age of 10 and up will be able to play this set and the adjustable hardware means this set can continue to be used as the player grows.
Crafted from solid wood, the shells on this kit are highly versatile and stylish to boot. Finished with a glossy black body, crisp white drumheads, and chrome rims, this set has a classic, vintage look that will always be appealing.
Alternatively, if you're looking for a kit with an included crash cymbal, take a look at the Ashthorpe 5-Piece Complete Set.
---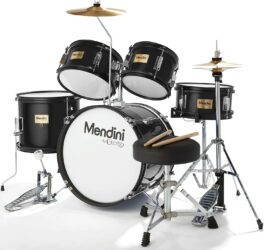 Starting an instrument at an early age will not only help with the development of fine motor skills, but it will also give your child a chance to fall in love with music before facing the demands of adolescence and adulthood.
If you're in the market for a drum kit for your child, the Mendini by Cecilio 5-piece complete kit is a practical choice. Suitable for pre-teen children, this set can be adjusted to suit the height of most kids and will be able to grow with your child as they get older. The set also includes a padded adjustable stool to ensure maximum comfort and personalized use.
Including all essential drums and cymbals, this kit is only missing a ride cymbal. For a beginner, this is not detrimental, and can be added on later once your child has mastered the basics. This kit will require self-assembling. However, the kit does include self-explanatory instructions and shouldn't require any complicated tools.
To top it all off, this kit comes in array of colors so you can truly customize this set to the specifications of your young rockstar-to-be.
Alternatively, if you need a drum kit for a young adult or tall teen, the Eastar Drum Kit is an excellent choice.
---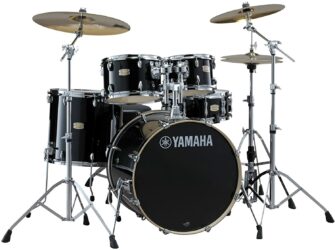 If you're planning to perform, it's imperative that you have a drum kit that can produce an audible and clear sound. That's where a custom drum shell comes in. The Yamaha custom birch drum shell pack is a performer's best friend, easily outpacing most other custom drum kits.
Manufactured using 6-ply birch, each drum shell in this kit conveys strike vibration with superb clarity, producing a high-quality rumble capable of filling even a cavernous performance space. When paired with the Yamaha YESS mounting system, you'll be able to match your authentic, sustained sound with a stylish yet practical hardware design.
Finished with a high-gloss lacquer in cranberry red, natural, or raven black, this kit is as much a part of the performance as the drummer themselves. Unfortunately, this kit is only a shell pack. This means that it only includes limited hardware for mounting the toms and does not include any cymbals, drumsticks, or a stool.
If you're looking for a bigger kit or you're simply not much of a performer, you might want to consider the 5-piece full size drum kit from Best Choice Products.
---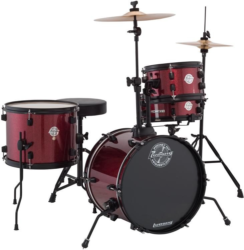 Whether you're constantly on the move for gigs, or you simply live in a small apartment, this lightweight 4-piece drum kit can make it work. Weighing at just 62 pounds, this kit can easily be packed up and transported between performance locations. Despite coming with one less drum then a full-size set, this kit is still more than capable of delivering an authentic rock and roll sound.
With only 4 pieces in this kit, assembly should be exceptionally easy. However, just in case, you'll also receive 6 free lessons from Questlove detailing how to set up the kit and some basic tips to keep your drum kit in tune and sounding beautiful.
This kit is also advertised as being suitable for pre-teen children, making it a great starter kit for kids beginning their drumming journey. However, with some minor adjustments, this kit can be enjoyed by adults and children alike. You'll also find a set of drumsticks and a stool included in this kit.
Unfortunately, this kit doesn't include multiple toms or a ride cymbal so if you're an intermediate or advanced drum player, you may find this drum kit too limiting. Check out the DW 7-piece drum kit if you'd rather a drum kit with more options.
---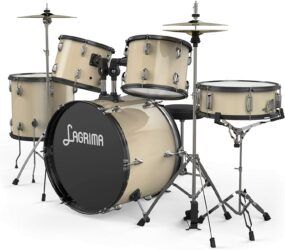 If you're a professional drummer or you're interested in creating a bigger, more durable sound, the Lagrima 5-piece full-size drum kit is the ideal kit option. Each drum shell in this kit is manufactured from hardwood poplar and finished with double-layered oil drumheads. Not only does this make each drum resistant to puncture, friction, and extreme temperatures, it also creates better resonance and dampens out any nasty frequencies.
This drum kit includes all the basic drums and cymbals you'll need, no matter what level you're playing at. What's more, the kit also comes with a stool and two pairs of wooden drumsticks.
The only real downside to this set is that, given the quality of the materials used and the unique double-ply oil drum skins, it's more expensive than other drum kits on this list. Check out the Eastar full size drum kit if you're interested in a more affordable alternative.
---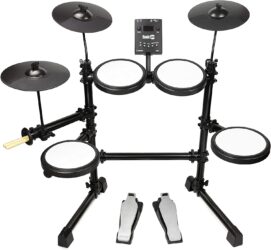 If you're struggling with a small amount of space or you're more of a tech whiz, an electric drum kit is an excellent option. The RockJam 8-piece electronic drum kit features mesh head technology on each drumhead, providing a realistic sound for each drum while also feeling like the real thing. This kit also includes three rubberized cymbals, with the hi-hat cymbal being controlled by one of the hardwearing kick pedals. The other kick pedal acts as a bass drum.
The 'drum brain' includes a range of connectivity options, including a USB input, two AUX inputs, and a midi output — this means you can play along to your favorite song or connect to apps like GarageBand. While this kit does include a pair of wooden drumsticks, it doesn't include a stool.
While this electronic drum kit comes close to the real thing, it may not produce the genuine acoustic sound you're looking for. If you want to learn on an acoustic kit, we recommend the Rise by Sawtooth full size kit.
---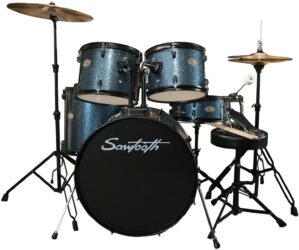 The drum shells in this kit are manufactured from 6-ply poplar wood, meaning they'll produce a rich, authentic sound that can help students get to know and understand the different tones of each drum. Packed with all the essential components, this full-size kit has everything but a ride cymbal. The kit also comes with a cushioned stool and a pair of drum sticks.
If you're worried about assembly, don't be. This drum kit comes with easy-to-follow instructions that even an amateur drummer could follow — this kit should only take around two hours for the student to assemble.
As this is a full-size set, it may not be suitable for young children or smaller players. However, the set can be adjusted to fit most teens and adult players. Check out the Mendini 5-piece kit by Cecilio if you need a child-friendly drum kit.
---
Best Drum Kits 2021: Top 5 Frequently Asked Questions
---