Top 10 Best Audiophile Headphones 2023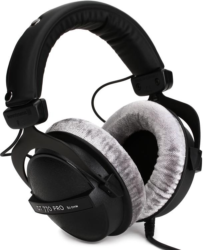 If you're just getting into the headphone world and don't want to spend your entire paycheck on a pair of headphones, the Beyerdynamic DT 770 Pro headphones can be a great option. With sound quality good enough for professional musicians and studio use, there's no question that they'll work well for personal audio enjoyment as well. Listening to music and movies, they are excellent.
But in the absence of inline controls and a microphone, be advised that if you're a gamer or have frequent online calls for work, you might be better served by something else. Consider the Direct Sound True Wireless Professional Studio Isolation Headphones for headphones with outbound audio.
While cheaper headphones sometimes have a reputation of being less durable, this closed-back model has a spring steel headband and a solid construction that yields a long working lifetime. Even better, all parts are replaceable: nothing is disposable as sometimes with other less-expensive models.
Comfort is a priority as well: the head pad is soft velour, and the ear cups are soft and plush. The package does include a soft drawstring bag that can be used as a case, which is a nice touch, although we'd frankly recommend something a bit more sturdy to protect your investment.
---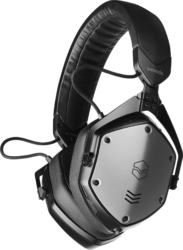 The most characteristic feature of this pair of headphones is its active noise canceling, which is actually a bit more contentious in the audio world than you might think. Hypothetically, the ideal listening environment is completely quiet, and many audiophiles will tell you that ideally, listening should be done in a quiet space. Only a noisy environment will require the closed back and active noise-cancellation that these headphones incorporate.
Perhaps a 'serious' (and hyper zealous) audiophile would recommend a separate pair of earbuds for active listening (that is, listening while out and about) and another pair of earphones (probably open-backed, like this option from Audio-Technica) for quiet environments. They're both wired and Bluetooth-equipped, although the cable includes a mic.
At the price of audio purity, there's a benefit to this active noise-canceling tech: you can modify the sound signature of the headphones to your preference and environments using the V-MODA app that pairs to your headphones. Most important is the EQ tool that allows you to create your own sonic environment where you can even save your settings for different genres or your listening preferences.
While we like the logic behind the customization, other headphones also have this capability, just with third-party instead of native apps. Other unpopular aspects about these particular headphones: a high weight of nearly a pound, a high price tag, and a short cable: we wouldn't use these for studio musicians.
---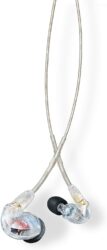 While these earphones aren't over-the-ear headphones like most home office workers and gamers might prefer, those who are on the move will be looking for an in-ear, earbud-style headphone. Especially if you need noise reduction, you should consider this set of earbuds.
While they lack some features meant for home-office use and gaming, like a built-in in-line remote, other features ensure versatility: a ¼-inch adapter means you can use these in the studio as well as with standard 3/16-inch computer ports, there's also a microphone for physical communication.
Meanwhile, wired/wireless combination tech allows you to have the security of a backup, battery-less pair of headphones, while the wireless mode lets you use them for exercise without the restrictions of a cable. Most shoppers, however, will probably be more preoccupied with their high audio quality than peripheral features.
Range is wide but not phenomenal, delivering deep basses at 20 hertz to 19,000 hertz of high, clear trebles. Sound is served up via two high-definition Micro Drivers, while 22 Ohms of impedance helps match the power and create a wide-feeling "soundstage," so the listening environment feels as if you're in a broad concert hall.
---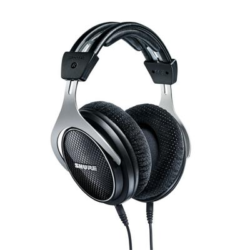 For serious musicians, DJs, engineers, or really anyone with a slightly higher budget, these headphones provide phenomenal performance at a bit of a price premium. Shure is an American company that's had its ups and downs, but with this, they reach new heights: a custom-engineered driver is capable of delivering deep, throaty bass that can also be warm and soft under the right circumstances. Highs are phenomenal and piercingly clear; the product delivers an expansive feeling soundstage: great recording sounds great here, and recordings that are less-than-stellar are more evident.
Sound is delivered via powerful 40mm drivers, more than capable of overpowering the ambient noise of large events: this makes them a good pick for DJs or monitoring engineers. This is the case even though noise-canceling is all passive, coming by the way of the hemispheric ear cups as well as the sound-insulative padding contained within.
They're comfortable but create a seal that makes you feel locked in. This can feel a bit overwhelming for some users but helps with bass.
---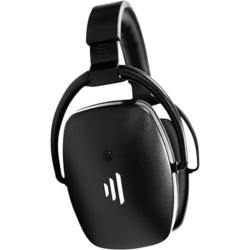 For amateur musicians, the right recording equipment is difficult: there's top of the line, which always comes at a steep premium, and then starter equipment, which sometimes is decent but often wears out quickly. What you're really looking for is workhorse equipment, something that will serve you high audio quality for years to come at a good price.
Audio quality is important, but durability and price are arguably a bit even more so. And while these headphones don't have the crazy audio quality of high-end, ultra-expensive models like the Shure SRH1540 Premium Closed-Back Headphones, they'll still provide crisp audio playback.
Booming basses and crystal clear treble tones come out of a 40-millimeter driver, strong enough to blast past anything ambient in a nine-mile radius: that's to say, if you're a fan of volume, these can be a good pick. While the drivers do produce impressive decibels, none of the volume is dedicated to active noise cancellation.
That's inconvenient, but the closed-back and foam insulation provide relatively strong noise cancellation. If you're using them for studio and recording purposes, they're more than sufficient for preventing sound bleed and letting you properly hear the mix alongside your own playing.
---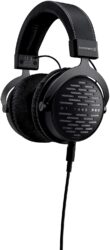 The phrase 'made in Germany' evokes high-tech engineering and expensive lab testing, and these headphones hold up to that promise. But while BMWs and Mercedes are known for finicky parts and frequent mechanical breakdowns, these wired headphones are impressively durable and user-friendly. As they're still in the price bracket of supercars, audio quality is fantastic, but durability is above average as well.
As far as cord range goes, these headphones include two coiled cables, one of a personal-use length and the other for studio purposes. They're also equipped with the latest Bluetooth tech for wireless transmission.
At a heavy 1.5 pounds with the case, though, you certainly pay for sound quality with weight. These are some of the heaviest headphones in our lineup, and it can definitely be noticed over long-term listening sessions. Most of that is due to the 45-millimeter driver (which admittedly provides absolutely booming bass), but part of that weight, ironically, is related to comfort. The purchase includes two earpads that are both pretty heavy; the plush headband doesn't really help either.
Lastly, though, let's address the elephant in the room, being the necessity of an amplifier. A typical phone doesn't have enough power to run these headphones to their full potential, meaning you'll need to purchase a secondary device that provides auxiliary power.
---
7.

Best Budget Audiophile Headphones:

Sony MDR-7506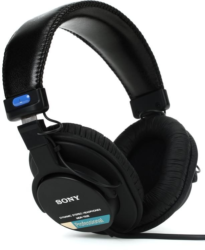 Sometimes, an audiophile is born with slightly less economic capacity, and in these cases, Sony has a $100-ish product to fill the niche. While they're obviously a little simple than their German-engineered counterparts like the  Beyerdynamic DT 1990 Pro Open Studio Headphones, they're surprisingly similar in terms of both comfort and audio quality.
If we had one major complaint, it would be durability, as the plastic is more prone to breaking than with more expensive models.
Noise-canceling is quite effective, all coming from passive technology including thick ear cups and a closed-back design. This makes them great for studio sessions where the actual audio mix is more important than what you might be hearing in the real world; those same characteristics lend them to be great for producers and engineers as well.
The 9.8-foot cord can feel a bit excessive for personal use, but it's nice to have that extra length, especially when recording. It's also designed with a spiral pattern that keeps it relatively neat when not extending, increasing ease of use.
---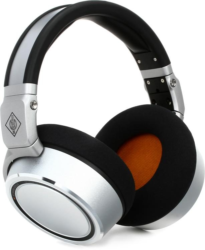 If you're a musician looking for something perfect for recording, mixing, and mastering, and you're not afraid to shell out a bit of coin for the privilege, consider the Neumann NDH 20 for the job. These headphones, while expensive, are built for musicians looking for incredible resolution, a good idea of stereo space, and good noise isolation.
While the closed back yields a slightly lower audio quality than open-backed options like the Audio-Technica ATH-AG1X Closed Back High-Fidelity Gaming Headset, deep basses, and crystal clear high notes are still quite impressive.
On top of these technical specs, they're also phenomenal in a non-quantifiable aspect: comfort. Featuring memory foam-equipped ear pads, they stay practical for long-term use, both for long recording monitoring sessions or mixing and mastering sit-ins, as well as over time: the memory foam is durable and won't break down over months and years of use.
They're also equipped with all of Neumann's highest-end features: with proprietary studio monitors, the monster 1.5-inch drivers have a thumping bass and are powered by high-gauss neodymium magnets. All of this yields a broad depth of sound with an incredibly clear tone.
---
9.

In-Ear Headphones With the Best Audio Quality:

Shure KSE1200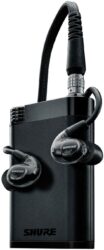 These headphones are, without doubt, one of the nicest in-ear headphones out there, although they come with a serious drawback. They require an auxiliary battery pack (an amplifier) to function properly, something that's inconvenient for many users but absolutely fundamental for premium audio tech.
Thankfully, it's all included in the set alongside a set of adapters, chords, ear tips, and a softshell case. This all contributes to the quoted weight of almost two pounds, which sounds almost impossible but makes more sense once accessories are added in.
One thing these headphones do better than any other in-ear models is provide an ample soundstage. While many earbuds can be a bit claustrophobic, locking you in to the music experience, these earbuds let the sounds breathe similarly to the way an open-back headphone does.
At the end of the day, though, you've got to meet two requirements to buy these headphones: first, have a budget that permits you to buy a pair of earbuds that will run you about $2,000. Secondly, you need to want a pair of earbuds in the first place: many audiophiles prefer full, over-ear headphones over in-ear counterparts. If you fit the requirements, though, you'll end up with a product that is nearly unbeatable when put up against competitors.
---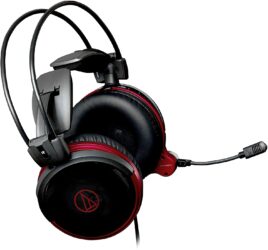 Audiophiles and gaming headsets have never gotten along particularly well, with companies having a difficult time blending a headset microphone with good audio quality and an accessible price point. Industry staple Audio-Technica manages to crack the code here with this sub-$200 headset that manages to balance all three better than most gaming headsets we've seen, most importantly emphasizing audio quality.
One thing to be aware of is the pretty impressive weight, however, as both versions weigh in at just over half a pound. We think that's pretty impressive for a full-sized gaming headphone with a microphone. The microphone, though, is admittedly not of top quality. Streamers might consider staying away.
While the product is sold as a gaming headset, they can be used for high-def audio as well: 53 millimeter drivers and a double air damping system deliver thumping bass; a broad hertz range and high impedance improve the sound stage and create clear highs.
The headphones come in closed-back and open-backed versions: while open-back headphones arguably perform slightly better, if you're looking for noise-canceling we'd recommend the closed-back headphones. If you game and/or listen always while in quiet environments, however, the open-back model can offer slightly better audio quality.
---