Top 10 Best Bluetooth Speakers Under 100 in 2023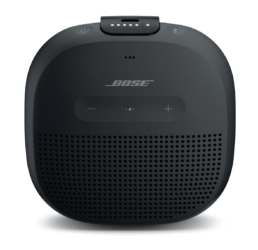 If you're looking for a great Bluetooth speaker under 100, you'll want to consider the Bose SoundLink Micro Speaker.
This little speaker is compact and durable, featuring a silicone rubber housing and tear-resistant strap that makes it great for travel. And because it's waterproof, you won't have to worry about a little water ruining your good time.
Despite its small size, it's quite loud and has an impeccable sound quality for a speaker of its stature, thanks to its silicone passive radiators and custom transducer. As you'd expect from a big name like Bose, this speaker offers a companion app that allows you to tune the speaker to your liking. It also has integrated voice control for seamless pairing
The SoundLink Micro also allows you to link your speaker to another compatible Bose speaker, allowing you to listen to your favorite music in stereo. It's not quite as impressive as the JBL Flip 4's connect+ feature, which allows you to connect more than 100 JBL connect+ speakers, but who has 100 Bluetooth speakers lying around anyway? That aside, there are a couple downsides to this speaker.
First, it doesn't feature an auxiliary input jack. This might not be a big deal if you don't plan on using it anyway, but having the option to use a direct connection would be nice. The battery life on this speaker is also relatively short, compared to other less expensive speakers like the Anker Soundcore Boost, but it's forgivable considering its small size.
If you want small size, superior sound quality, and durability, it's hard to go wrong with the Bose SoundLink Micro.
---
2.

Best Waterproof Bluetooth Speaker:

JBL FLIP 4

If you want a great waterproof speaker with all the bells and whistles, the JBL Flip 4 is an excellent choice. With an IPX7 waterproof rating and decent battery life, it makes a great companion at the beach or around the pool. It won't float like the JBL Lifestyle Clip 3, so you'll still want to be careful with it around deep bodies of water, but it offers a much fuller sound.
This speaker has a really rich sound and deep bass for its size and price point. It also has a plethora of cool features, like voice control integration, connection of up to 2 devices at once for quick switching, and it even has an auxiliary input jack.
Something that's really cool about this speaker is that it can connect to over 100 other JBL connect+ speakers. However, the key here is "connect+" – other older JBL connect won't work with this speaker, so you'll want to keep this in mind.
The only thing that really isn't great about this speaker is the lack of track navigation buttons. However, it's easy to overlook, and coming in at a great price for the versatility and flexibility of this speaker, the JBL Flip 4 is certainly worth thinking about.
---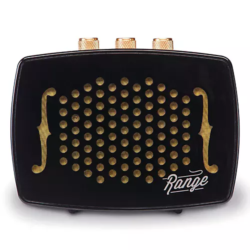 If you're on a strict budget, but you want a stylish speaker that still sounds great, then check out the BEM Wireless Range Strum Bluetooth Speaker.
This guitar-themed Bluetooth speaker is unique not only in the way it looks, but in its no-frills functionality. It features an aux-in jack and 3 adjustment knobs to control volume, bass, and treble. That means you won't need an app to control the EQ of this speaker.
Speaking of EQ, this speaker is branded as being tuned for country music, but that simply means it's got a rich and balanced tone. It also sounds great at full volume, with no distortion, and it comes with a USB A/C adapter, something few other speakers do.
There are a couple caveats with this speaker. While the design has a finished wood appearance, the shell is actually made of plastic. It's also not waterproof, so you'll want to keep it dry. Nevertheless, its impressive sound and attractive appearance make it a steal at its low price.
---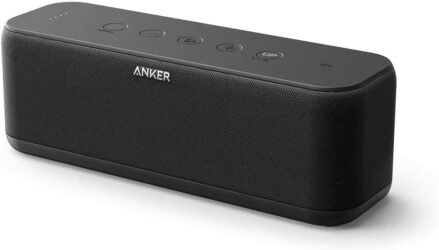 If you're looking for a premium speaker without a premium price tag, you'll definitely want to consider the Anker Soundcore Boost. This speaker boasts Bluetooth 5 and USB-C charging ports, meaning it'll stream music quicker and from further away, as well as charging quicker than micro-USB ports. It also comes with a PowerIQ Charge Out USB port, so you can use it to charge your phone.
For a speaker of its size and price, it boasts a large immaculate sound, with a well-balanced range. Thanks to its titanium drivers, it will reach highs up to 40kHz. As for bass, it comes with a BassUp function that boosts the bass, distinguishing this speaker from many others in its size and price range. And if you want to further tune your speaker, the company has a custom EQ app for your phone.
The biggest problems with this speaker are that it does have some distortion at high volumes, and it lacks an aux-in jack. If you want a great-sounding speaker that doesn't suffer from these same issues, you might want to consider the JBL Flip 4. However, remember it does come in at a higher price, and it doesn't come with the USB-C or PowerIQ Charge Out USB ports.
Overall, it's a great speaker at its price. Packed with so many notable features.
---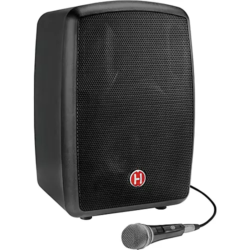 If you're looking for a large Bluetooth speaker to entertain a small party, you might want to consider the Harbinger RoadTrip 25. This massive speaker is great for entertainment and events where power is unavailable. It can double as a portable PA system, and you can also pair this speaker with another RoadTrip 25 for stereo output.
This speaker is great for karaoke and other musical endeavors. Not only does it feature combo and auxiliary input jacks, but it also comes with a microphone. At its size and price, you might think that the included microphone is a cheap add-on to sweeten the deal, but it's actually a quality microphone that sounds good and is sturdily built.
The RoadTrip 25 also offers bass and treble adjustments, as well as adjustable mic echo and separate volume adjustments. Altogether, it sounds good and makes for decent basic mixing abilities out of the box. Of course, not all that glitters is gold.
Despite its large size, it actually doesn't get very loud. Also, as it's not waterproof, you'll want to make sure it's sheltered if you plan to use it outdoors, in case the weather makes a turn for the worst. Nonetheless, it's a great choice if you're looking for a cheap all-in-one solution like this at a fair price.
---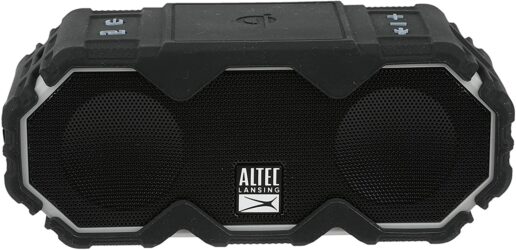 If you're planning a weekend trip in the great outdoors, you'd be hard-pressed to find a better speaker than the Altec Lansing LifeJacket Jolt.
This speaker is a great companion for any camping trip. Featuring a rugged IP67 design that's not only waterproof, but also snow-proof and shockproof, it's capable of withstanding the elements of the outdoors. It also floats, so if you're thinking about taking it along for a kayaking or boating trip, you won't have to worry about losing it if it goes overboard.
The LifeJacket Jolt also features a long range and battery life. Coupled with the Qi wireless charging pad and a USB charge out port, it doubles as a portable power bank, which is great for keeping your phone charged. Additionally, it also has voice assistant integration, as well as multipoint pairing, so you can sync up multiple speakers, making for a great portable stereo system that's chock full of useful features.
While it's a great camping companion, there are a few problems with this speaker. Being a speaker meant for the outdoors, it lacks a handle that the Bugani M90 Portable Bluetooth Speaker has, which would make it a bit more convenient to carry or strap to a hiking bag.
The sound this speaker puts out doesn't quite match its robust design, sounding a bit thin and lacking bass despite its high-sensitivity drivers. It also gives a welcome message that could get annoying after the first couple times you use it, though this is a minor gripe.
If you can look past its lackluster sound and want a tough speaker that's durable and versatile, then you'll seriously want to consider getting the LifeJacket Jolt for your next outdoor adventure.
---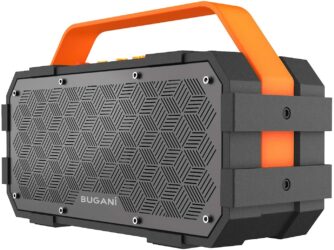 Coming at a seriously low price, the Bugani M90 Portable Bluetooth Speaker is jam-packed with features that make it a great choice if you're looking for something rugged and feature-packed. At its price range, you won't find too many Bluetooth speakers with the same massive range and battery life, thanks to its utilization of Bluetooth 5.0 technology.
One thing this speaker sports that few others on this list do is a TF card reader, allowing you to play music straight from any 64gb or smaller microSD card. It also features an auxiliary input jack, giving you yet another option for streaming your music.
For a speaker this feature-packed at such a low price, it has a surprisingly good sound with decent bass. And to match the rugged tones this speaker puts out, it's built rugged, with a metal frame rated to handle 3-foot falls with no problem.
Given its rugged design and long range, it's also a great speaker for outdoor activities, similar to the Altec Lansing LifeJacket Jolt. While the M90's waterproofing isn't quite on par with Altec's speaker, and it doesn't have any charge out ports, it does feature a handle and better sound quality.
Speaking of charging, the M90 has a lengthy 4 to 5-hour charge time. The manufacturer also states that you shouldn't use the speaker while it's charging, so you'll want to make sure to charge it when you don't plan to use it, such as overnight.
Overall, if you don't have a ton of money to invest in a speaker, but you still want convenient features and a crazy long range, the M90 is certainly a worthwhile consideration.
---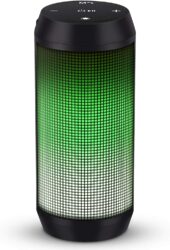 If you're hosting a small party with a few friends, and you want a cheap and fun way to bring life to your music, you'll definitely want to consider the ELEHOT Bluetooth Speaker.
This cool little speaker doesn't just sound good, but it also looks great. Featuring a colorful front LED display, it offers a light show with 5 different LED modes that bounce along with the rhythm of your music. And if the music stops and the party leaves, this speaker has an auto-power off function, so you won't have to worry about forgetting to turn it off.
In addition to the 2 10-watt dual precision stereo drivers, it also has a TWS dual pairing function, allowing you to sync another ELEHOT speaker for twice the fun. It also has a TF card reader, an auxiliary input jack, and a built-in FM radio, giving you a ton of options for listening.
Coming in at a low price, it has some issues compared to other speakers we've found. For instance, the TF card reader on this speaker only supports cards up to 32gb, whereas the Bugani M90 allows you to use a card twice that size.
Also, while the M90 doesn't have the greatest waterproof rating, it's something – the ELEHOT speaker is not waterproof, so you'll want to keep it away from pool parties. And finally, that auto-power off feature? You can't disable it, which can be a minor nuisance.
Of course, unlike Bugani's speaker, the ELEHOT speaker adds a unique vibrancy to your party atmosphere. It also comes in at almost half the price of the M90, meaning you could pick up 2 ELEHOT speakers for almost the same price as one M90, giving you true stereo output for nearly the same price.
All in all, the low price, awesome light show, and 2-year warranty make the ELEHOT speaker a hot choice for your next party.
---
9.

Best Bluetooth Speaker for Light Travel:

JBL Lifestyle Clip 3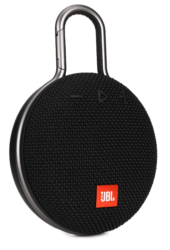 If you're going traveling light but still want music, then you might consider the JBL Lifestyle Clip 3. This little speaker is super small and super lightweight, coming in at less than a pound, making it perfect for light travel.
Honestly, this speaker doesn't sound the greatest compared to other speakers like the Bose SoundLink Micro Speaker, having a high low-frequency response of 120Hz. But for its size and price, it does offer clear and crisp sound. It also has some features other tiny speakers don't have, such as the built-in carabiner clip and auxiliary input jack.
The carabiner clip allows you to hook it to your belt loops, backpack, purse, or other travel accessories, making it perfect for travel. And because it's so light and waterproof, it will actually float in water if you manage to accidentally drop it.
Now of course, since it's such a cheap speaker, it does have some flaws. First, like the JBL Flip 4, it doesn't have proper track navigation buttons, only allowing you to pause, play, or skip to the next track. However, unlike the JBL Flip 4, it also doesn't feature Connect+ or similar technologies, meaning you can't link multiple speakers together.
Still, if you want a low-priced ultra-compact speaker to take with you on a hike through the woods or a trip down the river, the Lifestyle Clip 3 is a great option.
---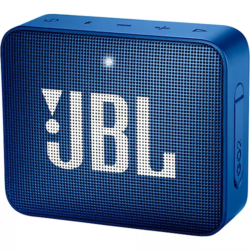 If you like to listen to music in the shower, and you want a speaker that's small and affordable, the JBL Go 2 Portable Bluetooth Wireless Speaker is a great choice.
This little guy comes in a variety of different colors and has a flat bottom. This along with the rubberized shell and IPX7 waterproof rating makes it perfect for spaces like a shower shelf, where you have little room to play with.
It also has a built-in noise-canceling speakerphone, so you'll be able to take calls with it, even in the shower. And in case you're forgetful, it has an auto-power off function, great for prolonging the short 5-hour battery life. Just keep in mind that you can't disable the auto-power off function, which is a tad disappointing.
As far as sound, it's comparable to the JBL Lifestyle Clip 3 – it won't produce a huge sound and doesn't get very loud, but it does offer clear audio and sounds good for its price and size. Like the Lifestyle Clip 3, it also doesn't connect with other JBL speakers, so you won't be able to set up multiple speakers for a cheap and portable stereo sound.
If you want a cheap dedicated shower speaker, or just a small travel speaker that you can stand upright, then the Go 2 is a good option.
---
FAQ
---