Top 10 Best Metronomes 2023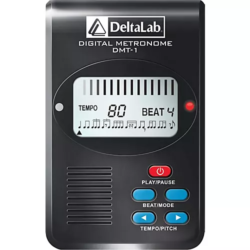 Deltalab only sells two types of products, metronomes, and tuners. This focus means they have taken the time to think about what is most important to musicians and how they can best cater to these needs.
The DMT-1 emphasizes being a metronome, rather than a tuner that happens to include a metronome. This means offering a wider tempo range than any other device on the market. It offers up to nine beats-per-measure, which means the signature you'll want is available every time.
The large display screen and bright LED means following a silent metronome is easy, while the volume on the built-in-speaker can be turned up loud enough to be useful to drummers. If you'd rather your metronome to be used through your headphones, the included jack allows for this. While it doesn't contain a tuner that offers feedback, it does have a tone generator that sounds clear enough to use to tune off.
The DMT-1 is light and small and lasts a long time on only AAA batteries. This makes it a great portable device that can be kept in the pocket of your violin case or sitting on your music stand. In its design is included a folding stand to make it easier to see when placed on any flat surface.
The only function the DMT-1 is missing is the memory to hold multiple presets. Fortunately, setting up a new beat is extremely simple and doesn't take much time. If missing this function is why we can have such a good device at so low a cost, we are happy to do without.
The Deltalab DMT-1 is an impressive device that makes sure to offer a musician with everything they would need from a metronome.
---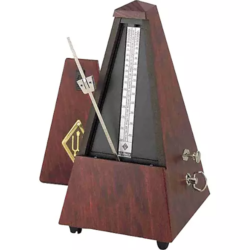 Gustav Wittner started making metronomes in 1895 and today his great-grandchildren continue the tradition. The precise German engineering of these devices proves that mechanical metronomes are as accurate as any digital device.
The Wittner 811M is a new model of the original design, made with clockwork precision and encased in mahogany. Just as over a century ago, it is powered by a brass winding key. The analog metronome offers a wide range of tempo and a clear bell that provides a measure of 2/4, 3/4, 4/4, or 6/8.
The beautiful desk-metronome sits on four rubber feet to not mark the surface underneath and can sit on a piano without worrying about damage. Its sound is clear and consistent and can be heard over most instruments, though would not be suitable for drummers.
The Wittner is not about offering a wide range of auxiliary functions but providing the most important function to the highest degree of accuracy, in a way that has been passed down for centuries.
Beautiful, accurate, and reminding the musicians of today about a long-lasting heritage of rhythm, the Wittner 811M is a gift for professional musicians that will be used and loved.
---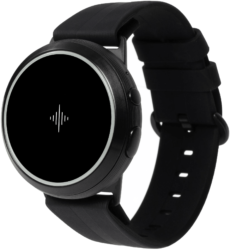 For the tech-head, there is little not to like about the Soundbrenner. A smart-watch designed for musicians, it includes a metronome and tuner, as well as a warning system for decibel levels, and the typical benefits of the modern smartwatch.
The metronome part of the watch is incredible. Choose between the visual display, audible beeps, or, most impressively, vibrations. These vibrations can be controlled to make them as strong or weak as you like, and all through a twist of the watch face. With a wide tempo range and the ability to set different forms of vibration to indicate different measures, this is a great metronome for the musician who doesn't want to be seen using a metronome.
The feedback this watch provides is unparalleled. The tuner is highly sensitive to sounds, but can also be used by magnetically sticking to an instrument and responding to the vibrations. The watch warns you if you are experiencing sound levels that may harm your hearing, and settings can be changed via your smartphone.
As a smartwatch, it is pretty good as well. While a bit thicker than other smartwatches, it is water-resistant, has a stainless steel casing, and offers a massive five-day battery life when on standby. As a vibrating metronome, it can handle three hours of constant activity, as good as you would ever need in a gig.
Of course, this sort of metronome is not going to suit everyone. It is a little heavier than your typical watch and the vibration function might impede the professional player who needs a sensitive touch. This smartwatch also has the price tag of a smartwatch so those of us just looking for a metronome may decide it isn't worth it.
For the band member who wants an unobtrusive, high-tech and ultimately impressive device, the Soundbrenner is a metronome unlike any other. As modern as technology can be, and highly recommended for today's musicians.
---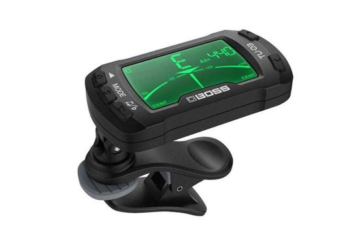 Designed to clip to the head of most stringed instruments, the Roland tuner and metronome offers a large, back-lit display and volume-controlled speaker to provide a clear beat. Most importantly, the sound can be turned completely off, with the visual aid being easy to see even out of the corner of your eye. Impressively, the screen is easy to read in even the brightest of environments.
There are eight patterns and ten beat variations on offer with this metronome which means it suits the vast majority of styles and time signatures you will come across, and the tempo can be changed at the touch of a button.
The large, spring-loaded clip can comfortably fit onto both thick and thin pieces, which means it holds just as well to a thin music stand as it does to the head of a Gibson. It is also padded, so no fears of leaving any marks or indents behind on the more fragile instruments.
The Roland is as much tuner as a metronome, and it allows you to tune to any pitch, making it suitable for all stringed instruments. It even has preset modes for violin, guitar, bass, and ukulele.
Of course, the clip-on metronome is obvious to see, so for the performer who might be embarrassed about using a metronome, it may not suit. While it has a battery included, these can be a little expensive to replace; fortunately replacing batteries is something you will rarely need to do.
The Roland is a great metronome and tuner in one, that has the best screen we have found on a digital metronome. For practice with any instrument, it's a good choice.
---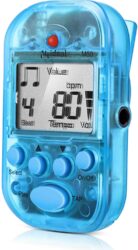 The MeIdeal is small, lightweight, and easy to use, and is therefore perfect for the school student looking for their first metronome. Offering the same tempo range as other metronomes as well as ten beat variations, all the primary functions you would want from a metronome are there.
The MeIdeal also offers a flashing light as an alternative way of keeping the beat if the high-pitched beep does not suit you, as is the case with some of its users. As well as the nice little touch of being able to choose your own color, the MeIdeal offers a clip and can be attached to a lanyard quite easily. It also offers a headphone jack so you can listen to the beep without disturbing others. This function isn't always available in other metronomes so is appreciated.
Of course, some things are required to be missing for a device to be offered with as low a price as this. In the case of MeIdeal, compromises are made in volume control, with only three settings, and battery life which isn't that long. Fortunately, batteries are easy to change and inexpensive to purchase.
For your first metronome or a nice present to give to music students, you can't go wrong with the MeIdeal Mini Digital Metronome.
---
6.

Best Quartz Metronome:

Seiko SQ50V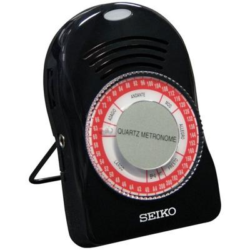 Seiko has been creating timepieces since 1937, and so they know the importance of accurate timekeeping. Using these same practices, they have produced a metronome you can trust will keep an accurate beat at any tempo.
It is definitely the metronome that is the simplest to use. Switch it on, set the dial to the tempo you want, and turn up the volume. That is it. When you switch it on, you can pick two different sounds, which also happen to be for A and B-flat tuning, and the flashing light serves as a great visual metronome if you keep the volume down. The ability to offer these other features without complicating its job as a metronome is a tribute to simple, effective engineering.
The Seiko doesn't offer a range of beat variations, nor does it's tuning abilities move beyond those two tones. What Seiko offers is a name you can trust for highly-accurate beat-keeping and, for that alone, it definitely makes our list.
---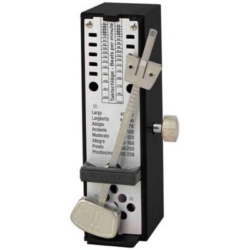 You may recognize Wittner as the brand of our Best Premium Metronome, and it is no surprise that the only other analog metronome on our list also comes from the company. It is a true credit to their engineers to find a way to create a balanced, high-quality analog device that is also safe and easy to store in your luggage when you travel. Eschewing the pyramidal structure of most analog metronomes, this box-shaped device is small enough to slip into your overnight bag while leaving room for more important things.
Because it uses a hard-plastic casing and a minimalist design, Wittner has also been able to offer the 880 at a price much cheaper than other analog options. For those of us who desire that clean "click" instead of a digital "beep," it's nice to know we don't have to pay extra for it.
As you would expect from such a metronome, it comes with no whistles, just the bell, and it certainly isn't as beautiful as its sibling. If you are interested in a case, they do exist, but do not come included. When you want an analog metronome and can't afford the best, you certainly won't regret buying the Wittner 880.
---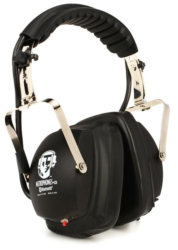 For the studio recording, having an audio cue is not an option. If you are someone who doesn't find visual metronomes all that useful, it can be difficult to find a compromise that works. Fortunately, Metrophones have come up with an elegant solution: put a high-quality digital metronome directly into a pair of comfortable, noise-canceling headphones.
Providing 29dB passive isolation and with very comfortable gel-filled cushions, these headphones are tempting even when you don't want the metronome. They work both wired and wirelessly using Bluetooth and the rechargeable battery lasts for forty hours of use.
The metronome itself is built into the headset, the beat displayed on a small LCD screen inside one of the ears. The controls are built into the headset, changing the tempo with a simple toggle. The volume of the metronome can be changed to suit you and the music that is coming through the phones, while the sound is a crisp "tick" rather than the annoying "beep" that some other digital metronomes provide.
It's not all good news. The metronome doesn't offer beat variation, and the price is on the upper end of the scale. However, for a band in a studio, these things are not as important as finding that solution to the question: "How can I hear a metronome and not ruin my song?"
From one of the best headphone companies for musicians comes a metronome solution that will change your recording practices forever.
---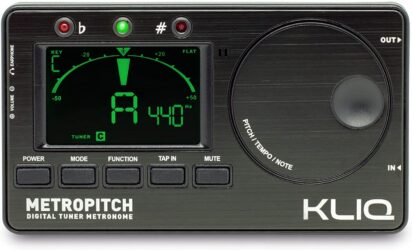 While the MeIdeal is the cheapest metronome we found that is still a good metronome, if you are willing to pay a little extra you can buy something that offers a whole lot more. The KLIQ MetroPitch is not just a metronome but also a tuner and tone generator. As a metronome it offers 10 beats per measure, and 5 time division variations, making it one of the more versatile choices out there. With input and output jacks for guitars and a memory backup to store choices, there is little in terms of functionality that we can say is missing.
The MetroPitch comes in a metallic case with a stand and is stored in a fabric pouch. It's so small, however, that you could just as easily just keep it in your pocket when not using it.
The KLIQ does have some drawbacks, however. The volume of the metronome doesn't get loud enough to suit a lot of musicians, easily drowned out by even a quiet electric guitar. This is partly due to the low power given to the speaker, but also because of its positioning on the back of the device. The batteries also do not last long on the KLIQ, and will need replacing often. Fortunately, it takes standard AAA batteries.
For a low-cost, high-function metronome that is also small and stylish, the KLIQ is a solid choice.
---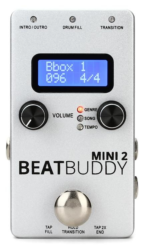 The BeatBuddy Mini 2 is more than a metronome. It is a drum machine. It works as a metronome but offers far more. Storing over 200 rhythms in the sound style of 9 different drums, you can change each one to suit the tempo you are looking for at the turn of a switch. Using the right software, you can even design your own beats to use. Designed for the feet, the button is comfortable even in socks but can also handle the overzealous player.
The BeatBuddy is a powered device and, strangely enough, not one of the pre-stored "songs" is a beat without an intro. However, all tempos and rhythms you might be looking for are stored there, you just need to go looking. You can even look at their handy database, which includes matching well-known songs to the beats that suit them.
While it might not be the thing the music student or orchestral player is looking for in a metronome, the garage muso will be blown away by how much more the BeatBuddy Mini 2 can offer them.
---