Top 10 Best Music Stands 2023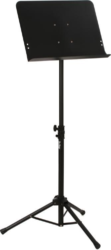 This universal music stand is a true musician's stand, meant to be functional, sturdy, and durable. Designed for orchestra musicians, it can be effective for other types of musicians as well: guitarists, singers, and more.
Height and angle adjustment are controlled by two knobs, one on the main support shaft and another one near the bookplate: slightly emphasizing stability and durability over convenience. Keep in mind that it only extends to a maximum height of 45 inches, which might be short for standing players.
While this stand won't take an atomic blast, we'd take it in a 'drop test' over expensive stands like the rosewood On Stage Stands Conductor Stand, as while rosewood delaminates and breaks, this aluminum bookplate bends and dings, then bends back into place.
That's a tremendous advantage if you want something that holds up to many years of abuse, especially if you're looking for a stand that can hold heavier books or even tablets.
---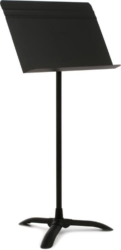 If you've ever played in a school or university orchestra, chances are that you've used this stand. Manhasset has been pumping out models like the #48 since 1935, and they've been lapped up by schools, colleges, and amateur orchestras around the world ever since. Representing an intersection between durability, economy, and utility, they're not too pricey but still last for years: there's a reason they're so popular with larger orchestras.
The retention mechanisms are all friction-based, helping with longevity by reducing the number of moving parts. Unfortunately, this friction retention system on both the bookplate and the stand neck wears out over time, ultimately leaving the stand more or less unusable.
It all stands upon a welded steel base, which is nice if you're looking for a stand that won't go anywhere, but makes things difficult if you're frequently going to be moving around as an individual or regularly changing the layout of your orchestra. It doesn't fold up or break down, which makes it more or less damage impermeable, but for this same reason, it shouldn't be used as a portable practice stand.
---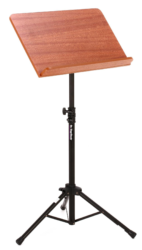 While this product is certainly a beautiful music stand, some might say it's a little excessive, especially considering an expensive rosewood is used as the bookplate.
To buyers who might be hesitant, we say that plenty of people buy music accessories for beauty: from grand pianos to guitars to stereos, plenty of objects of use can turn into objects of art. Especially if you're playing with a natural wood instrument like an acoustic guitar, a violin, or cello, this stand can work beautifully.
But beauty isn't it's only redeeming feature, as the stand also has a phenomenal construction yielding a sturdy base and an immovable bookplate. Everything is adjustable down to the millimeter, of course, but the stand is rock solid. It's living proof that a heavy weight on a music stand can be a good thing, especially if you're interested in purchasing something that stays in one place.
We'd recommend it for conductors, who might also consider the Musician's Gear Deluxe Conductor Music Stand, as well as those with acoustic stringed instruments.
---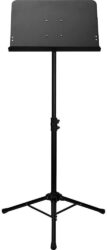 There are two types of durability: the first one, indestructibility while being used by many, as is the case with the Manhasset Model #48 Stand, and the second one being a stand that can last ages, but needs care to work well.
Think about it like this: the first option is a Casio G-Shock, the second is a Rolex. One thrives when given little attention, the other thrives when given a lot. This stand is the second type, needing some delicacy but rewarding you greatly when that love is returned.
It's actually designed for orchestra conductors — people whose job it is to work with a music stand many hours a day. Its steel bookplate has a thick, two-inch lip, which is large enough to hold many hours and books worth of music.
Its legs are tri-fold, meaning it's virtually impossible to topple and won't tilt with the addition of weight or time. It's heavy, but that's good: it's meant to stay in place. Adjustability comes via screw-in knobs, which isn't always preferred for durability, but if you're the only one using the stand, it should be fine.
---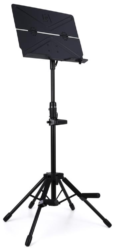 Looking for something that will stay upright in a hurricane? This is your music stand. Its thick construction, broad base, and heavy weight are all features, not bugs, meant to make sure your music and stand will stay perfectly in place as long as you can.
Five legs assure a solid base, with the odd number meaning it will never rock back and forth. It's sturdy enough to hold larger weights (big music fake books, for example) and even comes with a label stating that the stand is suitable for holding laptops: not many music stands can give that degree of confidence when holding weight.
It has one of the only sheet metal foldable bookplates we've ever seen, making it solid and allowing it to support sheet music while still breaking down. But the best aspect is one we've never even seen before: this music stand doubles as a guitar holder, with supports for the body of the guitar and its neck.
That makes it excellent for live gigs where you'll be reading music while using two different instruments (an acoustic and an electric, for example) or when playing a concert where you both sing and play. If you're using it in your home, however, we'd probably recommend a separate music stand and guitar stand.
---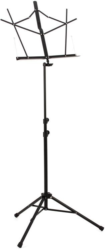 This lightweight and completely collapsible music stand is perfect if you're looking for portability over everything else. It manages to be quite sturdy in spite of its telescoping shaft, tripod leg base, and adjustable bookplate.
It comes fully assembled and stays that way when broken down, simply expanding outwards from an intuitive folding, telescoping design that can get packed down to fit in its included bag. It's even got two small hooks on the outside of the bookplate that are designed to hold sheet music in place. Offered at an affordable price, it's a good pick for those who need an economic option.
Thanks to its light weight and portability, however, it has some problems with stability and holding weight. While it has no problem holding standard sheet music, you'll have a tricky time holding heavier music books as well as enduring heavier weather conditions (wind, for example).
That means this will probably be off the list for outdoor performers; the propensity for it to bend under load or when it falls over means it is a poor choice for orchestras as well.
---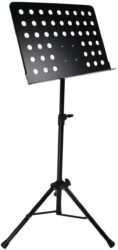 Gearlux isn't necessarily a heritage name in musical supplies and accessories, but since the company's inception, they've dedicated themselves to producing inexpensive yet high-quality musical supplies, products, and accessories for amateur musicians.
While this stand doesn't approach the price of high-level stands, it does get pretty close in terms of quality. Although we've categorized this stand as a static stand, thanks to the fact that the book-plate (the top part of the stand) doesn't fold down, Gearlux designed this stand as a midway point between portable and static stands. That makes it good for some applications but sometimes feels like more of a compromise than it needs to be.
It's got an adjustable height range of 28 to 48 inches, so while it's good for seated players, a maximum height of four feet is probably a bit short for many standing players. With an adjusting knob to change height, it holds a good amount of weight, although it's less convenient to adjust than stands with friction clutches. The bookplate can be rotated up to 180 degrees, great for changing the angle of the music itself.
---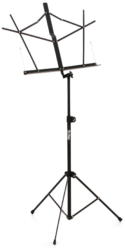 If you're looking for something inexpensive, lightweight, and portable, this stand is an awesome choice for you. Meant to fold down to a size small enough to fit in the back of an instrument case, this stand opens up to full size with a height large enough to work for even standing musicians. It's adjustable as well, with screw-in knobs controlling height and keeping the specs locked into place.
However, as a lightweight portable stand, it's a bit fragile to use full time. The small metal rods that comprise its construction are easy to bend, and once bent, cause problems related to stability.
Because of these issues with durability, we'd recommend it as a backup portable stand as opposed to a main static one. If you're looking for something with a low price but that's a bit more permanent (a static stand, for example), the sentence will serve you well.
Otherwise, though, this stand won't hold up to too much abuse and will need to be taken care of if you're trying to maximize the amount of time you get out of the product.
---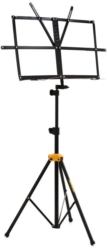 Portable music stands have a universal problem: they bend easily, tip frequently, and never have enough weight to give them decent stability. This portable stand largely resolves the problem by adding a bit of beef and weight, creating a structure that's heavier and more solid than other portable stands.
Obviously, that comes at the penalty of weight and space, as this doesn't compact down as well as other music stands, but the durability it has relative to other portable stands is phenomenal.
It has three vertical telescoping components that all fold into each other, yielding a format that folds up but still gives great support for music. But as a 'skeleton' style stand that has massive hollow spaces in the bookplate, it won't be great in the wind even if you add a solution like clothespins. We also don't trust it to be stable enough for an electronic tablet.
Although it has downsides, it includes a carrying bag that aids with transport.
---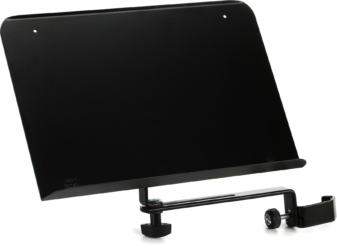 Most singers probably own a separate music stand and microphone stand, but if space or portability is a factor, something that combines with the microphone stand itself might be the way to go.
Not only does it make setup and takedown easier, it also can help with the ergonomics of a recording setup. Placing a music stand in front of a microphone often causes cables or the microphone stand itself to block your view, while this stand makes viewing easy and helps make sure you get an unobstructed view of the sheet music or lyrics you're looking at.
One issue, however, is the fact that the clip-on stand can interfere with sound quality. If you're recording yourself singing and bump the stand, it will leave vibration sounds that can't be removed post-production and thus ruin the recording.
And while the mechanism that anchors the bookplate to your mic stand is sturdy, the universal design is a bit clumsy and yields a connection that is workable always but perfect never. Thankfully, the bookplate is solid and sturdy.
---
Frequently Asked Questions
---