Top 10 Best Budget Bookshelf Speakers 2023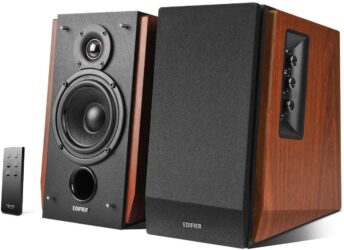 The 1700BTs are a great set of standalone speakers, featuring a great blend of sounds for lows, mid's, and highs. They go loud without washing out, and have separate bass, treble, and volume adjustments that allow for fine-tuning adjustments tailored to your needs.
With two RCA ports and built-in Bluetooth, they also offer a reasonable amount of connectivity and work well with any Echo device for Alexa compatibility. The included remote is also a nice touch, and since they're active speakers, they're a great choice for any room and setting in your home, from your living room to your bedroom.
The only major problem with these speakers is that sometimes the Bluetooth stays on, even when the speakers are powered off. This is quite concerning, but you can remedy this easily by keeping them paired to your phone or another Bluetooth device, even if you don't use Bluetooth.
If you really can't live with the always-on Bluetooth functionality, you might consider the Edifier R1850DB, which don't have this issue. However, keep in mind they'll cost you more than these, making these the superior choice if you're budget-conscious.
The 1700BTs may not be perfect, but they do an excellent job of blending sound quality, power, connectivity and budget. If you're looking for a good set of standalone bookshelf speakers without breaking the bank, you can't go wrong with these.
---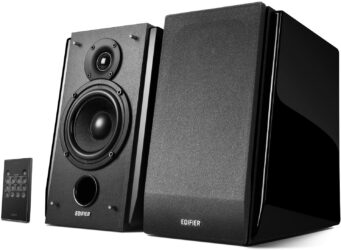 One of the biggest problems with bookshelf speakers is that many lack an adequate bass output for low frequencies. However, the Edifier R1850DB Active Bookshelf Speakers are an exception. These bad boys impressively push out sound and have front-facing ports to move air to really help them boom.
This is because these are actually bi-amp speakers, meaning there's a dedicated amp for low frequencies, resulting in deeper and richer bass tones. And if they don't boom enough for your liking, they also come with a subwoofer out port, so you can attach a subwoofer directly to the speakers.
These speakers offer multiple input connection methods, including optical input and Bluetooth. They also come with a handy remote, and you should be able to pair them with your regular TV remote, making them a great addition to your living room. They also come with a 2-year warranty.
Now, while these speakers are great for low-end frequencies, they lack in their mid and high-range frequencies. For mid-range, you might consider the Edifier S1000DBs, and the Klipsch R-41M is great for high-range frequencies. However, keep in mind both sets of speakers offer a steep jump in price compared to these.
If you're looking for a good set of bookshelf speakers that have enough bass to not absolutely require a subwoofer, then you'll definitely want to give these speakers a chance.
---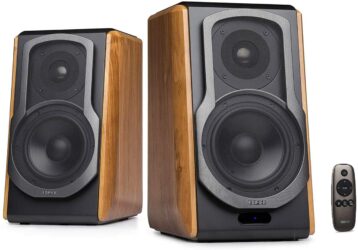 When listening to music, you want a set of speakers that can deliver a full range of sounds. The Edifier S1000DB Audiophile Active Bookshelf Speakers do just that, and they do it well.
These speakers are robust and heavy-duty with an emphasis on heavy, lending credence to their solid construction. These little powerhouse speakers pack a big punch and balance all different sound ranges well with crisp highs and tight bass. But where they really stand out is the mid-range, handling vocals and the crucial portion of the mix very well.
The S1000DBs come with multiple modes of connectivity, including aptX Bluetooth for high-quality, low-latency wireless audio output. Coupled with the remote, Alexa compatibility, and their intense output, they're great for your living room.
While these speakers are truly a great set of speakers, they do have a couple of glaring flaws. First, they don't have a physical mode switch on the speakers, meaning you won't want to lose the remote if you plan to use them with more than one device.
They also don't have a subwoofer output jack, meaning you'll have to find another way to hook them up to a subwoofer if you find the bass lacking. Obviously not all the speakers we're recommending have this, but at their relatively high price, they really should allow you to tailor them to your specific needs without a DIY workaround. If you absolutely can't live without a sub, we'd recommend choosing something more expandable like the 2.1-capable Polk Audio T15 100 Watt Home Theater Bookshelf Speakers.
Overall though, these speakers are an excellent choice if they fall within your budget. If you want a set of speakers that really shine on the mid-range, and you can look past their flaws, it's hard to go wrong with these.
---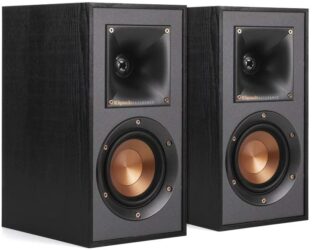 Klipsch has a reputation for making great speakers with stellar high-range performance, and the R-41M Bookshelf Home Speakers are no exception. These speakers use Klipsch's patented Tactrix horn technology and Linear Travel Suspension aluminum tweeters to provide prominent highs rivaled by few.
Not only do these speakers perform well on the high-end, but they look great too. Combining textured wood-grain vinyl with Klipsch's signature copper woofer and horn, they look as high-end as they sound.
Just beware of their dull mid-range and low-range sounds. At their small size, the mid's and lows on these speakers aren't great, meaning they won't work great in total isolation. Instead, you'll want to pair them with a subwoofer or throw them in a surround sound setup to effectively utilize the entire audio spectrum.
However, because they don't really thump or hum too much, you can mount them on a wall without impeding their performance or shaking your entire house. And since they're small, they're also practical for small rooms in a 2.1 configuration.
Overall, these are great speakers if you're looking to add that "Hi-fi" look and sound to your setup.
---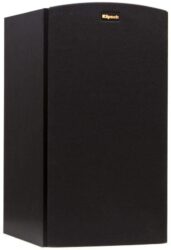 If you've got a powerful amplifier, and you're worried about finding bookshelf speakers that can handle potentially high power output, you should definitely consider the Klipsch R-15M Bookshelf Speakers. With a high peak wattage of 340 watts, these can handle some serious power without blowing.
But that isn't the only reason these are good speakers. Made by Klipsch, they're made with the utmost care and quality, boasting an attractive aesthetic and great sound. They're also fairly cheap for such quality speakers, making them a great choice if you don't want to spend a fortune on good speakers.
For their size, they can push out good sound, and they're quite loud. With a high sensitivity, these speakers are possibly the loudest bookshelf speakers we've found.
Of course, as with many of Klipsch's speakers, these things ring well on the highs, while the mid's and lows aren't the greatest, though they're not terrible for a 5.25-inch driver either. Also keep in mind that after a break-in period, they'll definitely sound better than they do straight out of the box.
Nevertheless, given their low price, high performance, and high volume output, they're worth considering if they suit your needs.
---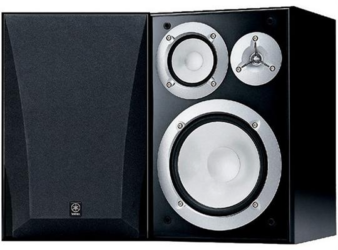 If you're looking for large powerhouse bookshelf speakers, you'd be hard-pressed to find a better set than the Yamaha NS-6490 Bookshelf Stereo Speakers.
These monstrous 3-way speakers are quite large for bookshelf speakers, so they might not fit in a space many other bookshelf speakers can. However, with huge 8-inch woofers, they're sure to deliver a big sound that will fill your room, and make for good speakers for indoor parties.
You'll be able to crank them up loud without them washing out. These speakers push clean mid and high-range sounds well, making them great if you're into music like classic rock and 80s metal. The bass is punchy, but isn't great for bass-heavy music, meaning you may want to add a subwoofer to your setup. Or you can also get crafty and port them yourself for better bass, if you're into that sort of thing.
Yamaha opted for a black vinyl finish with no simulated wood grain, meaning they aren't the most attractive speakers. But honestly though, at their price point, they perform well enough to make up for their unfinished look.
If you can look past their unpolished looks, and you're looking to get a pair of oversized, entry-level 3-way bookshelf speakers with a clean sound, then you can't go wrong with the NS-6490s. If you don't need all that power, though, the Edifier R1700BT will sound better and more balanced in a small setup.
---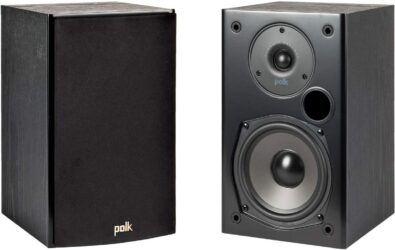 The Polk Audio T15 100 Watt Home Theater Bookshelf Speakers are another great offering on the low end of the price spectrum. Coming in as one of the cheaper speakers on this list, they offer decent full-range sound for their price. For small to mid-sized rooms and casual TV, movie, and gaming use, they work great.
Nevertheless, while these speakers can run in a 2.0 or 2.1 configuration, they aren't great as standalone speakers, even with a subwoofer. They sound a bit tinny and lack on the low-range. Rather, they work best in a 5.1 or 7.1 system as rear speakers for your home theater system, making them an ideal choice if you're looking to add a little oomph to your rear speakers.
If you want a good pair of standalone speakers, something like the Yamaha NS-6490 Bookshelf Speakers would work better. However, the Yamaha's are a bit more expensive and bigger than these, so you'll want to keep that in mind if you're limited on space or budget.
Ultimately, the T15's are great supplemental speakers. Whether you're building a home theater system, or you're looking to add on to an existing system, you should certainly consider putting these in your setup.
---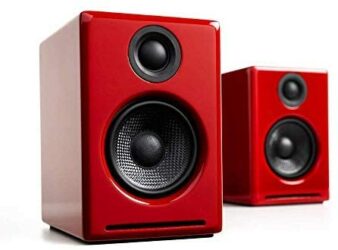 You won't find Bluetooth bookshelf speakers that work much better than the Audioengine A2+ Wireless Speakers. That's due in part to the aptX-HD Bluetooth 5.0 they come with, allowing for lower latency and higher sound quality.
These guys are small, making them perfect for cramped spaces. To help them fit in anywhere, they're also available in 3 different colors – red, white, or black. With a built-in 16-bit DAC of their own, they provide some serious output and perform really well on the low end for such small drivers. Just keep in mind the DAC is only available to the USB connection, so it might not work over Bluetooth.
Since these guys are small, they aren't going to out-compete the likes of Edifier's R1850DB Active Bookshelf Speakers, even with the onboard DAC. They also stuck the volume knob on the back of the left speaker, which helps their aesthetics, but makes them awkward to control. Finally, they don't come with a remote like many other Bluetooth speakers, a bit disappointing at their relatively high price point.
We don't recommend connecting via Bluetooth if you want the best possible sound out of your speakers. But if you're dead-set on listening over Bluetooth, these speakers are equipped with Bluetooth 5.0 and aptX-HD technologies, making them a great choice for wireless audio streaming.
---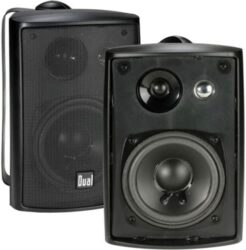 If you're looking to jam out to your favorite tunes outside, the Dual Electronics LU43PB 3-Way High Performance Outdoor Indoor Speakers are an excellent choice.
These speakers are built especially for outdoor use. Featuring a weather resistant design meant to withstand the worst weather, from crazy high winds and scorching heat to torrential downpours and frigid blizzards, they'll last for years.
They have swiveling mount arms with a wide 120-degree range. This makes them easy to mount and position, a big plus when using them outdoors. But don't think they're limited solely to outdoor use – they'll work good indoors as part of a home theater system.
These speakers sound great for their price, but they do lack in bass, and sound a bit tinny compared to other speakers. As such, they definitely won't outperform something like the Klipsch R-15M Bookshelf Speakers. But try leaving the R-15Ms outside for an entire winter, and you'll see why these are a worthwhile consideration for outdoor speakers.
Given their rock-bottom price and crazy high resilience in all types of weather, these are a perfect consideration if you're looking to take your listening experience outside with you.
---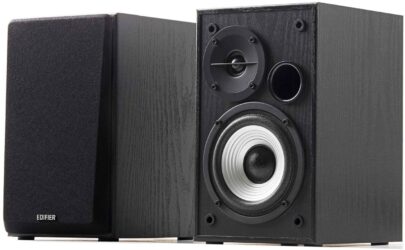 If you're on a tight budget but still want a set of quality speakers for your computer, you can't go wrong with the Edifier R980T Active Bookshelf Speakers. For low-budget PC speakers, these speakers are great, putting out clean music.
They have pretty decent bass for their price, with a separate bass adjustment knob to provide clear bass gains without muddying their sound. They won't shake your house or rattle the windows, but they're certainly a step up from many traditional offerings from companies like Logitech.
While these speakers certainly aren't the loudest or most powerful speakers around, they handle their power well, cranking to full blast without distortion. They also come with speaker wire, RCA, and 3.5 mm cables, meaning they're ready right out of the box.
Since these speakers are cheap, they do have some significant issues. Probably the most significant is the fact that the volume control knob is practically useless under 25%. If you listen to music quietly on these, you're best off controlling the volume via your computer or other audio device, or buying a preamp.
Aside from that, the lack of Bluetooth connectivity and a subwoofer output is troubling. While Bluetooth connectivity wouldn't do the audio output of these speakers any justice, a sub output would.
Honestly though, as long as you aren't an audiophile, and you just want something that sounds good while keeping costs as low as possible, then these are a great set of speakers to pair with your computer. But for any other usage, the rest of the speakers on our list would probably meet your needs better.
---
Bookshelf Speaker FAQ
---