Top 10 Best Violin Cases 2023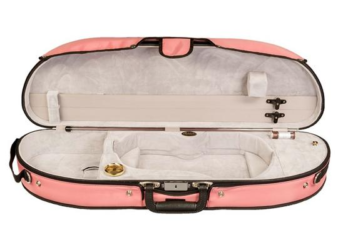 The Bobelock brand is one that has been around for quite some time and is synonymous with both style and quality. This half-moon case is made from five-layered plywood, with a waterproof cover, while the interior is velour-lined and the violin rests on a cushion above the wooden frame. It's a case for those wanting to make a statement about the quality of the violin within, as the brass-colored hygrometer and faux-leather trim make it stand out.
We love that, for all its style, this is an extremely functional case. From the hygrometer and humidistat, to the included rainproof case, the Bobelock has every feature you would be looking for in a case while looking good doing so.
We can't overstate how much we like the half-moon shape, which provides an easy balance to carrying by the subway handle or using the provided straps. We also like the touch of having a handled accessory pocket that is easy to open in a pinch, and that it comes with an instrument blanket to guarantee no rubbing between the bow and the violin.
If we had to be picky and find something wrong with the Bobelock, our only concern would be how well it could cope with the roughest handling. The external case, being wood, is more prone to cracking if under great weight, and we wouldn't want to test this by tossing it around with a violin inside. While great for everyday use, the seasoned traveler might be taking a small risk by letting baggage handlers at it regularly.
For the violinist who wants everything, and wants it to look good as well, the Bobelock is a wonderful option at a reasonable price.
---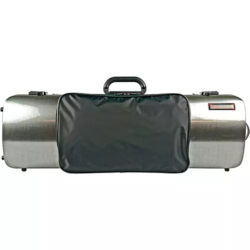 Mark O'Connor, Jason Anick, and Angelo Xiang Yu. Three of the greatest violinists of our day, and they all choose Bam to protect their violins. If the instrument you use is worth the same as a car, then the case you keep it in should be of the same quality. Using a patented foam, the interior of this case will keep a violin away from any damage no matter how much you hit the triple-ply thermoplastic exterior. The combination locks are heavy-duty and would need more than a screwdriver to break open. The case is airtight with a rubber seal for protection.
For a case that is so tough, we were surprised by just how light the BAM Hightech case is, even with the instrument and accessories loaded. It is also incredibly roomy, able to hold four bows, neck-rests, spare strings, and leaving enough room to keep the sundries you require. We also really appreciated some of the smaller touches to this case, like the side handle and the anti-slip patches on the bottom of the shell.
While the BAM doesn't come with its own hygrometer, this doesn't surprise us. At this level of case, it is expected you would want your own, and there is more than enough room to keep it there.
---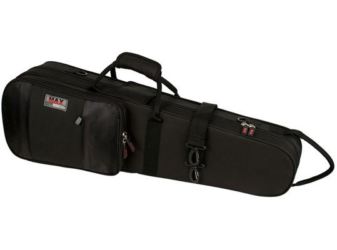 Full of pockets, while providing sufficient protection, this is a case built for the everyday. With a shock-absorbing internal foam frame and suspension padding, it will take a bit of a beating from a careless kid, while the nylon exterior is water-resistant and hard to rip.
The Protec has two bow-clips, an instrument cover, as well as shoulder and backpack straps. While the zipper does not have an included lock, a simple padlock fits well. The case has two separate accessory compartments internally as well as large pockets on the outside for music and shoulder-rests.
Truly no-frills, there are no hygrometers and no fancy lining. Instead, it costs a quarter the price of most other cases (and 5% of our premium choice). At the time of writing, Sam Ash Musical Instruments even offers a price guarantee, as well as free shipping, and a return policy for over a month after purchase. If you are just starting out with a violin, we can't find a better option out there.
---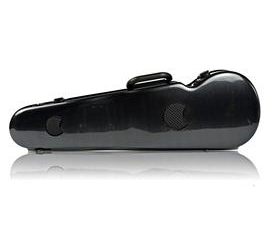 When you are attracted to our premium option but can't afford the price tag, it is worth looking into one of the earlier designs. The Bam 2002XL has a lot of the same features as it's more impressive brother, including the patented foam inner and triple-ply outer shell.
It has the same airtight seal and anti-slip patches as the 2011XL and is lighter as well. Some users may even prefer this model due to its classy, contoured look and some alternative color choices that include vibrant yellows and pastel blues.
However, it is not without its drawbacks. The smaller size means a lot less space for accessories, and it doesn't contain outer pockets. It only has room for two bows and no shoulder strap. Like the 2011XL, it doesn't contain a hygrometer, and buying one separately will take up some of that small amount of space.
Still, for a very protective case that can handle a lot of damage, with an airtight seal and a reputation for long-lasting security, it is worth considering the Bam 2002XL as a middle-of-the-road option.
---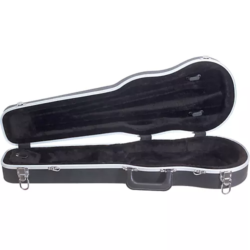 Bellafina is a reliable brand when it comes to inexpensive cases that protect your instruments. Their thermoplastic violin case is the perfect example. With aluminum valence and draw-tight latches, the seal is not airtight, but better than most zip-based systems. The hard case can take a large amount of punishment without leaving a scratch while the internals allow for a snug fit. Your violin won't move, which means it will be safe.
Small and light, rather than spacy, the Bellafina can be a great option for traveling when you are trying to not take up much space. Still, it contains two accessory pockets and holds two bows. The case also comes with a comfortable shoulder strap and rubber feet to prevent slipping.
For the violinist worried about space or the parent of a child worried about how they treat their instrument, the Bellafina provides a high level of protection in a small body. One of the least expensive cases, it is still of great quality.
---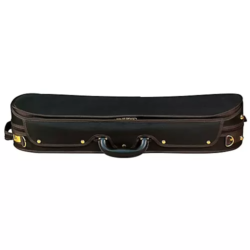 The Baker Street violin case is a beautiful way to carry your instrument around town, with an elegant look inside and out. With its leatherette trim and a suede-like accent to its internals, it has an old-world charm. This is only accentuated by the brass-looking hygrometer and thermometer, an impressive addition considering the price tag. The Baker Street case has enough room for accessories and can hold 4 bows. While it has a zipper close, there is also a metal latch to add a little security.
With a case made from plywood and a nylon exterior, it isn't the most protective of cases, and would not be recommended for air travel. However, this is a great option for those wanting something classy to keep their violin at home and to pull out in front of impressed guests.
---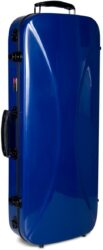 For the violinist on-the-go, we find this case to be an impressive feat of engineering. It holds two violins comfortably, with a lot of room to spare, and could be perfect for those of us who like to switch between electric and acoustic as the songs require. There are few cases out there that have the same level of protection, too. The fiberglass exterior on the Crossrock can hold over 300 pounds of pressure without denting (and we have no idea just what it would take to break). The internal lining is velvet, keeping instruments free from even minor scratching.
As if the protection wasn't enough, this case comes with its own hygrometer, really comfortable backpack straps, and four bow holders. It has a water-tight rubber seal and lockable catches. All it really seems to be missing is a pocket for your sheet music.
We have noticed that there is some movement of the internal structure when only one violin is used, and do wish we could more confidently say it was safe for players of only one instrument. For light travel, we'd take the risk.
You can trust even the most reckless of roadies with this extra-protective case that really does suit the traveling professional.
---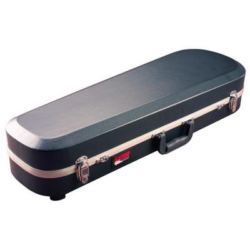 Gator is a well-known brand for mid-range cases, equipment, and accessories for many instruments, and has developed a reputation for providing quality products at reasonable prices. For its Deluxe violin case, Gator has emphasized protection over style.
An aluminum frame is wrapped by an ABS plastic exterior that is crack-resistant and waterproof. This shell protects an interior of polystyrene and soft foam that cushions the violin comfortably. The subway handle is through-bolted into the frame, and it is backed by a full plate of metal.
While the seal is not airtight, you certainly wouldn't be worried about dropping your case in a puddle or running down the street in the rain, and the sturdy latches will not be breaking open easily (especially if they are locked).
The Gator Deluxe violin case isn't the roomiest of cases, though it does come with an accessories pouch. What is really missing is any room for sheet music, with no external pockets or internal folds to put them in.
---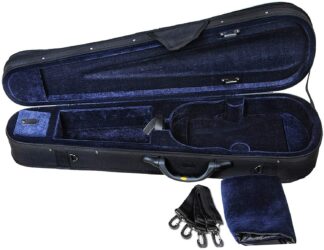 The ADM has everything that is a necessity while keeping its price down by ignoring anything that isn't. It uses a nylon outer fabric to keep it rainproof, and it has a plywood frame.
This offers the protection an ordinary violinist would need, even if it isn't enough for the traveling professional. It has the two bow holders, a music pocket, and room for accessories that we come to expect.
It also comes with a subway handle. While it doesn't have a lock, and is closed by a zipper, it is a strong and reliable zipper that doesn't break like cheaper cases can. It is one of the lightest and cheapest cases on our list too.
While we still prefer to recommend our budget option, if the price is your main focus you are not making a mistake by going with the ADM Violin Case.
---

The Tonareli is another case that is worth considering when traveling. A fiberglass outer that doesn't bend or dent easily protects a foam and fabric inner, with a rubber seal for bad weather. It has four bow holders, a hygrometer, and a large accessory compartment. While the latches are not lockable, small padlocks could be affixed easily.
The biggest problem with the Tonareli is the price. The Bellafina has much the same specifications while being a bit cheaper. That said, the Tonareli often appears on special and, when it does, we have to say it is worth grabbing.
---
Frequently Asked Questions
Taking care of your first violin can be a daunting experience, so we've tried to make life easier for you by compiling some of the most common questions about violin care and safety so you don't need to go looking for yourself.
---