Top 10 Best Monoblock Subwoofer Amps 2023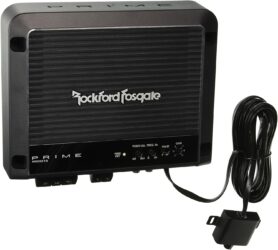 Standout Features
Rather than one specific thing, what sets this Rockford amp apart is all the little things that combine to make it one of the most versatile and tunable amps on the market. It's got speaker level inputs, has a pass-thru, and low-level inputs.
It's got a robust pass filter, EQ, and bass boost. You can dial in any audio profile you want so that your sub best complements the rest of your audio system.
Our Take
Rockford Fosgate makes a phenomenal amp. They have a retro guitar amp style that is instantly recognizable, and they do a great job making sure their amps are accessible for anyone.
There are a lot of less expensive amplifiers that you can buy, but few have the quality and finish that Rockford brings. Even fewer amplifiers have the amount of control over the sound profile that you get from this amp. If sound quality is your most important concern, then you can't go wrong with this amp.
How Does It Compare?
It's on the lower side of the power spectrum, especially when compared to giants like the Skar here. That can be frustrating since it's about mid-pack when it comes to price, sharing a price point with the much higher-powered Rockville 6000.
People who are just starting out on their audio journey will probably appreciate cheaper amps, like the Boss here, to learn with.
Like we said above, though, few things come close in terms of profile control. That quality is so high you can actually listen to louder music without issue than you can with many high wattage amps.
---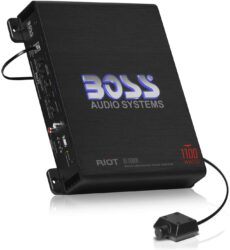 Standout Features
The one thing that stands out the most about this monoblock is the price. 800 watts RMS isn't a lot, but for anyone who is just starting their audio journey or just wants a cheap way to add a ton of bass, it's perfect.
Our Take
Boss is one of the industry leaders in low-cost audio solutions. They make very decent quality components for the price. In particular, this one has a lot of nice little features that you won't find on most budget amps, like a remote gain switch and high-level inputs.
You will feel the budget part of the equation, though. The remote knob rattles, the connections are not as solid as you would probably like, and the mounting tabs don't inspire a ton of confidence.
How Does It Compare?
One complaint we have about Boss is that they, to be kind, like to exaggerate their numbers. They call this an 1100-watt amp. The truth is that it won't do that. In fact, they claim it's stable at 800 watts RMS, but the Rockford we recommend will get louder than this Boss will despite having 300 watts less.
Which is a shame because taken for what it is, it's a great little amp. It's a really lovely budget amp that will add a good kick of bass to your sound system, and it's effortless to install and hookup. It doesn't have to be more than that.
---

Standout Features
We'll get straight to it: 4,500 watts RMS.
To put that into perspective, a 15" subwoofer is on the bigger side of things. A decent 15" sub has a max power rating of 1600 watts. You could drive 3 of them at the same time with this amp.
Our Take
Skar is one of the brands you'll find at bass competitions. Everything about it is excessive. The aluminum case doubles as a giant heatsink, it has advanced protections to avoid shorting out, and the max wattage is rated at a staggering 7,400 watts.
Unfortunately, that comes at a high price. Not just the price of the amp itself, which is steep, but everything about installing it is expensive. It needs cables that cost a ton of money just to get the power to it. You'll need an upgraded alternator and probably a second battery. You can't just plop it into your car and call it good.
How Does It Compare?
It's harder to install, takes more knowledge to utilize, and costs more than everything else. That's absolutely fine if you are about to try to blow your doors off with a few giant subs. It's also great if you are pulling up to cars and coffee and want everyone to know you mean business.
If you are just starting your car audio journey, though, this is absolutely not the amp to learn with. Grab a budget Boss from our list and blow up a couple of them first. If you really need power, the Rockville amp on our list has a decent output and is still a lot less expensive.
---
4.

Great Compact Monoblock:

Toro Tech MR2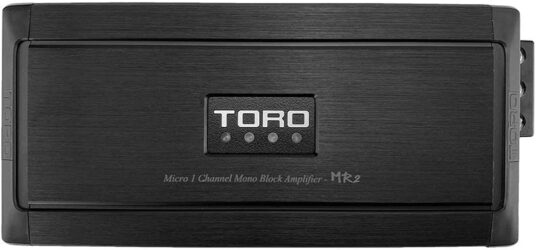 Standout Features
The really nice thing about the Toro amp here, in addition to the very reasonable price, is that it's tiny. You get a good amount of power for a single 10″ sub from a box about half the size as amps with a similar power level.
That makes it really awesome for people who are space limited. Miata owners, Wrangler owners, and anyone getting in on the imported Kei Car craze can easily use this amp to add a healthy amount of sweet bass to their system.
Our Take
Small amps often have a handful of problems that larger amps don't. They usually have to sacrifice inputs, typically don't have any filters, and they rarely produce the amperage they are rated for. Toro has somehow managed to avoid all those issues.
The bad news is that it does have a few of the problems that plague small amps. It runs hot, first of all. The compact size does not have enough surface area to dissipate heat. The other issue is that all the controls are tiny and inconvenient.
How Does It Compare?
It's not as cheap as the Boss amp, but it's very close. It's also very close in terms of real-world amperage. The Boss is rated higher, but the truth is that it falls far short of the rating in most sound systems. The Toro Tech is rated much lower, but you are more likely to actually get the wattage as advertised.
There is another product on our list that we want to compare the Toro Tech amp too. That other product is the Rockville all-in-one. The Rockville is a sub, amp, and enclosure all in one, and it's the only system that can be more compact.
You sacrifice a lot of customizability with the Rockville, though. Frankly, if you are willing to do a little extra work to build a component system, you'll be way happier with the Toro Tech if you are space limited.
---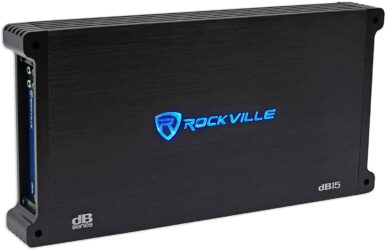 Standout Features
This amplifier is a really amazing value if you want serious volume. 3000 watts RMS is nothing to sneeze at. The only thing you sacrifice is 1-ohm stability, which is unusual with amps that are at the higher end of the power spectrum. It's such a low price for a high watt amp, though, you won't miss that feature.
Our Take
Rockville is a bit of a wildcard in the audio world. They make some very cheap, easy to break amplifiers that are not worth the money. They also make the DB series amps that are some of the best bang for the buck amps on the market.
They do tend to run hot, though. That can be frustrating since the internal protections will shut the amp off if it gets a little hot. You'll be rocking out to your favorite tunes going down the road, and your bass will just up and cut out.
The good news is that those are the internal protections, so you won't hurt the amp. You might want to hurt it out of frustration, though.
How Does It Compare?
The most direct comparison is to the monster Skar amp on our list. The Skar is a lot more powerful, and both the Skar and this Rockville require more attention to detail than anything else. You will need to upgrade the "Big 3."
The Rockville is a lot cheaper, however, so if you want to learn about things like the big 3 and other things related to high power systems, this is a great way to do it.
---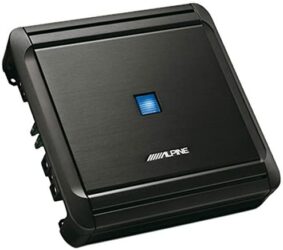 Standout Features
At the risk of sounding vain, one of the best features of the Alpine MRV series is that they look really good. It's a sleek aluminum box with a blue light up square in the center.
All the knobs, connections, and lugs are hidden under a cover, so when you design a custom interior, the only thing you have to design around is that nice aluminum box.
Our Take
Chances are that even if you don't know anything about car audio systems, you know that Alpine makes top-shelf components. In fact, if you drive a Honda or a Dodge, you already have Alpine components in your car; those factory head units that last for decades are unbranded Alpines.
They aren't just a badge, though. The MRV amp is one of the most versatile monoblocks you can buy. It can accept speaker level and high-level inputs, has a ton of protections, and all the filters and equalizers you could want. It doesn't matter what head unit you have; you can tie in this amplifier.
How Does It Compare?
In specs, size, and price, it's nearly identical to the Rockford amp. The Rockford will get louder with the same wattage, but the sound quality is very similar. That's a huge compliment because Rockford has some of the best audio quality you can get.
Where the Alpine falls a little flat is the ease of installation. The same covers that lend themselves to helping this amp look amazing make it harder to tighten down the leads or adjust the settings. It can also be slightly more temperamental, which ultimately makes the Rockford a lot friendlier to use.
Alpine's fit and finish, though, is simply unmatched.
---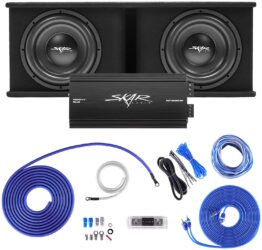 Standout Features
The absolute nicest thing about buying a kit like this is that you don't have to do any math. You don't have to agonize over whether or not components will work together, and you don't have to do a parts run in the middle of an install because you forgot to grab an RCA cable last time you were at the shop.
As long as you have the enclosure room and have an alternator that can handle the extra load, you are good to go.
Our Take
This is an absolutely great kit, especially if you are new to car audio. It takes away all the most challenging parts of an audio install. The enclosure is pre-built, so you don't have to spend hours learning how to build enclosures. The enclosure looks good, too, so you don't have an unfinished plywood box rattling around your trunk.
The included amp is a Skar RP-1500. We talked about Skar amps here when we talked about the much more powerful SKv2 series amp. This isn't some random kit that you'd buy at a swap meet and spend hours online trying to decipher the instructions. You'll be able to roll up to any car meet and never worry about people looking through the windows and judging you.
How Does It Compare?
There are a lot of subwoofer and amplifier combos on the market. Many are less expensive than this Skar combo.
In fact, you can build a system piece by piece for less than this kit costs. The Rockville amp we recommend is inexpensive, and buying two enclosed subwoofers at your favorite bargain store will keep the price very low. You won't get the quality of this kit, however.
The only more complete kit on our list is the Rockville all-in-one, but honestly, it's not much of a comparison. The Rockville box will give a nice bass boost to your existing system, but passengers in your car probably won't even notice it. This Skar set will pop their eardrums if you aren't careful.
---
8.

High-Quality Mid-Range Monoblock:

Taramp's HD 3000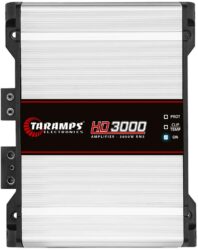 Standout Features
Taramp's did a really good job making this amp easy to install and set up, especially since it's very forgiving because of the robust circuit protections.
There are some gripes, like how a 3000-watt amp really should have much bigger power lugs than 4 gauge. It makes up for it by being a very straightforward amp compared to other amps with the same output. The remote gain monitor makes it incredibly simple to set up, and all the mounts and lugs are very easily accessible.
Our Take
Taramp's Electronics is an interesting company. Alpine recently celebrated 53 years of operation in Japan. The Brazillian Taramp's Electronics is barely 20 years old, making them one of the newest players easily.
The newness means they aren't afraid to experiment. Most people won't benefit much from the extra features, especially if you are using it for a subwoofer. There's not much reason to have full range filters if you are just adding bass.
That innovation shows through everywhere in the construction of this amp, though, and we're likely to see other manufacturers forced to adopt some of the features you'll find standard in this amp.
How Does It Compare?
This amp is firmly nestled between many other amplifiers. It's right in between the higher cost amps and the lower cost amps. It's right in between high-power amps and low power amps in terms of wattage. It doesn't have the best quality, but it is still a really well-built amp.
The other amplifier on our list that is close to that description is the Rockford monoblock. It's about the same price, the same size, and has similar features.
The Rockford sounds better at low volumes. If audio quality is your number one priority, get the Rockford. If you need to feel the bass, or if you like to experiment with setups, get this one.
---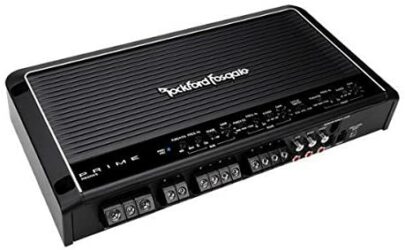 Standout Features
The Rockford Fosgate R600X5 is not a monoblock. It belongs to a category of amplifiers that are meant to upgrade an entire sound system. They have outputs for right and left speakers in addition to a subwoofer output, so you can use them to add a subwoofer to your current system as well as upgrade your factory speakers.
For many people, a 5-channel amp is the least expensive way to add a lot of quality and clarity to a car audio system. The downside is that a 5-channel will never have the power that a dedicated monoblock will have. It's also a lot of work compared to simply adding a monoblock and a sub. They require a lot of extra wires and space.
Our Take
We have already praised Rockford Fosgate before when we talked about their monoblock. This amp has the same good looks, the same tunability, and the same Rockford Fosgate quality. It's easy to say that this amp is one of the best all-around amps for your car that you can buy.
One of the things that really sets this amp apart is the hybrid class technology. This amp is one of the very few 5-channel amps that use a class A/B for the 4 general channels and a class D for the subwoofer channels. That gives you the best utilization of both class A/B warmth and class D efficiency.
How Does It Compare?
If you compare this 5-channel based on it being an amplifier for a subwoofer, it looks terrible. It's incredibly overpriced, has very little power at its disposal, and takes up way too much space. If your goal is just to add a subwoofer, the inexpensive Boss monoblock is a better value.
However, if you plan on upgrading your entire audio system, take a good look at this amp. It's not the most powerful amp, but 75 watts for your standard speakers are more than enough to get loud, and 300 watts for a small subwoofer will add enough bass to cut through.
---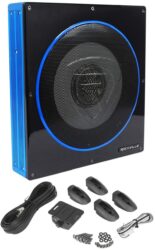 Standout Features
The biggest reason to buy a powered sub like this Rockville is its absolute ease of installation. The subwoofer, enclosure, and amp are combined into one small box that can slide underneath your car's seat.
That's really fantastic if all you want to do is add some bass to balance out the rest of your sound system. It's not going to win any competitions, and you will not get great sound quality. There's just not enough enclosure space or power for either. For the price and incredible simplicity, though, it's great.
Our Take
There's not a whole lot to say about this Rockville powered subwoofer. It does exactly what the box says: adds 200 watts RMS worth of bass to your car. It's great if you are starved for space, it's great if you have a very tiny budget, and it's great if you want to do as little work as possible.
How Does It Compare?
A simple 10″ sub box is about $30, and an inexpensive 10″ shallow speaker can be picked up for $30 as well. The Toro Tech amplifier we recommend puts out a little more power but is fairly comparable in quality and design. That means you really aren't saving any money by getting an all-in-one unit until you factor in your time.
If you really value your time, an all-in-one subwoofer like this Rockville is the best value you can get.
---
FAQ
Still have questions about monoblock amplifiers? We've answered the most common ones below.
---