Top 10 Best Ukuleles 2023
1.

Best Overall Ukulele:

Kala KA-PWT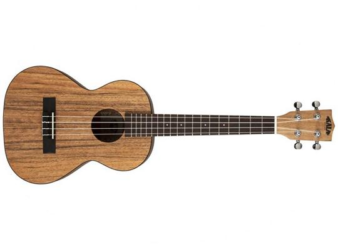 Overview
The Kala KA-PWT is one of Kala's most popular offerings for a reason. When it comes to practically-priced ukuleles, Kala hits the perfect price to performance ratio with most of their products, and the KA-PWT is no exception to that rule.
This ukulele offers great sound with a solid construction that should stand up well to abuse from new and intermediate players as they learn the ropes. Instead of chucking in low-quality pack-ins like many beginner instrument offerings tend to, Kala opted to keep the price reasonable by focusing their efforts on the instrument itself. This means beginners may need to pick up a few other things like a tuner, picks, and a carrying case or gig bag for transportation and storage.
Quality
The Kala KA-PWT looks and plays the part equally well with its attractive walnut wood construction that provides bright, cheery tones. While it doesn't sound as rich and full-bodied as high-end ukuleles, it sets the standard for ukuleles in and around its price range.
The Kala KA-PWT has great sound overall, but it can get a little muddied with too much treble when strumming. This isn't likely something that will be noticed by newer players, but more experienced musicians will pick up on the somewhat overly bright tone this ukulele tends toward.
Who It's Best For
The Kala KA-PWT is inexpensive enough for first-time uke owners while still offering a level of quality suitable for more experienced musicians. While other ukuleles may offer better sound quality, you'd be extremely hard pressed to find one that does so anywhere near the price of the Kala KA-PWT.
---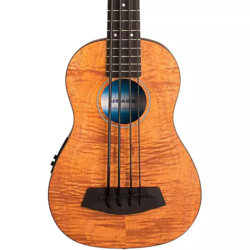 Overview
The Kala U-Bass is a charming little uke with a beautiful mahogany body that sports electronics and a tuner built into it. This acoustic-electric bass ukulele uses rubbery silicon strings to achieve a deep and rich tone that offers the same range of a standard 4-string bass guitar. These strings are incredibly easy on the fingers and have a lot of play, easily rolling over the fretboard—allowing the uke player to easily bend notes.
Quality
While it may not look like much, the Kala U-Bass is capable of producing deep, rich bass tones that are almost indistinguishable from those of an upright bass when the U-Bass is plugged into an amp or sound system. However, the quality and depth of the acoustic sound produced by the Kala U-Bass when it's not plugged in is much less impressive. The silicon strings are very stretchy, which is great for playing funky licks but also results in the Kala U-Bass requiring frequent tuning while the strings are new.
Who It's Best For
The Kala U-Bass would be a perfect beginner's instrument for those interested in playing bass if not for its fairly steep price. The silicon strings are perfect for young players who haven't developed calluses yet or for older players with arthritis or less strength in their hands and fingers. The Kala U-Bass produces excellent, deep tones when amped, but you may want to look elsewhere if you were planning on going au naturel as the sound level and quality drops off precipitously when this uke isn't plugged in.
---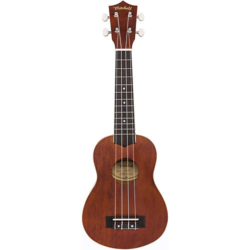 Overview
The Mitchell MU40 is an entry-level ukulele that's so inexpensive you won't mind how not great it is. This is definitely a uke built for those with zero experience who just want to try their hand at the ukulele without dropping any more cash than absolutely necessary. Despite this, the Mitchell MU40 still produces solid volume and reasonable sound quality.
Quality
The Mitchell MU40 has solid build quality and comes in a variety of colors. While it certainly isn't a premium offering, it's also not a piece of junk. We do recommend replacing the strings fairly quickly as the stock strings are quite poor.
Let's be real—the sound quality produced by the Mitchell MU40 is definitely not great. And they are prone to having intonation issues that result in fretted notes tending sharp. However, these problems are unlikely to be noticed by the target audience for the Mitchell MU40: uke noobs.
Who It's Best For
The Mitchell MU40 is purpose-built as a starter ukulele and priced to fly off shelves. With a price this low, it's fair to expect that the manufacturer made some compromises along the way. And they definitely did.
But even with its issues, the Mitchell MU40 still provides a ton of value and is an excellent entry-level offering great for people who haven't decided whether the ukulele is the right instrument for them yet. They are also priced well for buying in bulk for music classes—especially if you can catch them on sale.
---
4.

Most Affordable Concert Ukulele:

Kala KA-C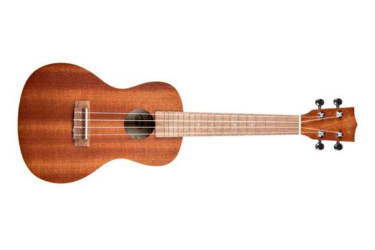 Overview
The Kala KA-C is a tidy little uke that is capable of producing quality notes at a loud volume for tunes that are as pleasing as they are portable. As a concert style ukulele, the Kala KA-C is a step above soprano ukes in terms of size and voice, but still quite compact overall. While it may not be the prettiest uke on our list, the Kala KA-C is well worth its asking price.
Quality
The Kala KA-C is a no-frills ukulele that offers a lot in terms of sound quality and volume despite its unassuming appearance. With its durable mahogany construction, the Kala KA-C offers dependable performance and lilting notes that ring true. Despite its bland looks, the Kala KA-C produces crisp and clear sounds that are sure to impress.
Who It's Best For
Perhaps even more impressive than the Kala KA-C's performance is its incredibly affordable price point. The Kala KA-C provides excellent value with its combination of great sound and low cost that makes this an attractive offering for seasoned veterans and uke noobs alike.
While it's not nearly as cheap as the Mitchell MU40, the Kala KA-C has much better overall build quality and sound production—making it a great option for beginners that want a uke that will last them longer than true budget offerings.
---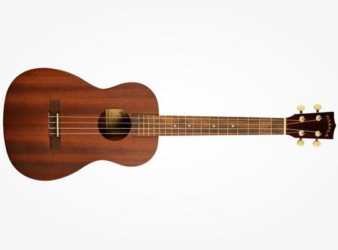 Overview
You may have noticed by now that Kala brand ukuleles are popping up on our list a lot, and for good reason. The Kala MK-B is a finely crafted baritone ukulele that provides great sound quality. Perhaps the most impressive thing about Kala's ukuleles is the level of quality they offer while still keeping their prices down.
Quality
The supremely affordable Kala MK-B is a treat to look at and listen to, thanks to Kala's craftsmanship and attention to detail. Made from all-natural mahogany and rosewood, you won't find any cheap pressboard here.
As you can hear in the listen link above, the Kala MK-B provides rich and vibrant tones with enough volume to get the job done. While it may not offer the best in terms of audio quality for higher-priced ukes, the Kala MK-B stands above similarly priced competitors. On the downside, the included strings aren't the greatest and you'll likely want to replace them immediately.
Who It's Best For
As with most Kala ukes, the Kala MK-B is a great beginner to intermediate ukulele that balances cost and performance excellently to provide great value. The Kala MK-B offers rich and warm tones with its mahogany body. This baritone ukulele is perfect for people looking for a good middle ground between the size of a standard guitar and the much smaller standard uke.
---
6.

Best Soprano Ukulele:

Kala KA-15S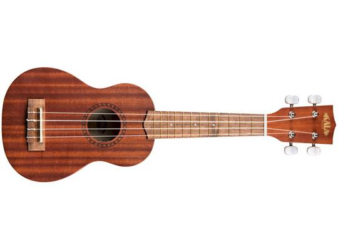 Overview
Kala dominates our list for one good reason: they make excellent and affordable ukes. The Kala KA-15S sets the standard that all other entry-level ukuleles struggle to meet. This soprano ukulele provides bright, clear tones with a dash of warmth that keeps the sound from becoming overly treble intensive.
Quality
The Kala KA-15S may be small, but it makes big waves with the quality and volume of sound that it offers. Soprano ukuleles can often sound a bit too treble intensive, but the mahogany body of the Kala KA-15S resonates with a nice warmth that helps to ground the high notes that come from this little uke.
As with all Kala ukes, the Kala KA-15S has great craftsmanship and solid construction that won't fall apart on you. The price on this ukulele is hard to beat without sacrificing quality considerably. To keep the price down, Kala doesn't include any pack-ins, and they also tend to string their instruments with fairly poor strings which is also the case for the Kala KA-15S.
Who It's Best For
The Kala KA-15S is a great beginner uke that provides excellent sound quality and volume at a very low cost. The price on the Kala KA-15S makes it a great gift for first-time ukers, but there are certainly better soprano ukuleles out there for more serious musicians that want performance-level quality of sound production.
---
Overview
The Cordoba 15CM Concert ukulele is a pretty little thing that provides great sound with a distinct resonance different from many ukuleles. It strums and picks well with a clear, warm tone that doesn't muddy itself up too much. The Cordoba 15CM Concert ukulele is priced to sell without being so cheap that it can't provide great sound quality and lasting performance.
Quality
The Cordoba 15CM Concert ukulele has a mahogany body with a rosewood bridge and fretboard. Boasting solid build quality, this uke offers great sound quality that is warm and resonant. It plays well and holds up well over time, thanks to its solid construction.
As with most lower-end ukuleles, the included strings aren't very high quality and will take some time to stretch so expect to tune often at first. The Cordoba 15CM Concert ukulele plays well but can be a bit touchy when it comes to finger placement for finding the sweet spot for playing chords.
Who It's Best For
The Cordoba 15CM Concert ukulele is a great entry-level ukulele offered at a very reasonable price. It provides a somewhat unique sound different from many other ukuleles that many users love, but it's not everyone's cup of tea. The build quality is great, but some inconsistencies in the setup happen from time to time that may result in intonation issues.
---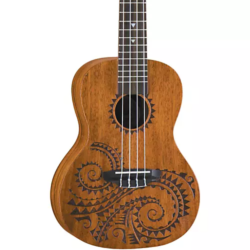 Overview
The Luna Tattoo Concert ukulele is decorated with laser-etched detailing on its mahogany body that looks great and sounds great too. This ukulele comes with an included gig bag at a great price to provide solid overall value. It has style in spades, but the build quality is somewhat suspect in some areas.
Quality
The Luna Tattoo Concert ukulele is an attractive uke that offers good tone and plays well out of the box. The included strings are quite poor and will require lots of tuning as they stretch over time. There are some concerns regarding the longevity of this ukulele due to issues with the neck bowing over time. The frets also project off the neck a bit too much, causing some discomfort when moving up and down the fretboard.
Who It's Best For
The Luna Tattoo Concert ukulele is a solid choice for first-timers despite some unfortunate drawbacks. This uke looks great and provides excellent sound quality and volume, but the frets sit a bit high off the fretboard which can cause discomfort during play. With heaps of style and great sound at an excellent price, the Luna Tattoo Concert ukulele offers good value overall for beginner ukulele musicians.
---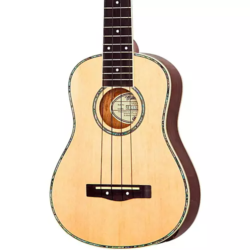 Overview
The Mitchell MU70 is an attractive concert sized ukulele that offers great playability and decent quality and volume of sound at a reasonable price. This ukulele provides solid overall value, but it has a hard time competing with the other ukuleles in its price range due to its lower quality of sound. However, the sturdiness of the Mitchell MU70 is well worth mentioning as it makes it a great option for young players that might not take the best care of their instruments.
Quality
The Mitchell MU70 is a great starter ukulele thanks to its solid build and sturdy construction that can take a beating. We think this ukulele is particularly well-suited for younger players due to its smaller size and its ability to withstand rough treatment.
The Mitchell MU70 has some tendency to buzz due to a bit of looseness in the tuning pegs that can vibrate during play. It also has a bit of a muddy sound, likely as a result of its thicker construction. The tradeoff is worth considering as new players are unlikely to notice the drawbacks of the Mitchell MU70 while its sturdy construction will help it last even if it's not properly cared for.
Who It's Best For
The Mitchell MU70 is a good option for young beginner players thanks to its solid build quality and decent sound production. This uke provides good volume levels and good enough tone quality while being capable of taking a fair beating. It's not the best sounding uke out there, but it gets the job done and holds up well over time.
---

Overview
The Yamaha GL1 is a solid guitalele that provides great quality of tone and volume level for playing in all kinds of settings. The Yamaha guitalele is a tidy little instrument that has 6 strings like a standard guitar to make bridging the divide between guitar and ukulele much easier. Its size is similar to a tenor ukulele, making it more portable than a guitar without being so small that it's overly difficult for those with larger hands to play.
Quality
The Yamaha GL1 guitalele is solidly built with a no-frills design that keeps the price very reasonable. While it doesn't provide the greatest level of sound quality, it performs nicely in that regard while also offering excellent volume levels. It may not be the prettiest ukulele on our list, but it has a simple kind of charm, nonetheless.
Who It's Best For
The Yamaha GL1 guitalele is a versatile and super fun instrument that's perfect for noodling just about anywhere, thanks to its size and volume output. This Yamaha guitalele is great for musicians who are looking to transition between guitar and ukulele with as little friction as possible. It's also a great choice for guitar players to bring along with them for quick jam sessions on the go.
---
Ukulele FAQ
Ukuleles are fairly straightforward instruments with a lot of obvious similarities to guitars; however, they also have a lot of variance in terms of the different types available for purchase. People who are new to ukuleles have a lot of questions, and we're here to answer them.
---