Top 10 Best Guitar Stools 2023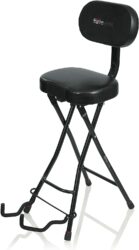 Great For
This folding Gator stool is the perfect thing if you don't want to think too much about anything else and would just like a pleasant place to plant your behind while playing guitar. It's not fancy, it's not expensive, and it doesn't have any crazy features. However, it has a backrest so you can be comfortable and a stand to store your guitar when you aren't playing. That makes it suitable for just about any situation.
Our Take
Like we said above, this stool isn't the best at anything. The Gibraltar throne is more comfortable, the Quik-Lok is a lot more adjustable, and the Fender Barstool looks more like what you'd expect in a studio.
However, the Gator Frameworks Seat is brilliant because it does do everything you could want. It can fold and be carried onto the stage, and it has enough cushioning that you can play for an hour and not get a bad case of monkey butt. Plus, even when you aren't using it as a chair, you can use it to prop up a guitar. It's a great value, too. Unlike some of the other examples we mentioned prior, you can pick this stool up without feeling like you are making a big investment.
We have some issues with it. The lack of adjustability can be frustrating since it's on the tall side for sitting flat-footed but on the short side for using a step. It's also a little heavy. It's made to be something you can haul onto the stage, but it actually weighs more than many other stools that are not collapsible. If you really need the extra portability, you can pick up this seat without the backrest here. These aren't huge issues, but nothing can do everything perfectly. This stool just comes close because it can do everything.
---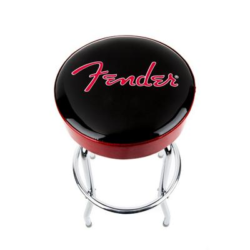 Great For
The biggest downside to the Fender Barstool is that it's a bit difficult to transport. It's on the heavy side, it takes up quite a bit of floor space, and it doesn't fold up at all. It's absolutely perfect for a studio, room, or stage, though. In fact, you'd be hard-pressed to find a music shop that doesn't have something similar on their floor; any place where you can play before you buy will have a throne like this waiting for you.
Our Take
The best part about the Fender Barstool is that it's made to fit the guitar lifestyle. It looks like it belongs in a music room, it's got reinforced foam padding so you can practice for hours, and the tube frame can withstand being used in a bar fight.
The 24" height is pretty much the standard stool height for musicians. Still, like most fixed pieces, you'll probably miss the adjustability if you are on the taller side. You'll also have to decide how much portability matters. If you really need to haul your seat around with you, consider just grabbing the Gator Frameworks seat instead. It's the same height, has a backrest, and is easy to fold and carry.
For people with a studio or other dedicated space, though, you may have an even more difficult decision ahead of you. The Fender Barstool has a Hard Rock Cafe style vibe to it; it definitely fits the Strat and Tele style that Fender is known for. If you want something a little classier, we also have a Martin stool on the list. It's wood and muted instead of chrome and bright red, so it better fits the scotch and acoustic side of things. It's a tough call on which one looks better sitting in front of an amp wall.
---
3.

Most Highly Adjustable Seat:

Quik-Lok DX-749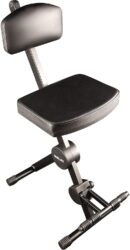 Great For
Everything about the Quick Lok is adjustable. That is what separates it from just about every other seat you can buy. If you are really short, you can move the footrest up, the seat down, and the backrest forward. If you are built like a sasquatch, feel free to kick the footrest out of the way, extend the seat height to the max, and adjust the back to the point that mere mortals would think it's a headrest.
Our Take
The Quick Lok has a lot of great things going for it. It's well built, first off. When you fold it up and chuck it into the back of a truck, you don't have to worry about it breaking. Second, you can fold it up and chuck it into the back of your truck. It's not the most portable thing; the little Gator seat puts it to shame in that department. It is a lot better than something like the Fender Barstool since it can fold up.
It's the adjustability that really sells it, though. One of the biggest issues with many other stools is that they are built to fit one guitarist's shape well, but they can be unfriendly for people who are not of an average build. At the extremes of the adjustments, this stool can be unstable, so try not to do one-footed balancing acts. The simple fact that it can adjust to those extremes makes it a good buy anyway.
---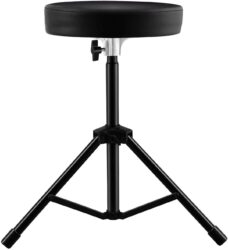 Great For
This little stool is pretty much perfect for anyone who's on a tight budget. It's very inexpensive, and it's a decent place to sit. Even if you aren't on a budget, it's great to pick up a second stool just for travel or need something for your buddy to sit on when they come over to jam. It's very easy to fold and stow away in addition to being cheap.
Our Take
We aren't going to sugar coat it; this stool is just fine for practicing or the occasional gig, but you'll definitely want something more comfortable if you do a ton of playing. You'll also want something if you are on the heavy side. The three small legs make it a bit unstable if you are a bigger person, just grab the Gator Frameworks seat instead.
You won't get a lighter, easier to stow stool, though, and you definitely won't find one for cheaper. The focus on benign lightweight and cheap makes it a really good beginner or secondary seat. You will probably graduate from it, and that's ok. We all start somewhere.
---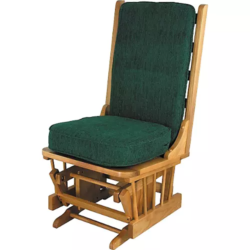 Great For
This chair is an investment for your home. It's not really a studio chair or gig tool. It's more like an heirloom rocking chair that you would feel good having on display in your living room.
Classy can often be hard to find in the guitar world. Guitar culture is rife with words like punk, grunge, and parties. You know, the "sex, drugs, and rock and roll" lifestyle. That's not what you get with the Pick N Glider. It's too expensive to be a tour chair, and it promotes good posture because of its design instead of slouching over your guitar half drunk. In short, this is something for someone that takes playing guitar really, really seriously.
Our Take
We know we are stretching the definition of a stool here, but let's be honest; most of the things that people call a stool do not reflect the textbook definition of a stool. We wanted to include this on our list to show people that this kind of furniture exists. Here is a high-quality, beautiful, purpose-built guitar playing chair. We call the Martin Player Stool a good looking and classy thing, but there's honestly no comparison with the wood and upholstered cushioning of the Pick N Glider.
It's not just a piece for showing off, though. The design forces you to have good posture, and the extra cushioning makes it easy on joints. It even glides so you can keep rhythm with your whole body for hours on end without getting worn out.
The biggest problem is that the Pick N Glider is it's a heavy piece of furniture. It takes up a ton of space. It also has a price tag that reflects the fact that it's a high-quality piece of furniture and not just a gig stool. It's not very expensive compared to the high-end guitars you'll want to play while sitting on it, but it is the most expensive thing on our list.
---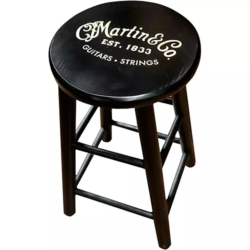 Great For
Sometimes the best thing you can get is something that is simple and reliable. That's what the Martin Player Stool is. It's made of wood, it has no cushion, and it doesn't collapse. It's just a sturdy stool for you to perch on when you play, and it doesn't need to be anything else.
The only extra you get is the words Martin & Co printed on the seat, which is a nice touch. Martin is a prolific company in the guitar world and having their logo adorn your studio adds a touch of timelessness.
Our Take
There's not a whole lot to say about this stool. It's sturdy and will look good with a glass of scotch sitting on it. In a way, it's the more mature sibling of the Fender Barstool, much like the guitars they represent. The Fender is loud and heavy. The Martin is dark and understated.
You'll want a different seat if you don't want to sit on a wood plank. You'll also want a different seat if you need adjustability. It is decently portable despite it not being collapsible since it's lightweight, so there is that. Just don't expect it to be more than it is, and you'll be happy.
---
7.

Best Collapsible Bench:

RockJam KB100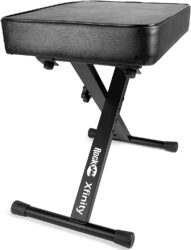 Great For
There are two types of people who can benefit from using a bench like this as a seat for guitar playing. Up first are people who, well, need more seat than the average person. It has a weight rating of 340lbs and is two feet wide. Compare that to the EastRock Throne that is barely a foot across and can only support 200lbs, and you will know if this is a concern for you.
The second type of people are kids. Kids generally have short legs, so the low seat height won't bother them. They also tend to have issues sitting still, so the extra width can allow them to move and wriggle around without falling off. It's especially great for children who can't quite support the full weight of a guitar for long periods; the extra space on the bench can be used to prop up the instrument.
Our Take
Traditionally you'd use a bench for playing the piano and not the guitar. When you have a keyboard, you have to move side to side to remain comfortable hitting all 88 keys. Guitars are much more compact and don't require much movement.
However, using a bench to play guitar can be a very comfortable option for many people. They are often lower, so people who prefer to sit closer to the ground will be able to sit flat-footed. They are often more heavily padded too. Long ago, someone decided that pianists deserve more comfortable seats than other musicians, and that idea persists to this day.
The downside is that they take up more space. Even though this one collapses, it still takes up quite a bit of space. The other issue is that if you are particularly tall or prefer to play with a footrest, you'll want something with more height. If you need something that is more adjustable and/or takes up less space, check out the Quick Lok seat instead. It costs a bit more, but you'll appreciate the extra height.
---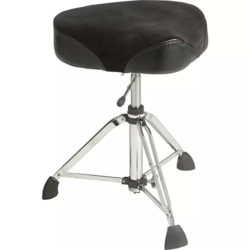 Great For
These types of stools have a few different names. Some say it's motorcycle style, some call it tractor style, and some call it Nitro style. The last one is a kind of a brand name deal, but the others describe the seat's shape. Instead of just being a disc, like the more traditional Fender Barstool, it's shaped like a motorcycle seat. Or a tractor seat, if you prefer.
That shape gives you an extra level of comfort. The Gibraltar Throne takes it to the next level, though, with extra padding and a nice Cordura cover. The covering and shape help hold you in place and allow you to rock out for hours on end without getting saddle sore.
Our Take
This is another seat on our list that isn't technically or solely for guitarists. This one is a throne, traditionally a seat reserved for drummers.
The thing is that everything that makes it a great seat for a drummer also makes it a great seat for a guitarist. Comfortable, grippy, and able to withstand a beating. It collapses, so it's easy to transport, and it raises and lowers hydraulically like an office chair. That's a cool feature you won't find on anything else on our list. It's just another thing tradition decided guitarists don't deserve.
It costs a bit more than most options; you'll have to really want that extra comfort to justify buying it over the much less expensive Fender Barstool. You'll also have to put up with your drummer always trying to take it. Just set a metronome on it to scare them away.
---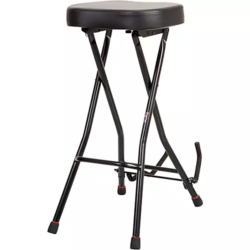 Great For
Let's cut straight to it: the Gator Guitar Stool is pretty much exactly the same as the Gator Framework Combination; it just doesn't have a back. That makes it super easy to haul onto the stage. If you do a lot of traveling, play a lot of small gigs, or just live in a tiny apartment with too many guitars in it, this ultra-compact stool is for you.
Our Take
This little stool suffers from a few notable drawbacks. First, it's not adjustable. That's unfortunate because it seems like it should be. It also isn't a very good guitar stand. The Gator with a back also doesn't make a great guitar stand, but it's so versatile that that is easy to overlook. With the smaller, backless stool here, it's a lot more noticeable.
That being said, this seat weighs less than 9 pounds and folds up for easy transportation. Everyone has shown up to practice only to find out your singer is letting their girlfriend use your usual spot, and now you have to choose between a rock-hard dining room chair or the funny smelling couch. The Gator Stool is easy to just bring with you, and it's a place to stick your ax when the pizza shows up. That's a clear win.
---
10.

Best Alternative Seat:

Sofa Sack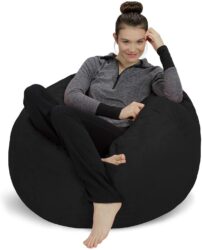 Great For
We could argue that it's a perfect piece of furniture for a recording booth or studio. These chairs are full of foam, which means they add a cubic yard of sound absorption to the room. They also provide a nice place to rest between sets. When you collapse after running through Eruption with choreography, you can collapse into a big pillow.
Our Take
The truth is that you aren't going to put it into your recording studio. You are going to throw it next to your guitar wall, grab the old acoustic that leans against your desk, and play after a long day of hard work. Even though you'll tell yourself that you should be sitting in your dedicated guitar stool that will force you to have good posture, the bean bag chair is just the most inviting way to noodle on the strings.
The downsides are a bit obvious. They take up a ton of space, are not portable, offer no support, are hard to get out of, and are terrible if you have bad knees. If you are looking at buying one, though, you probably don't really care about any of that. You just care about having a comfortable place to write songs.
---
Guitar Stool FAQ
Still have questions about guitar stools? We've answered the most common ones below.
---