Top 10 Best Subwoofers for Your Car 2023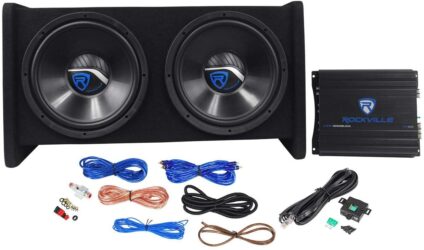 Best Suited For
This is the perfect kit for anyone that doesn't want to do any math or extensive research but still wants to add a healthy amount of bass to their sound system. It's got two 10" subwoofers pre-installed into a well-built ported enclosure, and comes with an amp to power them and the wiring to hook them all together.
You won't be winning any competitions. In fact, at 350w RMS, you can burst your own eardrums, but the people at the back of the beach party will only just feel it. If you really need more power, buy a bigger sub like the Skar ZVX, buy a decent monoblock, and build your own cabinet. You will always get more out of a system you build part by part. You'll also be spending about 5x as much for it.
Our Thoughts
You also won't be wowing anyone. Rockville isn't a major player like Skar or Kicker, and the low price comes with an inherently lower quality. It's also completely non-customizable. If you don't have space for a box that is a little over 2ft long and nearly 2ft tall and deep, the whole thing is pretty useless.
That being said, you can always upgrade each component as you get the budget to do so. Amp too small? Buy another one and you'll already have the wiring and speakers for it. Subs not powerful enough? Replace them with pretty much any 10" and you'll already have the enclosure.
At the end of the day, though, that's not really what it's for. It's really for anyone with space and just wants to add sweet, sweet bass to round out their car's sound system.
---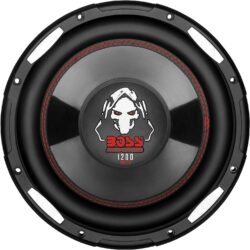 Best Suited For
Boss is the go-to brand for budget audio equipment, making this a perfect subwoofer for anyone who wants an inexpensive. That's a little obvious, but it includes a lot of people that aren't traditionally thought of as being budget-conscious.
For instance, people learning to build audio systems. You don't want to go and ruin a new, super expensive subwoofer if you are just beginning your audio system journey. Ruin an inexpensive sub like this first, then you'll know what not to do when you invest in better parts.
That being said, just be aware that Boss is a budget company. The parts are good quality, but not as high-quality as more expensive subs. The big Kicker subwoofer we recommend can easily survive exceeding max wattage a couple times. You have to be a lot more careful with the Boss.
Our Thoughts
A lot of people will shy away from budget speakers, but they can be worthwhile. They have a purpose, and as long as you understand that purpose, they won't let you down. It's not going to be the best sounding subwoofer, and it's not going to outlast your car, but it will deliver hard-hitting bass. That's all many people could want.
The one thing we will always fault Boss for, though, is their need to exaggerate numbers. The box for this speaker claims 1500 watts, which is amazing. However, that's maxed wattage, and the speaker really can't handle that.
Still, 700 watts RMS is a good amount, right? Except in the real world, it can't even handle that. Stick to 450 watts as a realistic, survivable number, and you'll be golden. That's still enough bass to make your teeth shake; you just won't be impressing anyone at the car show.
---
3.

Best Compact Powered Subwoofer:

Rockville RW10CA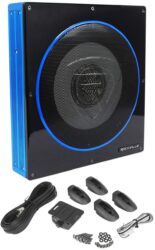 Best Suited For
There are two types of people that will love a small, all-in-one subwoofer. The first type is the group of people that look at the Rockville kit on our list and think, "Man, that's still big and complicated. Isn't there anything simpler?"
The answer is yes, there is something a lot simpler. This powered sub here. It's just a blue box that you slide under your seat, the end.
The other type of person that will love this subwoofer is the type of person with a small car. If you own a Miata or a Wrangler, chances are you don't have room for a big enclosure. In fact, you may not even have room for a separated amplifier.
This sub, amp, and enclosure combo is barely more than 1ft square, and that's all the space you need. That will fit into just about anything, even after you stick a roll bar and remove the dash from your street rod.
Our Thoughts
Let's talk about the bad things first. We talked at length in the short guide about sacrifices, and you definitely sacrifice a lot to keep things compact. A small enclosure has a lower response, less low-frequency quality, and a lot less volume.
That means that even compared to a very inexpensive sub like the Boss here, this Rockville sub's audio quality can only be described as "ok."
That being said, if you are just trying to round out the sound of a factory system, you will notice a huge improvement after you install this. Bass is essential for balancing a sound system. The average car lacks bass, so even a small upgrade like this is a beautiful thing.
---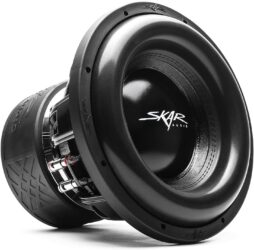 Best Suited For
After you've upgraded your alternator, upgraded the big 3, are running an extra battery, and have a high-power amp wired in, you'll need a big sub to take advantage of all that juice. This Skar is a great option. It's 1-ohm and dual voice, so you can wire two of them up and use 3,000 watts RMS to blow the doors clean off your ride.
If there was anything in that last paragraph that you aren't sure about, consider getting a smaller, less expensive sub. The Kicker CompRT is still a high-quality, great-sounding subwoofer, and you won't have to sell a kidney to afford it.
Our Thoughts
There exist people in this world that are not satisfied until the amount of bass they can produce exceeds the threshold for damaging human hearing. This is a good subwoofer for those people. Skar makes great quality products, and they are well known enough that no one will give you any sass for showing up with a car running their components.
The thing you have to understand is that the price to use a speaker like this one, or especially larger speakers like the square Kicker on our list, is a lot steeper than just the price of the subwoofer itself.
You need expensive wires. You need an expensive amp, with an expensive electrical system. You need a high-quality enclosure. If you are up for that challenge, though, this subwoofer is absolutely awesome.
---
5.

Best Shallow Mount Subwoofer:

Kicker 8" CompRT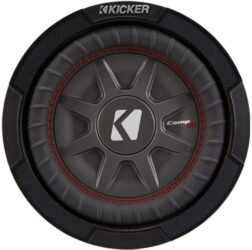 Best Suited For
It's a really fantastic sub for anyone that wants to add 300 watts of bass to a vehicle that doesn't' have much room. In fact, one of the places it really shines is in the cab of a truck. Most trucks have very little room for a big enclosure; you don't have a trunk to fit the box, and you wouldn't want a subwoofer bouncing around in the bed.
Most trucks do have some space between the front seats and the back seats or the front seats and the back of the cabin, and this speaker can fit nicely in that space.
The other place that this subwoofer fits nicely, and is often overlooked when talking about sound systems in general, is in factory subwoofer locations. 8in subwoofers are very common in premium sound options when a vehicle is built, but the factory subs are often on the low power side.
Since the cabinets are made to fit into tight spaces, there's not much room in the enclosure. A shallow 8" like this one is absolutely perfect.
Our Thoughts
Kicker is one of the biggest names out there when you start talking about cars and bass. They use high-quality components and are famous for getting more volume with less power than their competitors. This shallow mount sub is a great answer for anyone that doesn't need to break windows but still wants hard-hitting bass.
The downside is that a shallow speaker doesn't have the response or range of a bigger speaker. Remember, everything is a compromise. It also costs more than a standard 8in, so it's a better value to get a bigger speaker if you have the room.
If you don't have the space for a bigger speaker, though, it'd be hard to do better than this.
---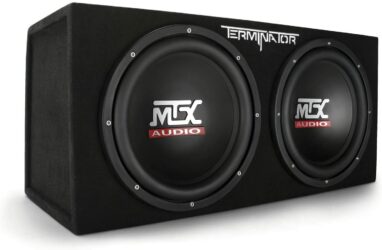 Best Suited For
At the risk of stereotyping, this is the perfect cabinet for high schoolers. It's not limited to high schoolers; it's ideal for anyone on a tight budget and doesn't really care about what other people think. It's just that when you talk about people who don't have a lot of money, have a car they can afford to make really impractical, and want really loud bass without much care about the actual quality of the bass, you just described many high schoolers.
That's not a bad thing at all. MTX is a cheaper brand, and that absolutely has its place. Throw this cabinet in the back of your drift missile, so you don't have to have a good cry when it falls out on turn 3. Just know that it's not going to sound amazing like the Skar we recommend will. It'll just be loud.
Our Thoughts
If you are just looking for a ton of bass on a budget, here you go. It takes up a ton of space, so you won't be driving your family to the airport with their luggage anytime soon. It also doesn't come with an amp, so it's not quite as good a value as the Rockville kit is.
It's louder, though, and bigger. It looks way more impressive, is what we are saying.
The real standout feature is the price. You can buy two of these units for less than a single 12in top-shelf sub. That's four 12in speakers and two cabinets for the price of one fancy speaker. That makes it easy to overlook all the little build quality and sound quality issues.
---
7.

Best Compact Enclosed Subwoofer:

Alpine SWT-S10
Best Suited For
Bass tubes offer a few advantages over the traditional enclosure design. First, and perhaps most importantly, they take up very little space without sacrificing enclosure size. It's a very efficient design, so you can get a lot of volume out of a lot less space.
Especially if you stand it up and stuff it in the corner, it'll hardly take up any cargo space at all, and you'll still be able to make your ears ring.
The second advantage is more subjective. A bass tube has a much punchier, boomy sound. It's muddier than a sealed box, and many people feel that lowers the sound quality. However, the sound has more punch to it despite the inaccuracy, so if you'd rather feel your bass than hear the exact timbre of a drum, then it's a great option.
Our Thoughts
Alpine is one of the older names in audio, and they have a reputation for making good quality products. This tube is no different; it'll outlast your car unless you accidentally drop something on it.
The downside is that even though it utilizes space really well, it's still not exactly small. In fact, compared to the all-in-one Rockville, it's gigantic. The unique shape will allow it to fit in places that traditional cabinets can't, though, so it's possible that you can use a bass tube where a box wouldn't. It's inexpensive enough that you can give a try without much risk.
Worst case scenario, just pop the speaker out and build yourself a new enclosure for it; it's not like you'll be disappointed with an Alpine subwoofer.
---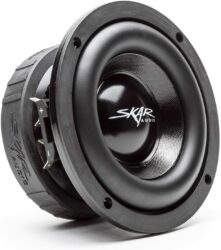 Best Suited For
The first thought would be to say that this sub is the best suited for people who don't have much space to work with, but the truth is that the shallow mount Kicker we recommend will take up less space with a properly sized cabinet. So will the Rockville all-in-one, which is really the best option if you have no space to work with since it can be thrown under a seat.
Instead, this 6.5in subwoofer offers really amazing sound quality at a great price, as long as you don't need it to be too loud. It cannot move very much air, so even with a properly sized enclosure, you won't be shattering eardrums anytime soon. Which is probably the best-case scenario if you want to continue listening to the music you love.
Our Thoughts
Skar somehow manages to make a tiny speaker sound like an entire bass cabinet. If you build a good box for it, you will be amazed at how good the response and depth is. If you'd rather listen to music on headphones in a studio than blasting over the PA at a party, then these little subwoofers are exactly what you need.
You are paying a lot for that quality. Compared to other 6.5in subs, the Skar is a bank breaker. It's not expensive compared to bigger subs, but you can get a louder 6.5in for cheaper if you look around. When you blow that one up, though, the Skar will be here waiting for you.
---
9.

Best Entry Level Competition Subwoofer:

Kicker Solo-Baric L7S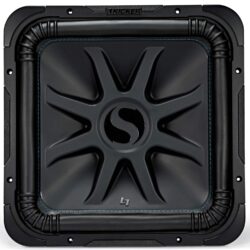 Best Suited For
Take everything we said about the big Skar subwoofer on our list, and dial it up a few notches. You need a hardcore amp to take advantage of this subwoofer, and you need to make sure all your cables and fuses are installed correctly. You also need a ton of space. This speaker alone is bigger than many single enclosures you can buy.
That being said, if you need the absolute highest pressure and the most volume, you need something like this. The square design gives it a lot more surface area than a comparable 15" round speaker. That means you are displacing the maximum amount of air and building the most amount of bass possible. You'll feel it in the next town.
Our Thoughts
We said it before here, but Kicker is one of the bigger players in the subwoofer scene. Speakers like this one are the reason why. The thing is a monster. It weighs 35 pounds and has a surface area of over two square feet.
The downside is the price. Everything about it costs money and requires a lot of your time. Square mounting holes aren't common, so you'll be custom fitting it in no matter what. The square shape also isn't as good at reproducing accurate sound as a round speaker is. That's sort of a minor detail when the goal is to be incredibly loud, but we aim to be complete.
---
10.

Best Inexpensive and Compact Enclosed Subwoofer:

Pyle PLQB10 10" Subwoofer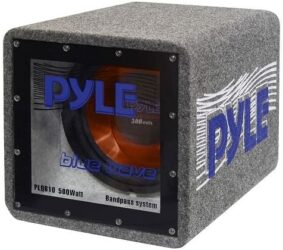 Best Suited For
There are a lot of these kinds of cheap, small, ready to rock subs on the market. They all sort of function the same; they are an inexpensive speaker in an enclosure that's too small. Buy a $40 monoblock off your favorite discount website, and you'll have the cheapest system on our list.
Which is the perfect thing for your beater, daily, or hand me down car that you are afraid to put too much effort or cash into. You can enjoy a nice bass boost in the old Camry you bought just to get from school to home on the weekends.
On the off chance that some loser smashes the passenger window and grabs the box, you can laugh since they'll only get like five bucks if they try to sell it on craigslist.
Our Thoughts
It's a nice, small enclosure. That's what we can say confidently. The see-thru face is neat, and the stitched carpeting looks good. The speaker inside is where they saved all the money. So if you really fall in love with the little unit, rip the old speaker out and replace it with a Boss 10." Those are still inexpensive, and they are a huge upgrade.
The only thing that can make it hard to justify is that you can pick up a little powered sub that will fit under the seat, and they don't cost very much more. The Rockville here won't get as loud, and it certainly doesn't look as good, but it does have its own amp. It all comes down to whether you want to do more work and get a better sound or if you'd be fine with the under-seat deal.
---
FAQ
If you still have burning unanswered questions about subwoofers, we've got you covered. We've answered the most common ones below.
---