Top 10 Best Harmonicas 2023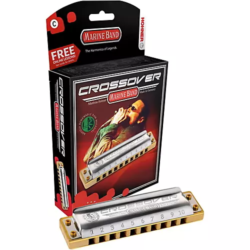 The Hohner Marine Band Crossover M2009 is a harmonica that benefits from the great attention to detail that's been paid in constructing it.
It becomes evident very quickly that this harp is significantly more airtight than Hohner's other products, which leads to two happy results. The first is that you can generate high volumes without wearing yourself out. Every harmonica player knows the importance of being able to rock out without feeling like your lungs are on fire.
The other consequence of the Crossover M2009's efficiency is that it is responsive to subtle changes in input. You can change the amount of air you have going through the instrument or cup it a little differently and instantly make out a difference in the sound.
This harmonica is constructed using premium materials. It's the kind of instrument you'll probably enjoy just looking at because of the level of craftsmanship that has gone into it.
If you're considering purchasing the Hohner Marine Band Crossover M2009, you should know that the holes on this harp are a little smaller and closer together than you're probably used to. This can make it harder to target individual notes if you're just starting out. For an easier experience as a beginner, check out the Hohner Special 20 harmonica.
---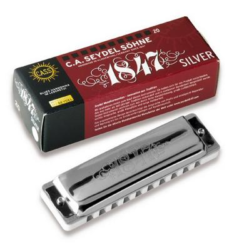 The Seydel 1847 Silver is a 10-hole diatonic harmonica. Nothing so special about that, right? Well, there's more.
The reed plates on this baby are made using stainless steel. This isn't the most common material that's used to make reed plates; they're usually constructed of bronze or brass. The advantage that you get with stainless steel is that it lasts a lot longer and also stays in tune longer. That's a two-in-one that's hard to overlook for harmonica players.
This instrument has a great sound thanks to the fine-cut reed plates used in the build. The plates minimize air loss and have you feeling like you can get the output you desire of it without too many theatrics.
It also helps that the Seydel 1847 Silver is easy on the eyes. This is a harmonica that's very compact and has a beautiful silver exterior.
Now you will have to pay a pretty penny for the Seydel 1847 Silver. It isn't the most affordable harp on the market, but you will get your money's worth with this one.
---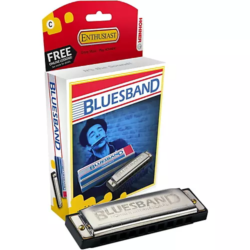 Not every harmonica is meant to be played in an orchestra or in the studio. Some are made so you can whip them out quickly at a campfire jam and have a fun evening. If that's what you're looking for, the Hohner Blues Band is your best bet. This is a harmonica that's so affordable that you feel like you can take those luxuries with it.
You will notice very quickly that this harmonica is priced significantly lower than most others. And that's the idea. This is a Hohner harp that you can get at what feels like a throwaway price and still enjoy a decent sound.
Speaking of sound, the Hohner Blues Band provides a high quality of intonation and is easy to bend. You will be able to pull off some of the muting and vibrato effects that you expect from much higher priced harmonicas.
This is a budget product, though, and that comes with certain drawbacks. You will need to put in some effort to belt out loud notes on this instrument. It isn't very airtight, so you will need to make up for that yourself. We explain how you can make a harmonica more airtight here. If you feel like you've cut your teeth enough on budget harmonicas like this one, check out the Lee Oskar Diatonic Harmonica.
---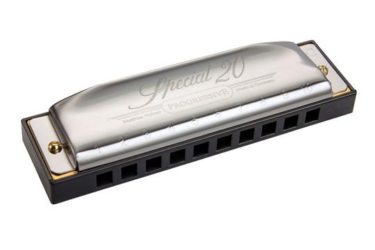 If you've asked around about harmonicas or researched them online, you've definitely heard of the Hohner Special 20. This is a harp that is beloved among the community for many reasons.
Perhaps the most important reason for its popularity is that this harmonica is extremely easy for beginners to use. The holes are spaced wide apart, making it easy to hit each note with precision. It's also constructed in a way that makes it very easy to bend. That's mostly thanks to the pliable plastic mouthpiece.
This harmonica's body is built using stainless steel. Not only does it look stylish, but it's also a very durable product. But you will need to open it up every now and then and clean it so that it lasts longer.
Not every harmonica player will enjoy the sound of the Hohner Special 20. The plastic comb is easy to bend, but the material leads to a sound that is a little tinny. The Suzuki Promaster Hammond harmonica is a good choice for those who want a diatonic harmonica that's easy to play and also produces a beautiful sound.
---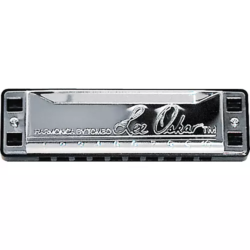 We saw that the Hohner Special 20 is the best harmonica for beginners. But you won't always remain a beginner, or at least that's the hope. If you're looking to get better, the Lee Oskar Diatonic harmonica is the next step in your progression as a musician.
This harmonica produces a bright sound that remains consistent no matter what variations you're trying yourself. The high-quality sound is creditable to the way the reeds are positioned. There isn't a lot of space between them, which means that there's very little wasted air. This also means a sound that is projected very well.
The reed plates on the Lee Oskar Diatonic can be replaced easily. There are just three screws that attach the body of the harmonica to the reeds. That makes replacing the reeds a simple process. This contributes to the longevity of the instrument.
The Lee Oskar Diatonic harmonica is not the most affordable on the market. However, it is a great product for harmonica players who feel like they've mastered the basics and are ready for an instrument that matches their progressed skills.
---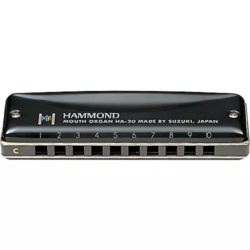 We all know that harmonicas are compact in general. But not all of them are so diminutive that you could actually carry them around in your pocket. It is nice, though, to walk around with the confidence that you have a harmonica on your person and you don't need any extra accouterments to make that possible. That's what the Suzuki Promaster Hammond makes possible.
Now be warned, if you do whip out this harmonica, the chances are that all the attention will shift to it very quickly. This is a beautifully crafted instrument that looks the part. The sleek black body and well-done typography make this instrument an eyecatcher.
But it isn't all looks with the Suzuki Promaster Hammond. This is a harmonica that's easy to play thanks to the ergonomics of the design. The instrument accommodates your lips perfectly, and you don't have to worry about your mustache or beard getting caught in it.
You get a good quality of sound from this harmonica. The output may be a little light for some musicians' preference. Because of the lightness of the sound, this may not work for someone who plays blues music, for example. Blues musicians should check out the Fender Blues Deluxe Harmonica instead.
---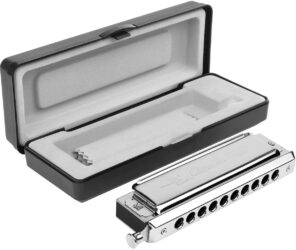 We've finally got to the part of the article that all you chromatic harmonica players have been waiting for. This is known as the Eison Professional Chromatic Harmonica, but don't let the name scare you. This harp is used by professionals, but it is just as accessible to students who take their harmonica learning seriously.
You will be hard-pressed to find a chromatic harmonica that sounds better than this one. The intonation on this instrument is incredible and leads to a sound that is beautifully rich. You really can use it to play just about any genre of music. What's also great is that the Eison Chromatic Harmonica is easy on the pocket.
The one drawback of this instrument is in its design. The reed plate extends beyond the comb and has a jagged edge, which may make it hard to grip over long periods of time.
---
8.

Best Tremolo Harmonica:

Suzuki SU-21H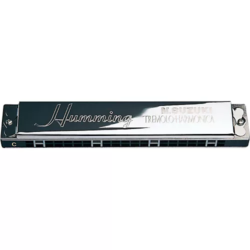 Tremolo harmonicas, as you'll remember from our section about them, use a double-row arrangement to generate a distinctive sound. The Suzuki Suzuki SU-21H tremolo harmonica is often described as having an old-world sound, which means that it works great for music that feels like it has a bygone charm. Musicians often use it for old hymns, for example.
You will notice immediately that this harmonica is longer than the ones you're used to if you haven't played tremolo harmonicas before. This particular unit is about an inch and a half in excess of the average harmonica length. So it will be a little hard to carry around.
However, it's worth the effort. The Suzuki SU-21H can hold a note without demanding too much effort from the musician. The design is gentle on your lips, and the reeds are very responsive to input.
---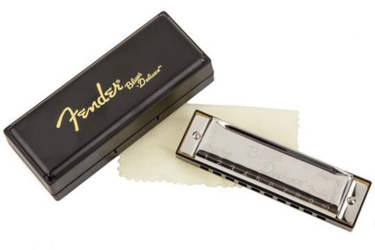 From Little Walter to Sonny Terry to Charlie Musselwhite, the blues tradition is rich with great harmonica players. So we had to include a harmonica built specifically for playing the blues. The Fender Blues Deluxe Harmonica is a great choice if you're having a tryst with the blues.
This is the kind of harmonica that is especially suited for those just getting started with blues music. The design keeps things simple, and the instrument is easy to grip and maneuver. It comes with a vented case that makes it easy to keep it clean and dry after every use.
This Fender harmonica makes it very easy to produce notes. With other instruments, you may notice that only a certain number of notes are easy to play accurately. With the Fender Blues Deluxe, however, you can easily play all the notes right out of the box.
The sound of this harmonica may not be to your liking, especially if you've played blues music for a while. It can sometimes be a little low on brightness and volume. But if you're looking to simply learn blues harmonica, it's a great instrument to kick things off with.
---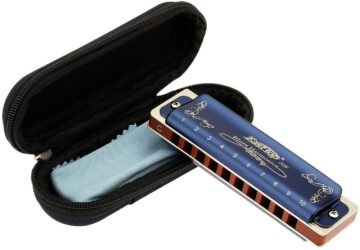 The East Top Diatonic Harmonica is one that music teachers and professionals speak of highly. These harps are very affordable and produce a bright, lively sound. Some professionals may prefer to use this as a substitute harmonica, but beginners can also use it as their primary instrument.
This harmonica is a great looking instrument out of the box. The bright blue color and art on the casing make it easy on the eyes. This also means that it could be a great gift for someone just getting started out with the harmonica.
The East Top Diatonic punches above its weight relative to its price. The tone it produces is rich and it is a very airtight harp. It also has a heft to it, which some harmonica players like because of the control it gives them. You don't want an instrument to feel flimsy in your hands ever.
The comb on this instrument is recessed to an extent. So you will have to adjust your lip pucker to account for that. This may mean having to take some time adjusting to the instrument, especially if you're coming from a harmonica like the Hohner Special 20, which has a more conventional comb placement.
---
Frequently Asked Questions
Here are our answers to the most frequently asked questions about harmonicas.
---