The violin, in its modern form, was first developed in the early 16th century and has changed very little in five hundred years. The music it has played may have changed, but the appreciation of that music never has.
Our Favorite Classical Songs for Violin
No violinist is without a few classical pieces in their repertoire, but with literally thousands to choose from across history, it is difficult to know which are the best to learn.
There are some classical pieces we all recognize from movies, special occasions, and as background music in the elevator. Some are simple enough to be the first songs we learn, while others are a test for even the expert player.
After long enough playing the violin, you will, at some point, be asked if you do weddings. It's inevitable. Of course, that likely means you will need to know Pachelbel's "Canon in D."
The piece, originally written for three violins and a cello, is deceptively simple to learn, and its chord progression has been used as the basis of many of today's great pop songs, including "I Should Be So Lucky" by Kylie Minogue, Vitamin C's "Graduation," and "Don't Look Back in Anger" by Oasis.
The slow, peaceful music offers an air of calm that has made it as popular with celebrating the end of life as the beginning of relationships. In a 2014 survey, it was found to be the second-most popular classical music piece for funerals.
Pachelbel's Canon nearly fell into obscurity before the 1960s but is now one of the best-known pieces of classical music out there, and it's one of the most common for people to walk down the aisle to. Almost coincidentally, some believe the piece was intentionally written for a wedding – the wedding of Pachelbel's good friend, Johann Christoph Bach.
Grab the sheet music to Pachelbel's "Canon in D" in Hal Leonard's 101 Classical Themes for Violin.
Of course, it is Christoph's younger brother, Johann Sebastian Bach, who is best known in today's musical world. His "Air on the G String" is one of the most recognizable pieces of stringed instrumentals in the world. It has been used over three dozen times in movie soundtracks ranging from Se7en to Gremlins 2.
Originally a part of Bach's Orchestral Suite No. 3, "Air on the G String" was arranged as a violin solo by August Wilhelmj, one of Germany's greatest violinists. Wilhelmj never found the fame from audiences that his friend, Wagner, did, but helped teach some of the 20th century's best-known composers and violinists, as well have the honor to own his very own Stradivarius.
"Air on the G String" is a graceful song and, paired with a piano, makes a popular piece for celebrations. While the name suggests that the entire piece is played on a single string, most arrangements use more than one. The piece is relatively easy to learn and can make a great choice for a first recital. For a greater challenge, consider going back to Bach's original composition.
You can also find the sheet music to "Air on the G String" in Hal Leonard's 101 Classical Themes for Violin.
If you want to test out your skills by reaching for a challenging piece to really impress your audience, take your time to learn Paganini's "Caprice No.24." Composed specifically as a violin solo, it is one of the most technically challenging pieces of music for violin and, therefore, its performance is the sign of a true virtuoso.
Paganini wrote his 24 caprices, of which this is the final, while under the employ of Elisa Baciocchi, the sister of Napolean Bonaparte. He was only twenty-five at the time and had already been named "First Violin" for the Republic of Lucca (now a part of Italy). Only a few years later, he would be given a knighthood in The Order of the Golden Spur by Pope Leo XII.
Despite being an extremely difficult piece to play, Paganini's masterpiece is one of the more recognizable violin solos out there and has been so popular in its two hundred years of existence that it has been rearranged dozens of times for many artists, orchestras, and instruments.
Grab a copy of Paganini's "Caprice No 24" from Schirmer's Library of Musical Classics.
Our Favorite Movie and Musical Songs for Violin
Sometimes a theme is just so catchy that, for days after going to the cinema, you will catch yourself still humming it. Some of these themes even gain popularity way beyond the film they were written for.
A lot of great songs from movies and musicals suit violins because they were always meant to be orchestral pieces to begin with. Playing them even as a soloist evokes the same response from an audience – remembering the first time they heard those notes, and what they saw with them.
This Oscar-nominated score from 1994 is a masterpiece of its own right. Robert Zemeckis, director for the movie, told Silvestri the plan he hoped for the opening scene – following a feather as it fell to meet the eponymous hero of the film.
From that imagined image, Silvestri began. "This has got to be about innocence," he would say in a later interview. "It's got to be about purity, simplicity, serendipity, chance and just la, la, la, la."
A very recognizable piece of music, the "Feather Theme," as it later became known, makes a wonderful solo piece for the violin or backed by a piano.
To play "Theme From Forrest Gump" and other movie greats, we highly recommend Hal Leonard's "101 Movie Hits for Violin".
While the 2019 movie version may be better known for being a flop, Webber's musical "Cats" has been popular ever since its appearance on the West End in 1981. "Memory" was composed to match edited lyrics from TS Eliot's poem "Rhapsody on a Windy Night," and the song appears twice in the musical.
Webber has previously stated that he was highly influenced by the great Puccini when writing this particular piece, and its simple melody captured audiences immediately. By far the most well-known song from the musical, "Memory" reached number six in the UK charts in 1981.
Hal Leonard has a compilation for Broadway available that includes Memory, as well as other classic musical theater hits.
If you are the parent of a child born after 2005, you likely know this song from back to front. The very popular hit from the Disney animated classic, "Frozen" is both an Oscar and Grammy winner, has been sung in 41 different languages, and has been called, by some critics, "musical crack" for children.
The song took inspiration from other Disney greats, like "Beauty and the Beast" and "The Little Mermaid," and was so impressive to the movie's creators that they even changed some of the story to better reflect the lyrics.
With its high pace, this power ballad sounds amazing on the violin. It may annoy some adults who are trying to forget the catchy tune, but kids will love it when you play this one.
Learn to play "Let It Go" thanks to this book dedicated to Disney tunes.
The driving melody that powers the scores of eight movies in one of the biggest film franchises of all time, "Hedwig's Theme" could be argued as the very heart of Harry Potter. Williams, who has received over fifty Oscar nominations in his lifetime, had previously written magical scores for movies like "E.T" and "Indiana Jones," and knew the sort of mystery the producers were looking for when creating a movie based on the bestselling book series.
It is no surprise that the theme works so well on the violin. After all, they are the first instruments to come in after the celesta provides the opening notes. Even in the grand orchestral version of the piece, the strings are at the forefront of the performance.
John Williams wrote many of the other pieces that scored the Harry Potter franchise, and has said that "the effectiveness of these films is so connected to the imaginative use of music that it makes the work thrilling, constantly interesting and endlessly fascinating."
For the sheet music of "Hedwig's Theme," get "Harry Potter: Instrumental Solos".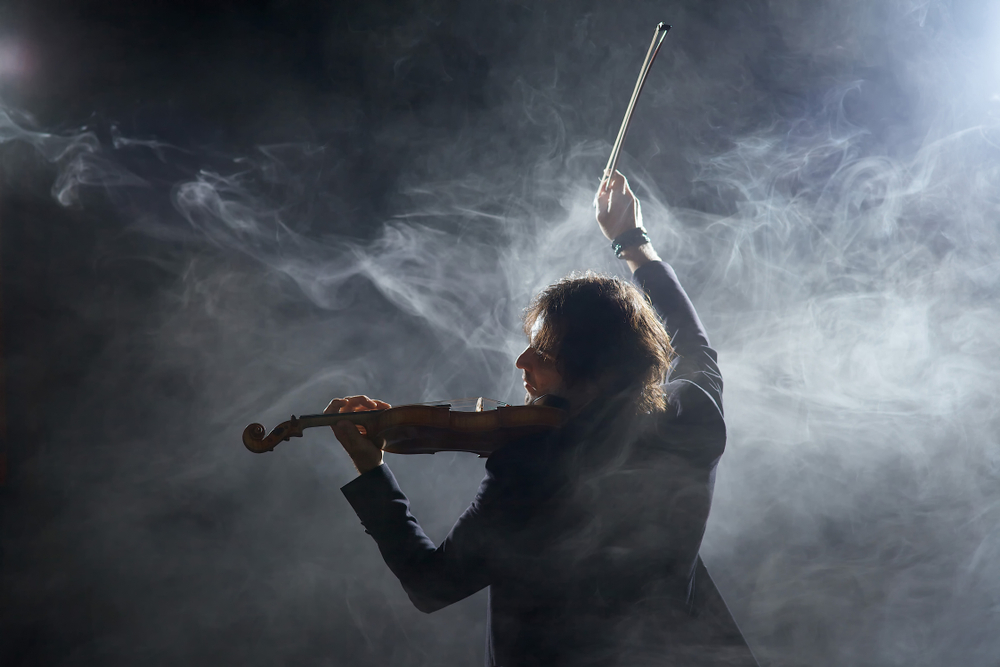 Our Favorite Rock Songs for Violin
The violin is far from an archaic instrument, relegated to songs of old. Nor is it an instrument that only works when backing something else or as part of an ensemble. Most importantly, the violin isn't beholden to any single genre.
From creative violinists writing new arrangements of rock ballads to the most important fiddle-players of the 20th century, musicians have understood that the violin can tackle anything.
When you think of popular songs to play on the violin, it is unlikely that your mind would turn to Led Zeppelin. The song ranked #141 in Rolling Stone's "500 Greatest Songs of All Time," was played at nearly every Zeppelin concert held after 1975.
Even with its backing strings, and performances by orchestras all over the world, the idea that the violin could take center stage for such a strong might be odd to many. Thanks to David Garrett, however, it is just one of many great rock songs that have been cleverly arranged for violin as the primary instrument.
David Garrett's arrangements of songs by Led Zeppelin, Guns 'n' Roses and The Verve can all be had in one awesome book.
The heavy metal song that was top ten around the world in 1992, "Nothing Else Matters" is all about a shredding guitar over a thumping drum and some raspy vocals. Of course, then Michael Kamen, American composer to the rock gods, arranged it for the San Fransisco Symphony Orchestra to provide backing for the album "S&M."
From there, it has been easy to find sheet music to a range of Metallica songs, and this particular track sounds amazing when stripped right back. The best way you can let your baby listen to heavy metal is to play them to sleep with some Metallica on your violin.
Metallica has their own book, filled with arrangements for violin, that come with CD accompaniment.
Of course, if you asked the person on the street what song they think of when you say, "modern song with violin," nine times out of ten the answer would be the same. The Grammy-winning country-rock song by Charlie Daniels is still a favorite today and has been covered by Nickelback, Korn, and even The Muppets.
"The Devil Went Down to Georgia" is based on the famous "deal with the devil" story told throughout history, and it could be said that you would need to make that deal to play such a complex piece. Interestingly, the complex fiddle-work was cribbed from previous work by Vassar Clements, called "Lonesome Fiddle Blues."
"The Devil went down to Georgia" can be found in Hal Leonard's "Popular Songs: Violin Play-Along Volume 2," and the origins, "Lonesome Fiddle Blues" can be found for free here.
Runner Ups
While we only had room for ten great songs, there are so many more that we think are worth looking at. If you are looking for something extra to learn, whether classical, folk, pop, or something else, check out these pieces.
Vivaldi's Four Seasons. Really four pieces in one, Antonio Vivaldi's "concerti" each stand alone as beautiful pieces for soloists, quartets, or orchestras.
Amazing Grace. Perhaps the most popular hymn of all time, its beautiful simplicity makes it perfect for beginners, while arrangements for more expert players are subtle and powerful.
The Minstrel Boy. Also known as "The Moreen," this Irish folk song was originally a patriotic ballad by Thomas Moore and became a popular favorite of Irish soldiers in World War One.
Schindler's List. John William's score is dark and powerful, like the movie it was written for.
In My Life – The Beatles. The Fab Four loved string arrangements for their later works, and this is one of those songs that can be as easy or hard as you want it to be.