Top 10 Best Kalimbas 2023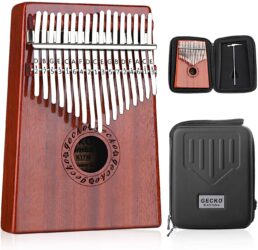 Standout Feature
It comes with a hardshell case and a songbook, but it's really the convergence of sound quality and price that make the Gecko stand out. There are not many kalimbas that have better sound quality, and the very few that do will cost you a lot more.
Our Review
If you are new to kalimbas but not new to playing instruments, then get this one. If you are new to instruments but are sure you really want to learn, get this one. If you have other kalimbas and are just wanting to add a nice hollow body instrument to your collection, get this one.
There are only a few reasons you would want to go with a different kalimba. The first is that it's a relatively plain instrument. It's not particularly beautiful, and it doesn't have any unique features. If you value standing out, consider something like the Wah-Wah kalimba on our list instead.
The other reason is if you expect it to take a lot of abuse. A solid kalimba, especially one made of plastic like this one, is much more durable than a hollow kalimba that can easily break if dropped.
---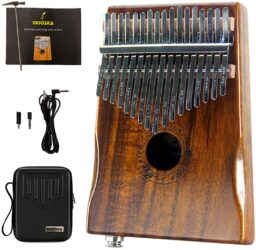 Standout Feature
The biggest reason to buy this instrument over the very similar Gecko kalimba is that it has an electric pickup. You can amplify it and add effects, which is a nice way to spice up your regular playing. We think the neatest thing to do with an electric kalimba is to plug it into a looper, though. That way, you can play very complicated melodies with this very simple instrument.
Our Review
The sound quality is good, but that's not surprising for what ends up being a fairly expensive kalimba. It's also finished nicely; koa is a great wood for both looks and sustaining tone. It's a little brighter in tone than the more common mahogany, but the darker grain really makes it look great.
Other than that, the Moozica Electric Kalimba comes in a great kit. It comes with a soft case and a hard case, as well as a few convenient accessories like a tuning hammer. The instruction booklet is a bit lacking, but that's what YouTube is for.
The electronics are what set it apart. If you want to experiment with effects or want some amplification, then this kalimba is absolutely perfect.
---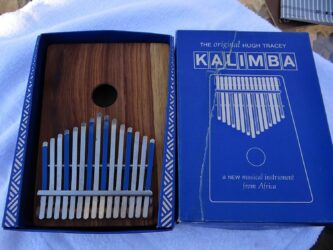 Standout Feature
At the risk of sounding vain, the name stamped on the bottom is the biggest reason to buy this instrument. Hugh Tracey is the father of the kalimba. He traveled to Africa in the 20s and learned their music, then came back to England and invented the kalimba as a derivative of the traditional mbira.
Owning a Hugh Tracey kalimba is like owning a Gold Top Les Paul or Fender American Strat. It's not necessarily the best you can buy, but it's absolutely full of meaning.
Our Review
Let's start with the bad news. First, the sound isn't as incredible as you might expect. You'd probably have a hard time telling the difference between this alto kalimba and any other intermediate alto. That can be a problematic fact to get over considering the second point: it's costly. It's the only kalimba on our list that hits triple digits in price, and it doesn't even include a carrying case.
That being said, it is a gorgeous instrument. Kiaat wood is only found in southern Africa, and it looks great. It's also an alto kalimba, rather than a standard 17 key treble kalimba. That makes it a little easier to play. It also makes it easier to justify buying one for the prestige. Suppose you already have a treble kalimba and need a justification to spend a bunch on a gift to yourself. If so, an alto kalimba is a great complementary instrument.
---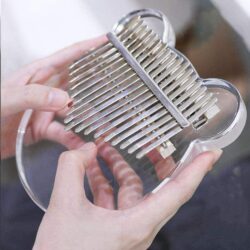 Standout Feature
Just by looking at it, you can probably guess this kalimba's most unique feature: it's clear. Acrylic is actually a material that's often used for instruments. It's very dense but still lightweight and easy to work with. Denser materials have good acoustic properties, so acrylic makes a good wood substitute.
The biggest advantage of an acrylic instrument is that it is incredibly durable. You can drop this kalimba and watch it skitter across the floor only to be picked up by a dog to be chewed on, and when you wrestle it back, it'll still play just fine.
Our Review
We call it perfect for kids just because it can stand up to a ton of abuse, but it's really for anyone. It's unique, and some people like having things that "break the mold." It also sounds good. Acrylic has a very bright tone and gives a solid surface for a lot of sustain.
The downside is that you won't get as much volume as you would with a hollow offering like the Moozica kalimba. The uniqueness can also be a big turn-off. Since it has no soundbox and is made of a very workable material, the acrylic body can have any shape. This one is shaped sort of like the silhouette of a teddy bear's head, which can be a little jarring if you are expecting the look of a traditional instrument.
---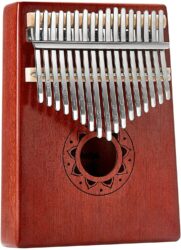 Standout Feature
This kalimba is built as inexpensively as possible. It is one of the least expensive instruments you can buy. Anyone who isn't sure if they would enjoy playing the kalimba, or who is traveling and worried about damage/theft can buy this and not feel heartbroken if things go poorly.
Our Review
Like we said above, it does have some flaws. The sustain is a little lacking, and it doesn't have clarity like more expensive instruments have. That's one of the reasons we like the Gecko kalimba so much; it sounds great and doesn't cost that much more. The Gecko is also just constructed better. Things like the sanding and clear coat on the Huawind aren't as even or nice.
However, unlike some very cheap kalimbas, all the tines on the Huawind will ring. It's also, unlike most very cheap kalimbas, a full 17 note instrument. That means it plays just like its more expensive rivals and can really tell you whether or not you enjoy playing. The worst-case scenario is that you fall in love with it and go buy the Gecko kalimba too, and you still won't be breaking the bank to do it.
---
Standout Feature
You can tell that Meinl Percussion designed this little kalimba for people that just want to play around with an instrument. It's got a big soundhole on the front of it, instead of on the top and back like a traditional one. That big soundhole is there to encourage you to do things like press it against your belly and make a wah-wah sound effect.
It also looks ready for people that like to fiddle with sounds. It's got a unique shape and is one of the few kalimbas on our list that doesn't have a natural finish. Finally, it's only got nine keys, so you can't just rely on playing common melodies to wow an audience; you have to do something crazy with it.
Our Review
This kalimba is not for everyone. It doesn't look traditional. It doesn't sound traditional. It doesn't have enough notes to be played like a traditional instrument. If the Hugh Traceys are the Stradivarius of kalimbas, this is a Theremin.
There are, however, people that will love that lack of tradition. They are the people who already have a traditional kalimba or who have other crazy instruments like an otamatone and just want something cool and unique. For those people, this thing is perfect.
---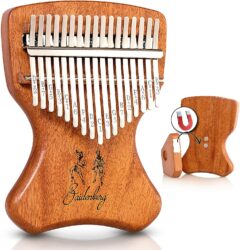 Standout Feature
Two things make the Zaidenberg kalimba standout. The first is the one that will probably steer you towards buying it. The non-traditional shape is meant to be very comfortable to hold. Instead of having to wrap your hands around a large box, you simply nestle the bottom into your palms. The cutouts leave you plenty of room for grip, and your thumbs will naturally come together over the tines.
The second feature is less for playing and more for the show. It comes with a magnetic stand that looks a lot like a bookstand. The stand holds the kalimba upright so that you can set it on a shelf and admire it. You can also set it on your desk at work and use it as a test. See how many of your coworkers can resist plucking it every time they walk past.
Our Review
This kalimba is a great alternative to the Gecko. It's about the same price, and it still sounds pretty good. You are mostly just trading volume for sustain with the solid body over the Gecko's hollow body.
There are a few drawbacks. It's not the most important thing to consider, but it doesn't come with a nice case like other kalimbas at this price point. The bigger negative is that it may not fit your hands well. It's designed to be ergonomic, but if you have bigger hands, you may find the shape brings your hands too close together for comfortable playing.
You won't find that nice magnetic stand anywhere else, though. If you are trying to decide between the LingTing and this Zaidenberg for your solid body purchase, think of it more like deciding between a nice case or a neat stand.
---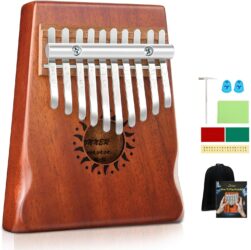 Standout Feature
You can tell they designed this little instrument with absolute beginners in mind. It doesn't have very many notes, first off. The notes are also meant to be tuned to the C Major scale, one of the most intuitive scales. Finally, it comes with one of the better little instructional booklets.
If you are not new to instruments, like if you play guitar or piano regularly, you will probably want a kalimba with the more standard 15 or 17 tines. People who are just learning about music will really appreciate this inexpensive, straightforward instrument.
Our Review
It's not the most budget-friendly option on our list, which may make some people turn away from it as a beginner instrument. That's fine; the Huawind kalimba is full size and still very playable. There are some big advantages to this Donner kalimba, though.
First, the instructions and support are a lot better than the cheaper options. They even have an easy to follow tuning guide on the product page, so anyone that doesn't want to spend extra time hunting down information will have a better time with this kalimba. It's also smaller, which can make it a lot easier to play. People with small hands will have an easier time reaching every note, especially children that can be trusted not to drop it.
---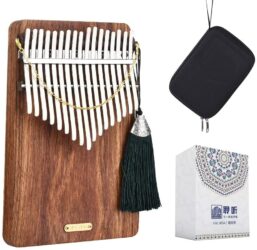 Standout Feature
The LingTing solid kalimba is about as simple as you can get. It's just tines attached to a solid block of wood. The good news is that that is the recipe for amazing note clarity and sustain. You can hear it in the sample above; the notes ring on forever. In the immortal words of Spinal Tap, "it'll sustain for hours."
Our Review
There's not a lot of bad things we can say about the LingTing kalimba. We could maybe gripe about how plain it looks, but the simplicity has its own beauty. We could complain about how it doesn't include any nice booklets, but it's probably better to use the internet anyway.
Unfortunately, there's also not a lot we want to really praise about LingTing either. It has a decent case, but that's par for the course. It sounds good, but that's also just expected at this price point. It's a solid choice if you want a solid kalimba. If you aren't really sure, though, stick with the Gecko. It's more traditional and a bit more versatile.
---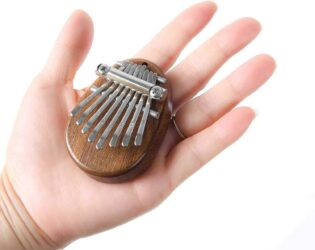 Standout Feature
This kalimba is really tiny. In fact, you can wear it around your neck like a little musical pendant.
Usually, when musical instruments get miniaturized, they lose anything resembling quality. The tone goes out of the window, and they usually use really inferior quality materials. Kalimbas are different, though. They are such simple instruments that they really take well to shrinking, and even a pint-sized eight key instrument can have a decent tone.
Our Review
Little kalimbas make great gifts. Giving one to a young child can encourage them to make music and learn an instrument, and giving one to a musician is an inexpensive way to give a thoughtful gift.
They are hard to play, and they really don't sound great, but that's not the point. It's a tiny way to show that you love the kalimba, and it doesn't need to be more than that.
---
FAQ
---