With a long history dating back to the 1500s, the violin is a wonderful musical instrument with a unique sound. In modern history, the violin takes center stage in many notable classical pieces of music and has starring or supporting roles across a wide variety of other musical genres.
Along with this extensive history, there are several violin players who have mastered their craft and reached a point of worldwide acclaim. These players hail from many different countries and time periods, and are important for their contributions to violin music, performance technique, and the musical world as a whole.
It is important to understand the significance of these famous players and learn their contributions to the world of violin music, so that you may gain inspiration from and an appreciation of the violin players who have come before.
The Importance of Knowing Famous Violinists
There are many popular and famous violinists in the world today; some may be locally known and others may have reached a point of worldwide recognition. In this article, we will be discussing the violin players that have contributed significantly to the development of violin music and playing technique.
Whether you are studying the violin or are simply interested in violin music, it is important to understand the history of violin music and these key players. This knowledge will allow you to appreciate the art and the history of the violin and can inspire you to compose your own music, begin learning the violin, or can help give you direction in your violin studies.
Historical Famous Violin Players
These famous violin players are some of the most important figures when it comes to the history of violin performance technique and influence on the instrument.

Antonio Vivaldi (1678 – 1741)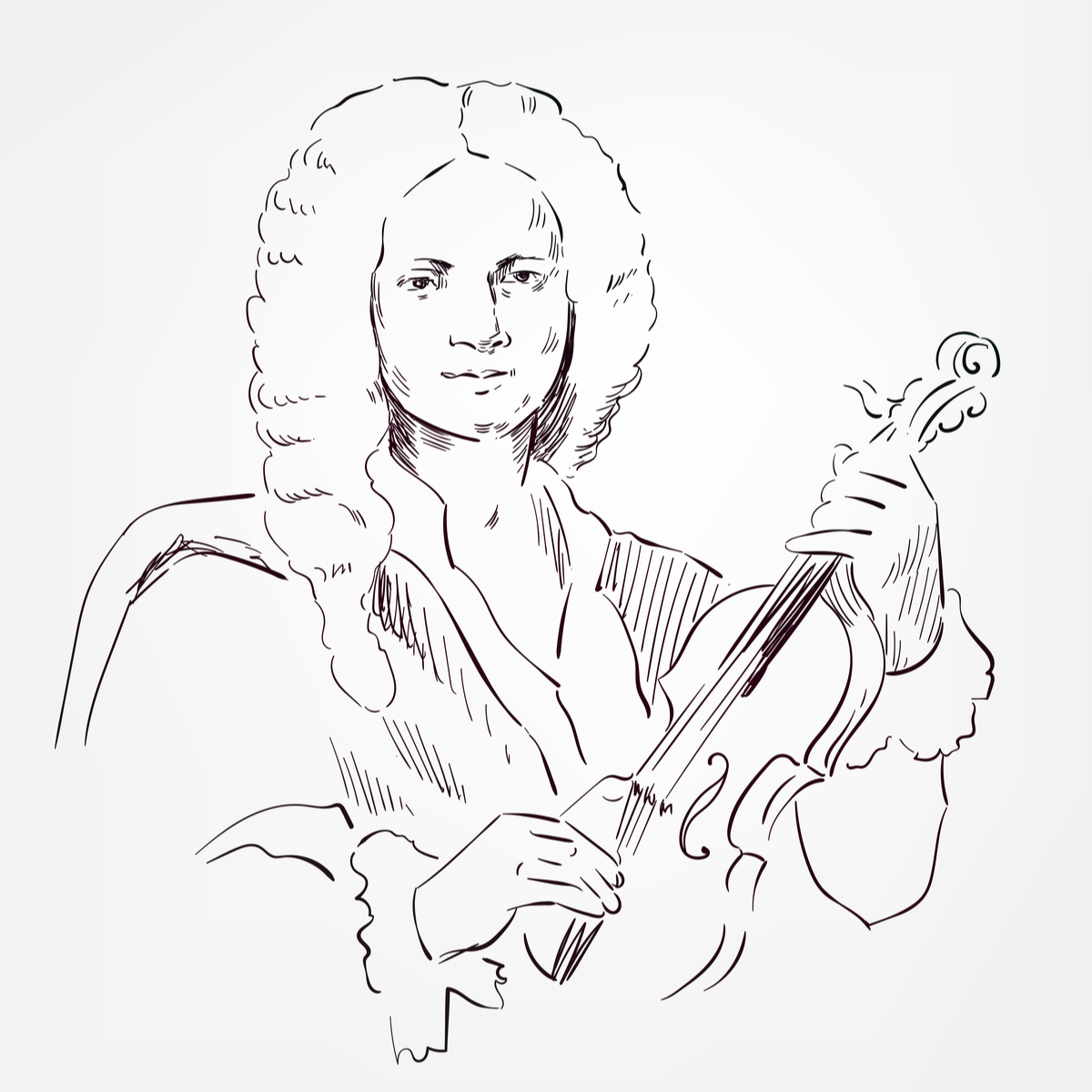 One of the most well-known violinists in history, Antonio Vivaldi was an Italian composer and violinist. He trained for priesthood during his youth and became an ordained priest in 1703, in addition to being appointed as a violin master at Ospedale della Pietà, a children's home and musical instruction school in Venice. Vivaldi began working on his sonatas for violin while working at the Pietà and made his debut as a composer in 1713. From there, his reputation grew as he became a freelance composer and began selling manuscripts of his music.
Upon his death, Vivaldi left behind a collection of 500 concerti. He is known for perfecting the classic three-movement style of the concerto and regularly using ritornello form in his music. He influenced many other late Baroque composers, including Johann Sebastian Bach, and had extensive technical knowledge of the violin.
You can listen to one of Vivaldi's most famous violin concerti, The Four Seasons, performed by the International Orchestra of Geneva here.
Guiseppe Tartini (1692 – 1770)
Born in the Padua, an area in Venice, Italy, Guiseppe Tartini studied law and divinity in his youth. After a secret marriage, Tartini was arrested and eventually ended up disguising himself as a monk and fleeing to a monastery in a different part of Italy. It was here that he honed his skills on the violin and gradually earned enough reputation that he was allowed back to Padua and his wife. There, he opened a school for violin playing in 1728 and gave a concert tour of Italy in 1740.
Tartini was known for combining technical and poetic elements in his playing style. He is also thought of as the predecessor for the modern style of violin bowing and recognized for his influence on developing musical philosophies behind teaching violin with regards to musical ornamentation and harmonies.
Niccolo Paganini (1782 – 1840)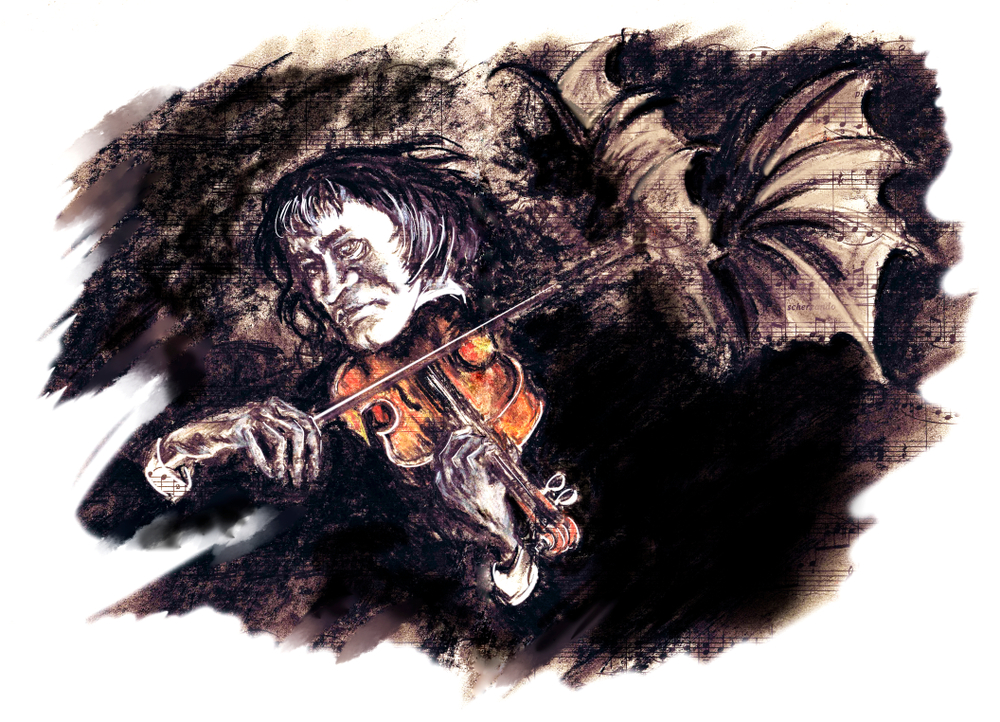 Niccolo Paganini was an Italian composer and violin virtuoso who revolutionized violin technique. During his life, Paganini studied violin with his father, among several other teachers, and wrote several pieces of music for unaccompanied violin, in addition to several sonatas for violin and guitar. He became a director of music in the city of Piombino, appointed there by Napoleon's sister in 1805, and toured Italy and the surrounding countries performing until he found success in Austria in 1828.
Paganini's technique was energetic and featured the use of harmonics and pizzicato effects. He utilized new fingering techniques for the violin and was known for his ability to improvise. Paganini's innovation and creativity lead many to believe that he had sold his soul to the devil to be able to achieve such skill and talent.

Fritz Kreisler (1875 – 1962)
Fritz Kreisler was born in Austria but lived most of his life in the United States. He began playing violin at the age of 7, studying in the Vienna Conservatory, and went on to study in the Paris Conservatory as a young adult. After a concert tour of the United States in 1888, Kreisler returned to Vienna to study medicine and subsequently served in the Austrian army during World War One.
In 1899, Kreisler began performing once again and found quite a bit of success. His style was characterized by intense vibrato. Kreisler composed many short pieces of violin music and published them as arrangements of other's works, but later admitted in 1935 that the pieces were his own original compositions.

George Enescu (1881 – 1955)
George Enescu was born in Romania and studied violin at the Vienna Conservatory, like Fritz Kreisler. He became friends with composer and pianist Johannes Brahms in 1894 and went on to study violin composition in Paris, winning first prize for violin performance in 1899 at the Paris Conservatory. Enescu also spent time as a conductor and eventually became a prominent figure in a Romanian school for composing.
Best known for his interpretations of Bach, Enescu also composed works that were influenced by popular Romanian style. This included violin sonatas and string quartets. He composed an opera in 1936, which also relies heavily on national and folk Romanian themes.

Bronisław Huberman (1882 – 1947)
Giving his first public concert at the age of 7, Bronislaw Huberman was a Polish violinist and composer. In 1892, Huberman relocated to Berlin with his family, where he continued studying the violin and enhanced his playing technique. He began giving concerts in 1894, playing across Europe and then the United States, and most notably played Brahms' Concerto in D major in the presence of Johannes Brahms during an 1896 concert in Vienna.
He wasn't just a violinist, but a humanitarian as well. During the Second World War, Huberman created the Palestine Symphony Orchestra which worked to recruit Jewish musicians and bring them out of the countries that were influenced by Hitler's rise to power. Huberman is known for his expressiveness, flexibility, and individualistic interpretations of violin music.
Modern Famous Violin Players
These violin players may not have been born before the turn of the 20th century, but they are just as important when it comes to their influence on certain violin playing techniques and prominent compositions.
Jascha Heifetz (1901 – 1987)
Jascha Heifetz is a Russian-born violinist who began studying violin at the age of three. At nine years old, he entered the St. Petersburg Conservatory and studied under renowned violin teacher Leopold Auer, where he built up his skill, eventually touring Europe at just 12 years of age. Heifetz made his American musical debut in New York in 1917 and became a citizen in 1925, before embarking on more concert tours of Europe and the Middle East.
Heifetz is known for his transcriptions of works by Bach and Vivaldi, tailoring them to the solo violin, and for his impressive technical ability. His style is characterized by a smooth tone and what is often referred to as "musical perfection."
David Oistrakh (1908 – 1974)
Born in Odesa, Ukraine, David Oistrakh is a Soviet violinist who began studying the instrument at five years old. He entered the Odessa Conservatory to continue his studies at 15 years old and was appointed to the faculty of a musical conservatory in Moscow in 1934. In 1937, he found fame after winning first place at the Queen Elizabeth Competition in Brussels and began touring American and Europe to great success.
Oistrakh is noted for his exceptional technique and his ability to fluidly switch between different musical styles. His tone production was also renowned, as are his contributions to teaching violin and in assisting players to overcome their technical problems when playing the violin.
Stéphane Grappelli (1908 – 1997)
First learning to play keyboard instruments as a child, Stéphane Grappelli was a French violinist who studied the violin formally in his youth. He played in dance clubs in Paris during the 1920s, moving to jazz clubs in the 1930s. He met Django Reinhardt around this time, and the two went on to form the Quintette du Hot Club de France – one of the first all-string instrument jazz bands of the era. In the late 1960s, he experienced a surge of popularity that led to him recording a number of notable pieces.
Grappelli is most known for his contributions to jazz violin, as he is one of the pioneers of the genre, and his ventures into other non-classical violin styles. Grappelli's jazz violin skills were mostly self-taught and he possessed impressive improvisation skills, in addition to a style that was fast-paced and envied by many. He's hugely influential to non-classical violin music.
Ivry Gitlis (1922 – 2020)
Born in Israel in 1922 to Russian parents, Ivry Gitlis began studying the violin at five years of age and gave his first performance at ten years old. Violinist Bronisław Huberman heard him play around this time and suggested he study at the Paris Conservatory. Gitlis attended and won first place for violin at age 13 and subsequently studied with George Enescu.
In 1950, after World War Two, Gitlis made his debut in Paris and started a career touring. He has also played with many notable orchestras, including the New York Philharmonic and the Vienna Philharmonic, and is regarded as one of the most talented musicians of his generation in regards to his technical skill and his many musical recordings.
Itzhak Perlman (1945 – )
Born in Tel Aviv, Israel, Itzhak Perlman contracted polio at four years old, which resulted in his legs being paralyzed for life. He began performing concerts in Tel Aviv at ten years old and in 1958 came to the United States to attend the Julliard School in New York City. Perlman also performed on the Ed Sullivan show in 1958, going on to perform at Carnegie Hall in New York in 1963.
Perlman has recorded a number of notable pieces, performing most of the classical violin pieces, and has won 15 Grammy awards. He also played solo violin pieces for the soundtrack of the movie Schindler's List. Perlman's style is noted for his "virtuoso technique," his refinement of details, and his exceptional performance ability.
Frank Peter Zimmermann (1965 – )
Frank Peter Zimmermann was born in Germany in 1965. He began playing violin at five years old and gave his first concert at 10. He attended several different music schools throughout his youth and studied with many violin masters until he completed his studies in 1983. In this same year, he started his career touring as a concert musician and collaborating with the conductors of orchestras across the globe.
Zimmermann is known for his ability to interpret a wide range of classical musical styles and his recordings of many classical violin pieces. He is also praised for his technical ability and his expressive, highly adaptable playing style.
Sarah Chang (1980 – )
Sarah Chang is a Korean-American violinist who is widely regarded as a child prodigy. She was accepted into the Julliard School in New York City at only five years old and played as a soloist with the New York and Philadelphia Philharmonic Orchestras at nine years old. Chang released her first album in 1991, when she was ten years old, and quickly experienced a surge in fame that led to a full classical music career.
Chang is known for her technical ease when playing and for possessing a musical style that is flawlessly toned and beautifully expressive. She's also noteworthy for being one of the youngest and most successful musical prodigies in modern history.
A Moment of Inspiration
Though there are many more wonderful violin players throughout history, these are some of the most important violinists of musical history. Their contributions to the art of violin performance and their innovative compositions have withstood the test of time, and hopefully they will serve as an inspiration to you, as you either begin learning the violin yourself or start to research the presence of classical violinists throughout musical history.