If you've come here in hopes of finding 'American Pie,' 'Wonderwall' or 'Brown Eyed Girl' – you're in the wrong place. They've had enough fireside plays already. In curating our list of acoustic guitar campfire singalongs, we wanted to break the mold a little by giving some other songs a turn around the tent circuit.
No, these tunes aren't revolutionary; we aren't trying to turn the world of fire-choirs on its head. The first rule of singalongs is that everyone needs to know the words, so it's impossible to avoid cliches. From the '60s, '70s, and '80s, each one of our picks has been around in the public eye long enough for it to become a well-known international classic.
However, these songs are classics for a reason, and we hope that between Bowie, The Ramones, Hendrix, and The Doors, you'll find a great tune to make those singalongs memorable.
To help you out, we've added a link to free acoustic guitar tabs beneath every song. We've also given suggestions for other equally easy-to-play and campfire-worthy songs by the same artist.
Alright, let's rock!
15. Stand By Me — John Lennon
A true campfire classic without which no singalong would be complete, 'Stand By Me' will have even the most stoic anti-singalong-ist wailing together heartily with the rest of the group. Originally by Ben E. King, the lyrics to this popular tune are known by all, and due to their repetitive nature, easily echoed by Uncle Jim (who swears he's never heard of no singin' beetles but crickets).
Much like the message of 'Stand By Me,' the chords behind it are simple yet powerful. All you have to do is master a single 5 chord progression and repeat until everyone is crying and holding hands.
Learn to Play This Song: Acoustic Guitar Tab
Other Campfire-Worthy Songs From John Lennon
Of John Lennon's solo songs, 'Imagine' will garner similar popular appeal to 'Stand By Me' when mixed with marshmallows. If you're into The Beatles, they've got a plethora of easy acoustic singalongs to choose from. 'Hey Jude,' 'Come Together,' 'Across The Universe,' 'Love Me Do,' and 'I Want To Hold Your Hand' are all safe bets.

14. We Will Rock You — Queen
Anyone who's ever attended a single sporting event before will already have plenty of practice in singing 'We Will Rock You' along with a crowd. This song is so simple and well known that even if someone accidentally uses your guitar as firewood, you can bang it on a pot and still have everyone shouting the words at the top of their lungs like they are about to go to war.
Use the power of 'We Will Rock You' wisely by cranking it out when your party is waning and needs an injection of energy (i.e. after Barb talks about her fungal infection for an hour). If you play it when things are meant to be winding down, you might accidentally inspire invocations of "Cheers!" and "Let's party all night, woo!".
Learn to Play This Song: Acoustic Guitar Tab
Other Campfire-Worthy Songs From This Artist
Almost the entire Queen discography is composed of songs perfect for this occasion. Among the more widely known and easiest to play are: 'Don't Stop Me Now,' 'We Are The Champions,' 'I Want To Break Free,' and, of course, 'Bohemian Rhapsody.'
13. Three Little Birds — Bob Marley
Another surefire fireside hit, 'Three Little Birds' (otherwise known as the 'Don't Worry' song) will have everyone putting on their most questionable Jamaican accent and forgetting their woes. The soon-to-be-divorced couple who have been not-so-subtly undermining each other all evening will momentarily remember why they got married, while the guy who had too many beers and tried to fight a tree will sit down, splay-legged, and enjoy a happy little cry.
Learn to Play This Song: Acoustic Guitar Tab
Other Campfire-Worthy Songs From This Artist
Bob Marley is the king of simple, popular tunes which will unite a crowd in song. There's also 'Is This Love', 'Buffalo Soldier', 'No Woman, No Cry', and 'Redemption Song', just to name a few.
12. Thunderstruck — AC/DC
A tune to be used with caution; if your fire has turned to embers, 'Thunderstruck' will surely have it blazing again. Headbangers beware the highly flammable nature of hair!
You may not have an electric guitar, but 'Thunderstruck''s galvanizing nature will more than compensate in rocking the crowd. With the chorus enthusiastically repeated by fist-pumping friends and plenty of 'yeahs' to boot, you'd better wear shorts as you'll be unable to resist a celebratory Angus Young hop.
Learn to Play This Song: Acoustic Guitar Tab
Other Campfire-Worthy Songs From This Artist
These Aussie rockers have many a classic under their belts, and some of their most famous songs can be easily mastered on acoustic guitar. We highly recommend 'Highway To Hell', 'Back In Black', 'It's A Long Way To The Top', and 'You Shook Me All Night Long' to turn up the volume on your campfire singalong.
11. Blowin' In The Wind — Bob Dylan
When your crush is busy talking to your cool friend and you've lost your mojo but want to soldier on, this is the perfect song to poeticize your sorrows with. While you strum 'Blowin' In The Wind' (your heart wallowing in distant, unfathomable melancholy) your true love will surely notice how mysterious and deep you are, that you are the one deserving of her attentions.
Learn to Play This Song: Acoustic Guitar Tab
Other Campfire-Worthy Songs From This Artist
Most of Dylan's songs will have a similar, solemn effect as the one above. We also recommend: 'Don't Think Twice, It's Alright', 'It Ain't Me, Babe', 'Like A Rolling Stone', and 'Mr. Tambourine Man' (the latter for when everyone's ready to snuggle up in their sleeping bags).

10. Hey Joe — Jimmy Hendrix
While hypnotizing the crowd with the psychedelic vibes of 'Voodoo Child', 'Purple Haze' or 'Foxy Lady' would definitely be sexier… let's be honest. If you're searching the internet for 'easy acoustic guitar songs', you're probably not ready to pull off Hendrix at his electric finest. However, learning 'Hey Joe' on acoustic is a great place to start.
The chords to this song (solos excluded — maybe improvise a dance instead) are perfectly achievable for hobby guitarists, while still maintaining that Hendrix edge.
Learn to Play This Song: Acoustic Guitar Tab
Other Campfire-Worthy Songs From This Artist
As we mentioned, Hendrix's most well-known songs are probably best left for the next bonfire. One notable exception is 'All Along The Watchtower', which, like 'Hey Joe', has much simpler chords.
9. Friday I'm In Love — The Cure
The peppy 80's classic 'Friday I'm In Love" is great for creating a light, fun atmosphere. Thanks to years of mandatory kindergarten singalongs, we have all been pre-programmed to repeat the lyrics of any song which involves the days of the week. Combine this tune with the added childhood sensory switch of toasting smores and you'll have the entire party under your power.
Use your new army of mind-controlled campers to take over the world, or simply make them put up your tent. What you do with your newfound dominion is your decision (and we take zero responsibility for it).
Learn to Play This Song: Acoustic Guitar Tab
Other Campfire-Worthy Songs From This Artist
Although sorely lacking in psychological trickery, 'Boys Don't Cry', 'Come On Eileen', 'Just Like Heaven', 'Lovecats' and 'Why Can't I Be You' all have well-known lyrics and simple chords.

8. I Wanna Be Sedated — The Ramones
"I Wanna Be Sedated" is a great song for a certain campfire mood. If you're feeling the thrill of rebellion and are out late with your buddies, this is one for those wild nights.
The chords are super simple but you've gotta be a fast strummer. In order to pull off this song in true punk style, be sure to nod vigorously while scrunching up your face like you've got a bad headache.
Learn to Play This Song: Acoustic Guitar Tab
Other Campfire-Worthy Songs From This Artist
For extra cool-person points, add these other popular Ramones songs to your setlist: 'Blitzkrieg Bop', 'Sheena Is Punk Rocker', and 'Pet Sematary'.

7. Take A Walk On The Wild Side — Lou Reed
As much as we would have loved to throw some Velvet Underground on this list, their songs aren't exactly suitable for the average campfire. However, if you and your friends plan to go foraging for mushrooms, be sure to look them up.
Luckily for you, VU's legendary lead singer, Lou Reed, has at least one hit whose words will be known and happily echoed by all. As a bonus, 'Take A Walk On The Wild Side' even features a politically incorrect but perfect for harmonizing little bridge in which you can elicit a chipper "doo do, doo do, doo do, doo-do-do-do-do" from your mates.
Learn to Play This Song: Acoustic Guitar Tab
Other Campfire-Worthy Songs From This Artist
From his solo stuff, we highly recommend 'Satellite Of Love' and 'Perfect Day'. Also, we can't help but encourage you to gather everyone's attention while you tell the beautiful tale of 'The Gift' (Velvet Underground), either.
6. Benny And The Jets — Elton John
Just reading the name of this song has us bopping our heads and stuttering "B-b-b-benny and the jetssss" and, when it comes to identifying potential campfire winners, that's a stellar indication. Anyone who doesn't know this song needs to know it and, as a musician, we consider it your moral duty to school your friends.
Such a joyful rollicking tune, if you don't have everyone dancing and singing by the end of your performance, then go ahead and sue us*.
*Don't you dare.
Learn to Play This Song: Acoustic Guitar Tab
Other Campfire-Worthy Songs From This Artist
If you've got a pair of rhinestone sunglasses just begging to be worn, then 'Crocodile Rock', 'Your Song', 'Rocket Man' and 'Candle In The Wind' will justify your fashion choice.

5. Heroes — David Bowie
Next up on our list of singalong sensations is the Starman himself, David Bowie. When you've built up enough ego from being the guitar guy and receiving applause, it's time to crack out 'Heroes' and seduce your campfire crush.
Strum soulfully along to this tune while making eyes at your beloved and leave them in no doubt that you essentially wrote the song just for them. With starlight and Bowie's alien spirit twinkling above, romance will surely bloom.
Learn to Play This Song: Acoustic Guitar Tab
Other Campfire-Worthy Songs From This Artist
To further channel David Bowie's galactic funk, other easily recognizable, easily played songs include: 'Space Oddity', 'Ziggy Stardust' and Bowie/Queen collab 'Under Pressure' (ideal for harmonizing).
4. Never Tear Us Apart — INXS
When you're at the point in the evening when everyone is saying "No seriously, I love you, bro" and endlessly cheers-ing, it's time for some INXS. Never in excess (heh), you could play this song for an hour on repeat and everyone would be too busy singing and hugging to notice.
As with 'Take A Walk On The Wild Side', this track also features a convenient "DOO DOO DOO DOO DOO DOO DOO" bit (this time in the form of drums) which is impossible to resist bellowing.
Learn to Play This Song: Acoustic Guitar Tab.
Other Campfire-Worthy Songs By INXS
'Need You Tonight' and 'New Sensation' are two more INXS classics that are easy to play and guaranteed to be appreciated by the crowd.
3. Suspicious Minds — Elvis
Showcase your swag(ger) with this epic Elvis tune and you'll have a throng of unwashed forest admirers hanging on your every strut. 'Suspicious Minds' is so irresistibly groovy that even the one person who's terrified of insects will crawl out of their tent to sing along. Your bewitched groupies will easily drown out their intermittent mosquito-inspired screams with their howls of adoration towards your excellent song choice.
Learn to Play This Song: Acoustic Guitar Tab
Other Campfire-Worthy Songs By Elvis
If like us, you're a fan of 'The King', then you'll also get a kick out of rocking 'Hound Dog', 'Blue Suede Shoes', 'Jailhouse Rock', 'Always On My Mind', and 'Rubberneckin' from the comfort of your folding camp-chair.
2. Runaway — Del Shannon
Runaway is a little dangerous as a choice, because although it will be immediately recognizable in some crowds, it'll totally unknown to others. However, as it's such a classic (regularly ranked among the best songs of all time and a #1 hit in its day), we decided to live on the edge and give it a controversial #2. We're sure that once you know this song you'll be as obsessed as we are and, in future, only attend campfire singalongs comprised of people who know the words. A fine basis upon which to select friends.
Learn to Play This Song: Acoustic Guitar Tab
Other Campfire-Worthy Songs By Del Shannon
None. He did it once and did it perfect.

1. Light My Fire — The Doors
With a title like that, how could we put this song anywhere else but right up the top at #1? Can you hear the thrilled crowd's overflowing delight to be singing words that directly relate to their situation ("OMG!")? Can you see the cheesily mimed fire lighting, fire gesturing, and fire-related improvisational dance? It seems almost unnecessary to add that 'The Doors' are almost untouchably wild and magnificent in the world of rock.
Learn to Play This Song: Acoustic Guitar Tab
Other Campfire-Worthy Songs By The Doors
If you love the Doors but would also love to avoid excessive miming, you could always play 'Hello, I Love You', 'Love Her Madly', 'Riders on the Storm', or 'L.A. Woman' instead.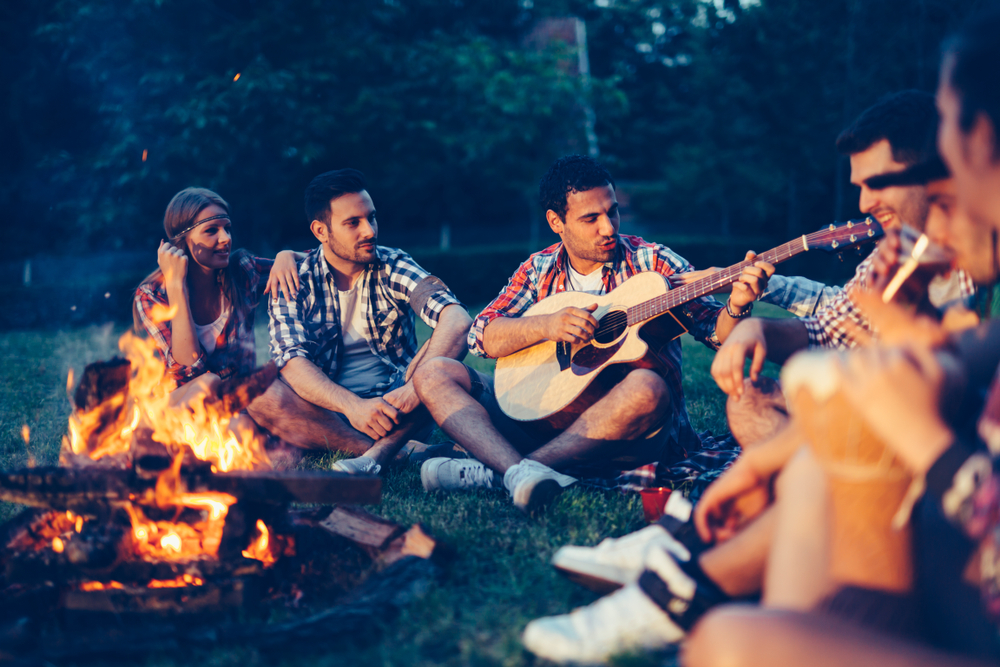 Time to Light Your Fire
Alright, we've done our part and supplied you with a whole smorgasbord of campfire singalong delights. Now, it's up to you to choose your way to play out the evening.
We want you to know that in your guitar case, you not only carry an acoustic guitar, but also all our wishes and dreams for your setlist success. And, we hope that when you're rocking out on your log, you'll remember us and our awesome advice, giving us mental high-fives as the applause rings out and encores are demanded.