Top 10 Best Vocal Processors and Pedals 2023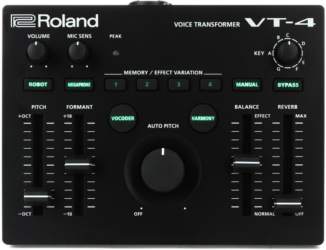 The Roland sets up quickly and with multiple lines in and out, which is great for both live music and recording. The battery life is also impressive, at five hours of use. Using the box is simple – four sliders to play with the pitch, formant, balance, and reverb.
With large toggles and dials, as well as clear labels, the VT-4 can be used at a glance. While one of the lighter processors out there, it doesn't feel like you will break when you drop it. Rubber feet ensure it won't slide around your table, and it comes with phantom power for your condenser mic.
The VT-4 can be connected to your computer and used with proprietary midi drivers you can get from the Roland website here. Unfortunately, it doesn't offer  "plug-and-play" but by downloading these drivers you can access the ability to more finely tune your options.
Sound Quality
The VT-4 lets you preset eight separate "scenes" using its full range of effects, or you can simply work on the fly. Its 24-bit/192kHz effects include one of the best reverbs you can get at this kind of price. Connect your keyboard and you can create multi-part harmonies easily.
Pitch-correction on the VT-4 is impressive. Controlled by the primary dial, it is both fast and accurate; something not all processors can claim.
Our Review
We simply love how the Roland VT-4 can put everything the average performer would need into a portable, lightweight processor. It's simple enough to use for someone looking at their first processor, while it contains all the bells and whistles a professional performer needs.
Roland let a lot of people down with the VT-3 and its poor pitch detection, a low number of memory slots, and problematic harmonizer. It's clear that Roland listened carefully to its customers, to now have the best product on the market. You can also checkout an example of how it sounds here.
---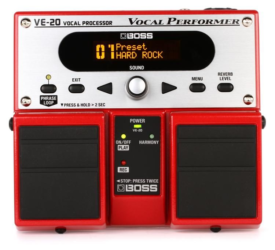 With an all-metal construction and two large foot pedals, the Boss easily lives up to the name "stomp box." The LCD screen is easily read from 6ft up and it isn't going to shift around the stage. This processor's larger size makes it great for live performance.
Six AA batteries (not included) will last a long performance or rehearsal, but a DC adapter is also available for longer periods. Unfortunately, this adapter is sold separately and even then is quite short. If you are planning on not using batteries, bring an extension cord.
Sound Quality
The Boss VE-20 offers the full range of vocal processors and effects. The "smart harmonizer" lets you stack parts easily and even save them for later and the phrase loop memory is a massive 38 seconds. It includes all the expected standards like reverb, radio distortion, and robot effects, but it also adds dynamics, doubling, delay, strobe, chorus, and flanger effects. You can layer these effects up to three times and can store up to 50 preset effects for later use.
There are few artifacts heard when using the Boss live in concert, as long as you have practiced with it before-hand. Pitch correction does require a little fiddling and practice to get the perfect sound, but with the Boss, that sound is actually possible.
Our Review
The Boss is a rock star's dream. Sturdy, good-looking, and full of features without being complex to use. Set one pedal for general sound and the other for specific effects and away you go.
Surprisingly, despite being designed as an on-stage pedal, we find the Boss VE-20 to work just as well as a desktop processor next to your keyboard or microphone. Unfortunately, though, it can't connect to your instruments or a computer for more complicated musical creation.
For the best pitch correction in a box that will survive many live tours and performances, few vocal processors can match the Boss VE-20. To learn more about the sound, you can check this video here.
---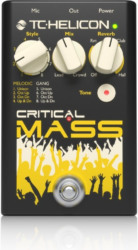 The Critical Mass pedal is of sturdy metal construction, and yet it is quite small and light so it can handle the traveling life really well. It only has one input and one output, making it a small stop between your mic and amplifier. Three dials and a pedal button are all that are needed to access its many features.
While it does have a USB port, this is only for updating firmware, and not for audio output or input. The Critical Mass can run for multiple performances without ever worrying about its battery power, and we think running off a direct power supply is unnecessary, despite it being an option.
Sound Quality
The Critical Mass is all about providing the basic effects well. That is why it has only eight vocal effects, but its reverb is as good as more expensive processors. It cannot stack effects or loop phrases, but it can add texture to vocals as well as any premium device.
Of the effects, we find the melodic choices to be some of the best you can hear, really making it sound like there is more than one singer on stage. It's easy to underestimate just how powerful these effects can be in helping boost confidence in events that involve group participation. Perhaps this is why you can often find the Critical Mass in school musicals and church performances.
Our Review
We are really impressed by this little device, primarily because what it does is done as well as any expensive processor out there. Sure, it doesn't have the bells and whistles, but at less than a third of the price of the Boss VE-20, you wouldn't expect it to.
Strong, light, and easy to use, "cheap" doesn't mean "low-quality construction" in any way. This might be why it is a popular choice for a lot of churches and community groups, to make their songs sound "fuller," and more exciting. It is definitely why it is the go-to processor for the on-the-road busker, for whom even the slightest extra weight can be a very big deal.
For something small, inexpensive, but high quality, you can't look past the Critical Mass vocal pedal; you can learn more about the sound here.
---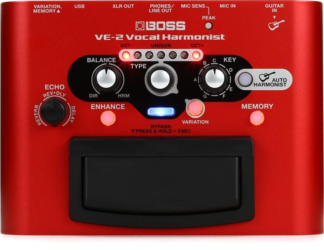 So, you are thinking about getting the premium VE-20 but it is just so large? The "baby brother" is half the size and weight without losing too many of the functions. It still lets you connect both instrument and mic as well as output to PC. It still has the large, comfortable pedal. It's still in a sturdy, metal box that isn't going to break easily.
While power supply needs to be purchased separately, we love that the VE-2 uses fewer batteries than some of the other premium vocal processors out there. It's also great to see how easily we can attach this to our mic stand, or set it just above the keyboard.
Sound Quality
The sounds coming out of the VE-2 are just as great as the VE-20, especially in the harmonies and reverb. The difference comes not in the quality as much as the number of functions available. Gone are most of the "fancier" effects and the phrase looper. It only stores three presets instead of fifty. But the pitch correction, two-part harmonies, and reverb are all the exact same as in the premium model.
Our Review
For high-end, premium functionality in a smaller, less-obtrusive box, we can't find anything better than the Boss VE-20. The way the controls are designed for this smaller model makes using it more intuitive and user-friendly. While most vocal processors appear to be designed for either the floor or the table, the VE-2 feels and looks comfortable in both settings.
The difference in quality between the VE-2 and our top pick, the Roland VT-4 is surprisingly small. While the Roland has more memory, the USB-power, and is slightly lighter, the Boss makes up for these with a smaller box, larger pedal, and slightly lower price.
For the sound quality of the top-tier processor, albeit with slightly fewer features, the Boss VE-2 is a sound choice both on the road and in the studio.
---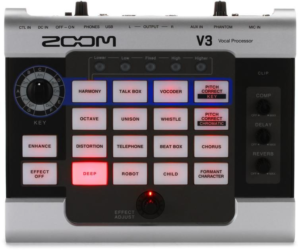 The outer design of the Zoom V3 is all about helping content creators making quick changes. 16 light-up buttons for all the major effects you need, as well as four dials for tweaking each of them. All the plugs line up wonderfully in the back of the device, letting you permanently have it hooked up to your computer and microphone without cluttering up the desk.
Sound Quality
The Zoom V3 offers 16 unique effects, each of which can be customized and preset to suit the user. These are on top of the reverb, delay, and compression effects you would already expect. It has a three-part harmonizer and a quite decent pitch corrector that suits most performers quite well.
The V3 can be used as an audio interface for your streaming needs through its USB adapter. While this is a 24-bit stereo interface, it does only transfer at 44.1 kHz. When most processors don't offer this at all, though, you can't go wrong with the added functionality.
Our Review
The V3 offers phantom power, the ability to add hands-free pedals, and a range of great mic stands and recorder mounts to keep it within reach no matter what. These are just some of the many ways in which Zoom has put accessibility as its primary concern. It's why you can also power by USB, output to headphones, and computer at the same time, and even purchase the made-to-match Zoom ZDM-1 microphone for added quality to your recordings; you can learn more about the sound here.
---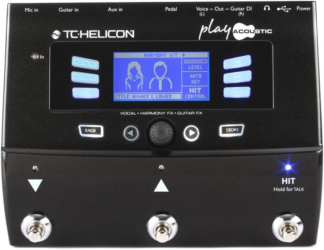 The VoiceLive Play can look deceptively simple at first glance. Three small pedals, eight buttons, and a single dial. But the combination of these can mean a massive number of functions. In some ways, this is amazing, in others a little annoying. Because the VoiceLive has one of the largest learning curves on our list. The small pedals are sometimes difficult to switch and setting it up might take a while to get the effect you want to be lined up.
Once you get used to controlling the box through the small pedals, you will also come to appreciate how easy the screen is to read, and how the design is specifically for you to reach out and use it without having to look down for more than a fraction of a second.
The VoiceLive requires a corded power supply, so may not be suitable for the outdoor busker, but that is a small price to pay for the functionality it offers.
Sound Quality
The list of effects available for VoiceLive is insane. Over two hundred choices on top of its pitch-control, a VLOOP performance looper, stereo-output, as well as USB-connected input and output. It is the only processor we found that offers four-part harmonies, and you can use headphones for in-ear monitoring. While we have featured the Acoustic version here, the only real difference between it and the electric is that the latter offers distortion effects on top of the others.
The most impressive function, however, is the ability to harmonize based on your guitar input. While other processors exist that can react to your instrument to produce the right sound, none do it so accurately as the VoiceLive.
Our Review
In the studio or on the stage, no other vocal processor has the functionality and power of the VoiceLive. We have failed to find a vocal effect the processor couldn't tackle, and it seems like no reviewer has. The sound can be as overproduced or as subtle as your heart desires, and the options when it comes to looping, harmonizing, and pitch controlling are incredible.
It isn't a perfect device, of course. It has a steep learning curve and takes a little time to figure out all the presets. Despite its weight, it also doesn't give the feel of sturdiness that the Boss VE-20 does, and we are not sure just how rough you could be with it.
For functionality and creativity, the premium VoiceLive processor is the easiest choice. While this brief video shows you how it sounds, we don't think it does this device justice.
---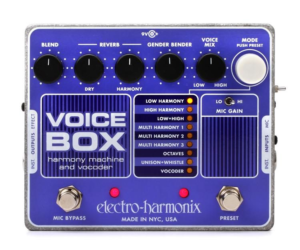 There are no LCD screens, just some clearly labeled dials and the pedals. Because that is all you need. It is a little annoying that the input and outputs are on the sides instead of the front and back of the box, and sometimes tempting to learn to simply position it sideways. It's uncomfortable at first, but worth doing.
Sound Quality
With a 256-band vocoder, the device can create 2 to 4-part harmonies that match your voice perfectly. It finds the key of your instrument without fail every time. As long as you are singing at your best, it is providing the best harmonies for you.
That it doesn't have pitch control may be problematic for some. A pitch-perfect singer is going to get the best harmonies they can imagine, but the device may sometimes fail to match a more amateur singer. Still, as you can see here, the sound is impressive.
Our Review
Electro-Harmonix has been making processors like the Voice Box since 1968, and this experience shows in the product we get today. If you have the right input going in, you will get pitch-perfect harmonies going out. Even effects that often sound gimmicky when coming from other processors sound natural and beautiful through the Voice Box. Mixing the "gender bender" and reverb is especially worth looking at.
To be clear – this device does not offer pitch control and cannot be used for auto-tuning. It doesn't have preset "robot" effects. Purchasing the Electro-Harmonix Voice Box is for those who want the absolute best harmonies a performer can have without a backing choir to practice with.
It may not do as many things as some of the other devices out there, but the Voice Box Vocal Harmony Machine excels at the task it is given.
---

A rack-setup black box with a couple of buttons, the BBD reminds us of the classic Roland machines from decades ago. It has a 1/4" socket in the front for a footswitch, but otherwise little else. This all has been done intentionally, to remind us of its single purpose – to provide a clear, analog chorus effect to any sound that enters it. Guitar, voice, synth, it doesn't matter.
Sound Quality
Ask around and you will find a large group of music fans who believe that digital processing is damaging music production. They cite auto-tuned works and effects that involve digital manipulation of the pitch. They might even have a point; some of the best music out of the 20th century wasn't touched by computer chips in any way.
For such purists, the sound of an analog effects processor is something magical. The BBD can replicate these classic effects. Four chorus types are offered, with the ability to lawyer two of them together. Between that means there are ten different effects options, all of them produced by analog means.
Our Review
If this looks like a cheap clone of the classic chorus machines of the late seventies, you are half-right. It is definitely a clone, trying to capture the analog chorus sound of Peter Gabriel and Brian Eno. However, other than the price, it isn't "cheap."
Instead, you have a high-quality analog chorus that is void of the nasty artifacts that digital processors can sometimes produce. There is something other-worldly about the analog effect, and now we can get that without spending the price of a small car on it.
---

This rack-mounted system is big, heavy, and powerful. This isn't the sort of vocal processor you put on the edge of the stage or connected to your microphone. No, this is for the studio desk. And when you are looking for a studio-level vocal processor, this is one you should be looking at.
This is the only processor on our list that supports MIDI output and the only processor that has been made in partnership with an audio technology software company to produce a high-quality, proprietary auto-tune ability.
If you have a soundbox in the back of your concert hall or are setting up a studio, this is the box you want. However, if you are thinking about moving it about, perhaps look at something else.
Sound Quality
Antares Audio Technologies (the inventors of "autotune") has partnered with Teac's professional music division to produce a live-running pitch-correction system that matches what any audio editor could do later on the computer.
It is a complex device to run, and you are going to want to read over the manual a few times, but you don't need to be an audio engineer to fully appreciate just how precise you can get the pitch correction and effects you want from the TASCAM.
Our Review
This isn't a device for making fun effects while busking on the street or to keep at your feet while you are rocking out at the local pub. If you are setting up your first studio, however, and want the sort of high-quality pitch control that is used by professional music producers, the TASCAM is both impressively accurate and also within a price range that won't make you cry. You'll be able to get a better feel for it in this video.
---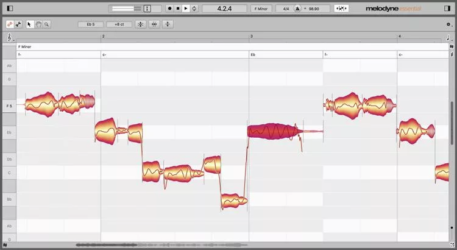 Out of the Box
Buying Melodyne 5 gives you a digital download of the program which is yours forever, with no pesky subscription service like many other suites have these days. Melodyne 5 works as a standalone program, but can also be used as a plugin on existing Digital Audio Workspaces. This can be handy as the software was designed for a very specific task: the fine manipulation of pitch and time for audio files.
Melodyne's suite contains both automatic and manual controlling of pitch down to the millisecond. It can also automatically minimize volume disparities between notes, extract and manipulate chords from audio, and provide a range of percussive soundtracks to add and edit.
Our Review
It takes a lot of practice to master the subtle advantages available through Melodyne 5, and you may even want to take a short course (we recommend this great one from Udemy). However, when mastered, there is no ceiling for what you can create.
Before becoming the expert, however, the user-friendly interface filled with incredible automated algorithms means even an amateur can make massive improvements to their songs while knowing very little about how exactly the audio is being edited. This is where Melodyne performs magic.
Other features we never knew we wanted include the ability to transpose our music to the sheet (including adjusting to scales) and generate harmonies from scratch. It's no wonder that Melodyne is a Grammy-award-winning software.
While we recommend the Essentials product, it must be noted that you can buy (or later upgrade) premium versions that come with even more complex abilities when dealing with multi-track pieces. You can learn more about some of the premium features and hear more about the sounds in this video.
---
Frequently Asked Questions
Some questions come up every time we discuss vocal processing. Here are a few to help you feel more confident in your purchases.
---