Top 10 Best Weighted MIDI Keyboard 2023

When going down the specs list of this model, it's easy to find reason after reason that it represents a fantastic choice as a centerpiece for your recording setup. Primarily, it's the keyboard's specific design and deeply featured control setup, along with its direct (and driver-less) compatibility to DAWs. There are a few more minor features to emphasize as well: a design specifically compatible with Ableton Live, an eight by two velocity-sensitive drum pad (both preferred and rare), as well as backlit and customizable controllers.
We understand that this is pretty pricey, especially when you can get something that gets the job done for about $200 bucks (the M-Audio Keystation 61 MK3 61-key Keyboard Controller is a good example of that).
For those that find this just a touch out of their price range, you can pick up a 49-key version of the same keyboard for about $100 less. But part of the reason this tops our list, and part of the reason for its higher price is the internal sequencer. That gives you internal layer capability, great for both live performances and just fooling around with rhythms, patterns, and chords.
---

Alesis isn't a brand as well known as Novation, Arturia, or Yamaha, but for every Ferrari out there, there must exist a Toyota. For economy-minded musicians looking for a fully-featured controller, this is that budget product: feature-loaded but more economical.
Similar to premium controllers like the Novation 61SL MKIII 61-key Keyboard Controller, this MIDI controller features aftertouch-equipped semi-weighted keys, a backlit 16-pad drum pad, and assignable knobs. Pitch and modulation wheels also let you play around with sounds whether you're connected to a DAW or not; you can use this keyboard either live or otherwise.
So if it's as fully-featured but less expensive than other models, why isn't it a top pick? The answer: built quality. While the body and keys are pretty sturdy, the controllers, buttons, and drum pad don't exactly inspire tremendous confidence.
Lastly, a note for musicians who play live: you won't find many 61-key controllers much more compact than this: weighing in at just 13 pounds and measuring at just over 3.5 feet in length, it's portable without being 'shrunk down' if you're planning on moving around a lot. That's just one more reason to choose this product as a frequently touring or budget-oriented musician.
---

While many people who use a MIDI keyboard will look for something a bit smaller to use at their desktop, some musicians, songwriters, and recording artists will want a full-size keyboard. This keyboard does a great job at replacing a full-sized analog piano or digital piano, although it becomes many times more capable once connected to a digital audio workstation. It still works independently, though, although as with most MIDI controllers you'll have to independently connect to separate speakers for non-headphone audio.
The name of the game here, and the reason that it commands a near-$1,000 price tag is a premium feel: most of the sliders and buttons are expensive, even the look feels high-end when compared to other models. With 88 keys, it's full-sized, meaning it's an easy pick for anyone looking for a real piano analog. Concert, recording, or even practice, this keyboard can handle it.
---

Synthesizers were the first digital pianos to be adopted by serious musicians, with buttons, sliders, and hardware buttons built in to modify and change sounds. These synthesizers were a way to expand on existing sounds and develop brand new ones, creating the wide and diverse musical landscape that we know today.
In many ways, MIDI is a continuation of what a synthesizer is: but instead of using internal hardware to modify sounds, it uses the computing power within your computer. This tech from Yamaha is a combination of both, maintaining the offline sound-modification capability but also capable of connecting via MIDI for use within a DAW. As a stand-alone synthesizer, it's incredibly capable by itself, with Yamaha's VCM FX engine that can emulate years and years of other synthesizers.
It's great as a portable synth, and transportable as well, coming in at just about 10 pounds and less than 3 feet long—fortunately, it still squeezes in a full four octaves (49 keys). Still, that's a bit short for most serious players, and with a light weight this makes it feel a bit toylike.
---

We're surprised that a keyboard can even be manufactured this inexpensively: for the price of a pair of headphones or a digital audio workstation, you can pick up this fully MIDI-enabled keyboard. It meets all of the basic requirements of a typical MIDI keyboard: it's Mac/PC compliant and equipped with 5-pin MIDI output, ¼-inch pedal input, all powered by a single USB port. It's compact, coming in under 9 pounds.
Although this $200-ish option is one of the best budget MIDI controllers we've come across, buyers should be aware of one thing: key weighting is subpar compared to more professional-style, expensive models.
Although these keys are full-sized and considered semi-weighted, the response feels hollow and dull compared to pricier technologies like Yamaha's Graded Weighting (available on Yamaha MX49BK Music Synthesizer). But while key weighting may be substandard, the piano makes up for it elsewhere: it's loaded with a 'lite' version of Ableton Live and a host of instrument packs.
---

Arturia is a French keyboard manufacturer that's been around the block a couple of times, with nearly 25 years of history. With this keyboard, they take another leap forward, creating a MIDI controller that gets much of its DNA from traditional pianos. The key weighting is phenomenal, and the action feels completely natural and similar to traditional premium uprights and grands thanks to Arturia's proprietary hammer-action Fatar keybed. The built-in features are all user (and musician) friendly with easy customizability.
Although it's technically a MIDI controller that needs to be connected to a computer to work properly, it still has the native, built-in physical features that many players love to use. These, among other features, include nine faders and nine rotary knobs.
If we had to describe it in one way, we'd call it a MIDI keyboard for piano players: precision key weighting, an 88-key key keybed, and onboard adjustability make it great to use for those who already love to play. All of this, though, comes at a price, and make sure to keep it well protected as all of those customizable knobs can be pretty fragile.
---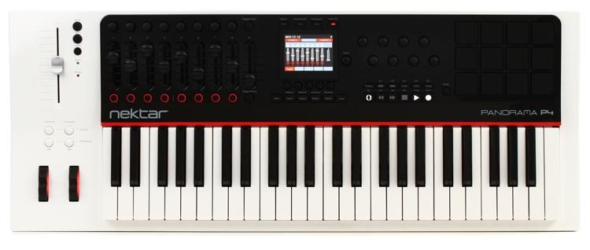 This MIDI keyboard is designed with one capability specifically in mind: integration with one of several digital audio workstations: it's compatible with Logic Pro and Cubase (two big DAWs) and a few smaller DAWs such as Nuendo, Main Stage, and Reaper. That's because it has a custom communication protocol meant to feed into many common DAWs. It's called premapping, and means that every button, fader, slider, and key has a direct analog into your DAW.
It also has a bright, HD screen so you can understand exactly where you are in the nesting menu, also helping you set up features like the 12-pad virtual instrument control feature.
Keys are only semi-weighted, although that designation is pretty broad. This weighting is probably a bit more advanced than that of other semi-weighted keyboards, but it still won't have a playing feel as natural as the Arturia KeyLab 88 MkII 88-key Keyboard, for example. With just 49 keys, you'll have to adapt it to play more complex pieces.
Also consider that if you're not using one of the preprogrammed DAWs, setup will be pretty difficult and you may have to install alternative drivers and/or software.
---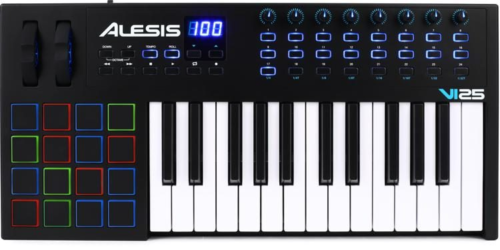 Sometimes the circumstances call for simplicity, a compact piano that can be taken to studio sessions or tucked into luggage. Or perhaps you just need a backup keyboard that can get the job done when you're not at your desk or when your primary keyboard has issues. Maybe you're just on a budget. And it's clever, as well, with smart features and good performance capability. All of this together means it's great for performances: simple, smart, and complete.
One of the reasons it can remain small, and another reason we like it so much, is the 16-pad drum pad that is located on the left side of the keyboard. And if this is your first MIDI keyboard and you're looking to get into digital recording, you can use the manufacturer-specific copy of Ableton Live Lite that comes included that will help make connecting the keyboard and modifying sounds intuitive and easy. We'd still recommend a fully-featured DAW if you're serious about maximizing use, though.
---
9.

Best Simple Weighted MIDI Keyboard:

Studiologic SL73

This minimalistic keyboard is incredibly effective for all levels, primarily thanks to its simple design. While it's not loaded with analog controls like faders, rotary knobs, and drum pads, the beauty of MIDI is that all of those audio modifications can happen after recording in post-production. This keyboard orients itself at musicians that prefer to play around and ideate in their DAW over those who want to create their sound in the real world before recording.
The keyboard is an octave short of full-length at 73 keys, but it's long enough for just about any traditional piano piece. Where it lacks, though, is in key weighting, as keypresses end up feeling a bit plasticky, and the springback just doesn't feel like an analog piano. It's hard to complain, though, thanks to its rock-hard plastic case and overall user-friendly design. A final bonus is the keys, which are meant to imitate the hammer action of a real piano.
---

Thi full keyboard's 88 keys are all impressively realistic to play, like other Yamaha pianos: the Yamaha MX49BK Music Synthesizer, for example. Yamaha is known for this capability, and this keyboard is no different.
Of course, it's got MIDI capability, but the analog buttons aren't what musicians might typically expect with a MIDI keyboard: and that's because it's a synth, not a MIDI keyboard. It's meant to be used offline to create sounds, not for those key-presses to be modified post-production.
And that's where it really shines: in this offline, synthesizer world. While a series of DAW filters and presets can hypothetically get the same job done, there's something about twisting knobs and understanding faders to create the sound you like. Plus, at the end of the day you've still got the capability to record those sounds thanks to the MIDI connection.
But this (outdated) tech comes at a price of over a grand. That's probably acceptable for the cutting edge, but for tech that's been relatively stagnant for 20 years, we think it's a bit much.
---
MIDI Keyboard FAQ
---